One-year later: What Realtors have learned from the pandemic
March 4, 2021
It's hard to believe that the COVID-19 pandemic started a year ago for many Canadians. 2020 and 2021 have been a whirlwind for everyone. The real estate market and your work habits as a real estate agent are no exception. This article reviews the significant changes real estate agents have faced due to COVID-19 and how the real estate market reacted to the pandemic.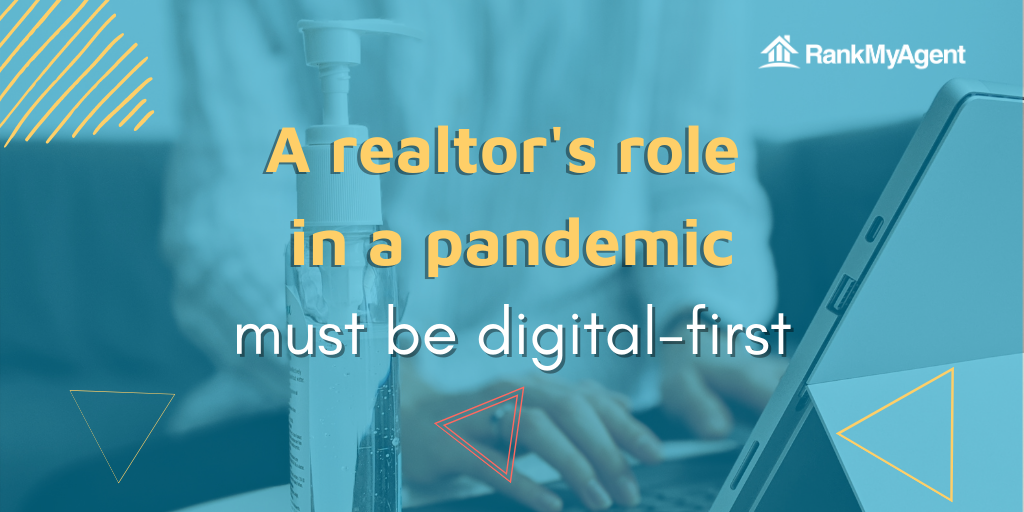 The most significant step for realtors this year was getting online. This included pushing your digital marketing strategies, compiling to COVID-related home showing restrictions, and migrating your paper documents to the cloud.
Generating leads through online means
As a pre-pandemic realtor, you may have found clients at your child's hockey game or a neighbourhood dinner party. But our inability to gather in groups has made this type of networking and lead generation close to impossible. As a result, the pandemic has permanently changed how people meet real estate agents.
Social media channels such as Instagram are a great way to build relationships with potential clients. Even newer apps such as Clubhouse can potentially become lead generation machines! The ability to socialize on digital apps has replaced hockey games and dinner parties as to the way you meet your future clients.
The pandemic has also pushed Canadians to spend more time online. That's why COVID-19 has made a digital online presence more important than before. A good website can provide leads with all the information they're looking for regarding your credentials. It's also a space to boast your past client work to ensure clients that they're choosing the right agent when they contact you.
Virtual home showings
Open houses were once a pillar of selling a home. But a dozen people enclosed in a small space is no longer safe with the possibility of COVID-19 spread. Even private home showings or meetings in-person can be a risk.
Realtors have handled these restrictions by moving their home showings online. Whether it's through facetime or Zoom, many agents now provide virtual guided tours. In fact, real estate portals saw a 200-500% increase in virtual home tour requests since the beginning of the outbreak. Although clients can't get the same feel for a property through video, it can provide them with a home sense. If they're still interested after a guided tour, agents usually offer a private in-person showing to close the deal.
Sanitation and PPE are essential for home showings. This includes wearing a mask and other protective equipment, providing hand sanitizer around the property, and ensuring that everything is disinfected before and after a showing. Although these precautions make home showings more work, safety has to come first.
To further compensate for in-person showing restrictions, agents and their brokerage firms have pushed the use of media such as photos, videos, and 3D renderings. Brokerages are commonly looking for full-time real estate photographers and videographers to accommodate all their agent's needs. Some real estate boards have also upped the number of photos that agents can upload of a property.
Closing deals online
Whatever restrictions are in place by provincial governments, it's key to reduce the number of in-person meetings. This includes discussing the next steps with clients for their home sale or purchase and signing documents.
Hosting virtual meetings can accomplish much of what you need to do in-person. Although you may miss a person's body language, it's the best safe alternative. You can even manage closing documents online with e-signatures.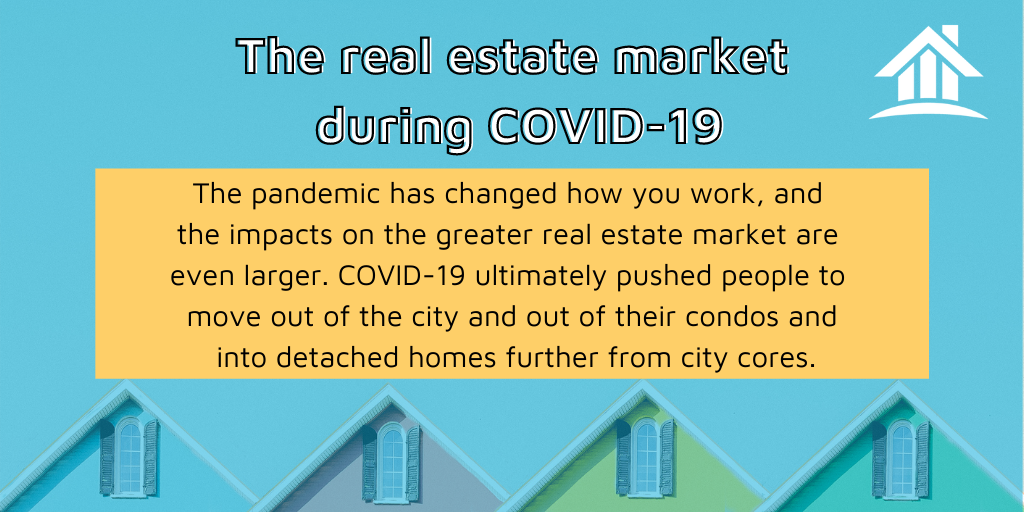 Condos are out; Detached homes are in
The pandemic caused the real estate and stock market to crash temporarily. But both came back stronger than before. Part of this recovery was the result of the Bank of Canada lowering interest rates. This has allowed Canadians to purchase homes at a lower cost.
With low-interest rates, the requirement to stay home, and a fear of contracting COVID-19 from other condo tenants, many Canadians moved out of their condos and into detached homes, which provide more space and solitude. The more significant area allows remote employees to build their dream home office and possibly a backyard to go outdoors without the fear of being surrounded by strangers.
This trend has further turned the condo market into a buyer's market in major cities, with supply beating demand. Real estate investors who manage short-term rentals have also been unable to attract tenants due to travel restrictions and border closures. As a result, many of these investors are trying to sell their investments, often condo apartment properties, which further adds to the condo market's supply. However, some believe that the condo market will rebound once governments lift travel restrictions.
Out of the city and far, far away
The fact that most office workers can now work remotely means there's no longer a need to live close to your office. Some businesses have even provided an option for employees to work remotely after the pandemic. Living in the city once provided an easier commute. But the commute is now from your bed to your desk. This is why we've seen many moves to the suburbs and as far as cottage country, where real estate prices are lower and green space is bountiful.
This migration has also caused once quiet cities and cottage areas to see a red-hot real estate market.
Final thoughts
Everyone's businesses have faced enormous challenges and changes over the past year. Yours is no different. We must review what we've learned from the pandemic and use it to our advantage over the next year. Hopefully, we'll be pandemic-free by then.