More than two-thirds of Canada's population dwells in the suburbs. And while we see more densely packed condos and "shoe boxes in the sky" developed in the downtown cores of Canada's major cities, it's the suburbs that are seeing the most growth. Toronto suburbs saw 3.4 times as much growth as its downtown and midtown counterparts, while Vancouver saw 2.4 times as much growth in the same comparison.
Now with COVID-19 keeping us in our homes, there's a new exodus, of not only Canadians but people across the world, reconsidering whether living in the city is the right decision. A popular New York Times article noted that between March 15 and April 28 of this year, moves from New York to Connecticut increased 74% from a year ago. Further, moves from New York to New Jersey saw a 38% increase, and from New York to Long Island saw a 48% increase.
So, what is causing these moves to the suburbs? This article reviews how and why COVID-19 is causing more people to move out of the city core. The post also provides insight into the non-COVID-19-related trend towards moving from the city to the suburbs, especially with millennial homebuyers. Lastly, we note some things to consider before actually looking for a home in the suburbs.
How COVID-19 is Pushing People to Reconsider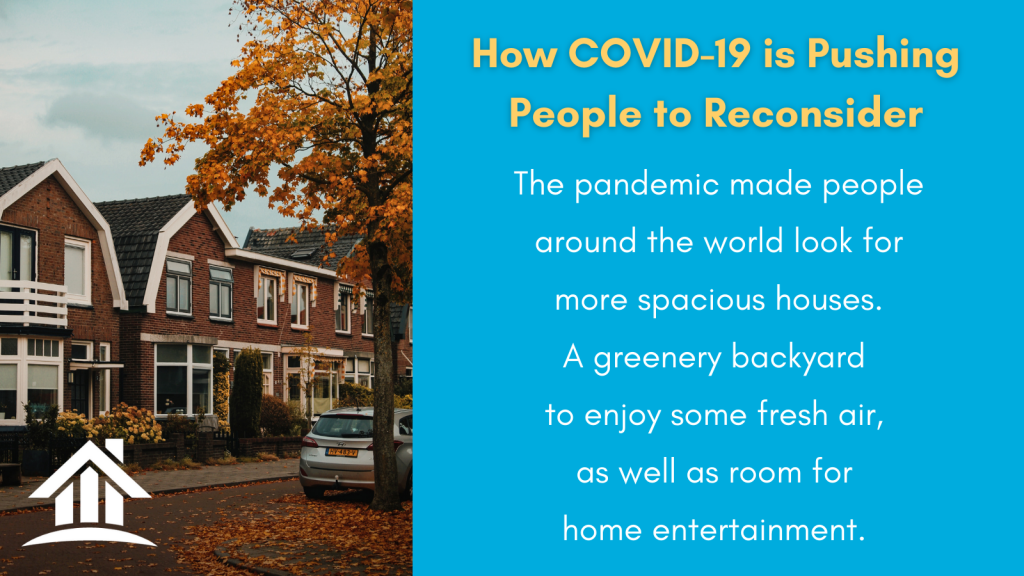 Many city homeowners and renters have wanted to move to the suburbs for some time. COVID-19 may have pushed this idea forward. After several months of cooping inside the confines of a small apartment or home, many desire more space and greenery. A larger home is also becoming attractive as people work from home and dream of a home office beyond a nook in their kitchen. However, the only way to afford a larger home is to move to the suburbs, where sizable homes are more affordable.
COVID-19 has also instilled fear into people. There's the fear of crowded parks when you walk your dog or the elevator buttons that you need to press on your way back home. Instead, a suburban home can provide a better ability to distance from neighbours. This is especially important as we don't know when COVID-19 will end.
A significant downside to suburban living is the longer commute. Office buildings tend to concentrate in downtown cores. TD's 2019 Spring Homebuying survey found that 45% of respondents found the ability to live close to work was a key purchasing factor. But COVID-19 has also changed how we work. Companies such as Shopify have permanently moved to a work-from-home model, and the demand to social distance has catapulted most organizations into a firmer acceptance of working from home. So, the need for someone to live close to their office is becoming less relevant, making homes in the suburb (with the opportunity to design your own home office) more appealing.
Millennials Making the Move to the Suburbs
TD's homebuying survey also found that of the 8 out of 10 millennials who aspire to own a home, two-thirds were willing to forego living in the city to meet their home-ownership aspirations. For millennials homebuyers, affordability is on the top of their mind. They also care for the size of their home, the neighbourhood, and the amount of outdoor space. This is why a home in the suburbs may better attract millennials.
As a result of this trend towards suburban living, both city planners and large corporations are taking note. Developers are looking to create city centres that provide millennials with the same benefits as the downtown core, with high-end dining, nightlife, event venues, and more. Multinational corporations are also opening second offices in close-by suburbs in addition to an office in the downtown core. A suburb office can offer less pricey real estate to the company and more convenience to some employees. In Vaughan, Ontario, many of the big accounting firms such as PwC and KPMG have opened a second headquarters, just a 40-minute drive from their downtown office.
What to Consider Before Moving to the Suburbs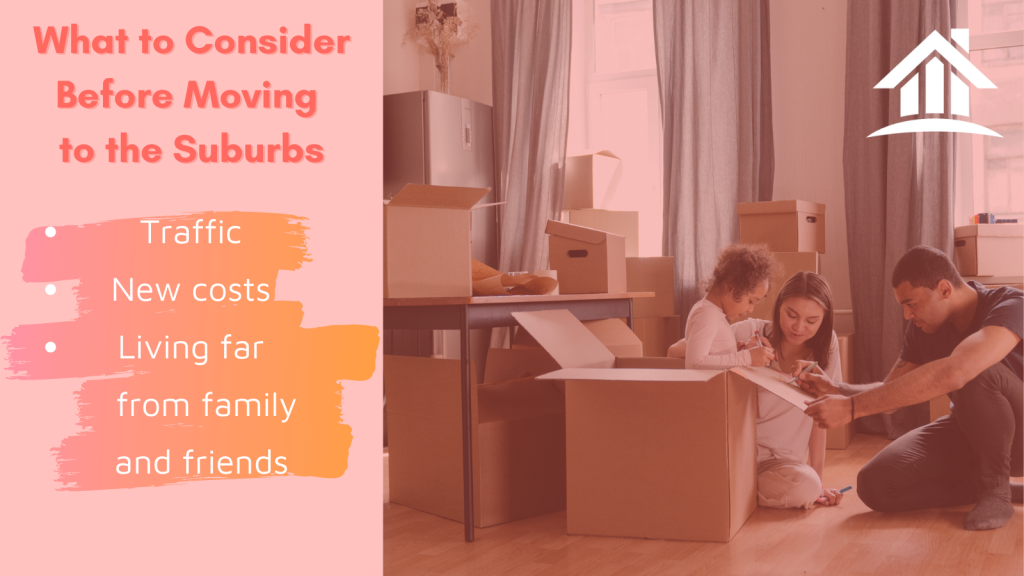 Moving from the city to the suburbs is no small task. There are several items to consider before making the move. This includes leaving friends and family and additional costs.
If you decide to move to the suburbs, remember that visiting a friend or family member who also lives in the city is no longer a short walk or subways ride away. The ability to socialize with others ultimately becomes harder, as most places in the suburbs require at least 10 minute or more of driving. This inability to socialize is why some believe suburbs make people miserable. Now, meeting with a friend may involve driving 40 minutes downtown, finding parking, and finally walking to your destination.
Although buying a home in the suburbs is cheaper than in the city, it comes with additional costs. A larger home means more maintenance costs. Suddenly, there's a lawn to mow, a pool to drain, and snow to shovel. Utility costs also increase as you need heating and air conditioning for a larger space.
Suburbs are less densely packed, so you can't assume that its transit system is just as fast and reliable as the city's. So, moving out of the city may mean having to buy or lease a car… maybe even two cars. Oh yeah, and there are also car insurance and car maintenance costs that come with that. If you need to work at an office, it likely means a further commute, which also increases your day-to-day expenses.
Moving from the city to the suburbs can mean more space at a lower cost. Especially with COVID-19 forcing us to stay at home, many people are getting closer to making the move. Moving to the suburbs is also how many millennials are hoping to purchase a home, as city prices are unaffordable. Just remember that moving out of the city may mean leaving friends and family and new expenses.