COVID-19 has us locked down. Many businesses are closed. But realtor and moving services remain an essential service in several provinces. So, it's still possible to move into your new home. Although April 2020 sales activity fell 56.8% month-over-month and down 57.6% year-over-year in Canada, there are still plenty of Canadians who are buying and selling their homes, which means many Canadians filling trucks with furniture and hiring movers.
Of course, the best-case scenario is to wait out the storm and to move once we return to normalcy. However, this isn't always possible. Maybe a deal is too good to pass up on. Perhaps you need to relocate due to a purchase-and-sales agreement. Or perhaps it's for work. Whatever the case, it's evident that moving from an old home to a new one during the Coronavirus era is not a choice for some people. At the same time, there is a way to make the move safely. In this article, we look at what moving companies and truck rental services are doing to help you during this time. We also provide some tips to reduce the chance of contracting COVID-19 in the process of your move.
How Moving Services and Rental Businesses are Ensuring Your Safety
Moving Services
If you're hiring a moving company for your journey, it's still possible. Most provinces have deemed moving companies an essential service. Further, as the number of new cases comes down, we're starting to see a lot of businesses open again. With that said, moving companies are not just going on business as usual.
One of the most significant changes is a move from in-person tours to virtual tours for pricing estimates. In a usual moving scenario, the movers would come to your home and take note of all the furniture and fixtures that they need to move to your new home. This provides the proper information to know what size truck to bring in, how many movers they'll need, and what you can expect as a cost. But due to minimizing physical interaction in a COVID-19 world, mover now asks you to aid them in a virtual tour of your home as an alternative way to make their pricing estimate.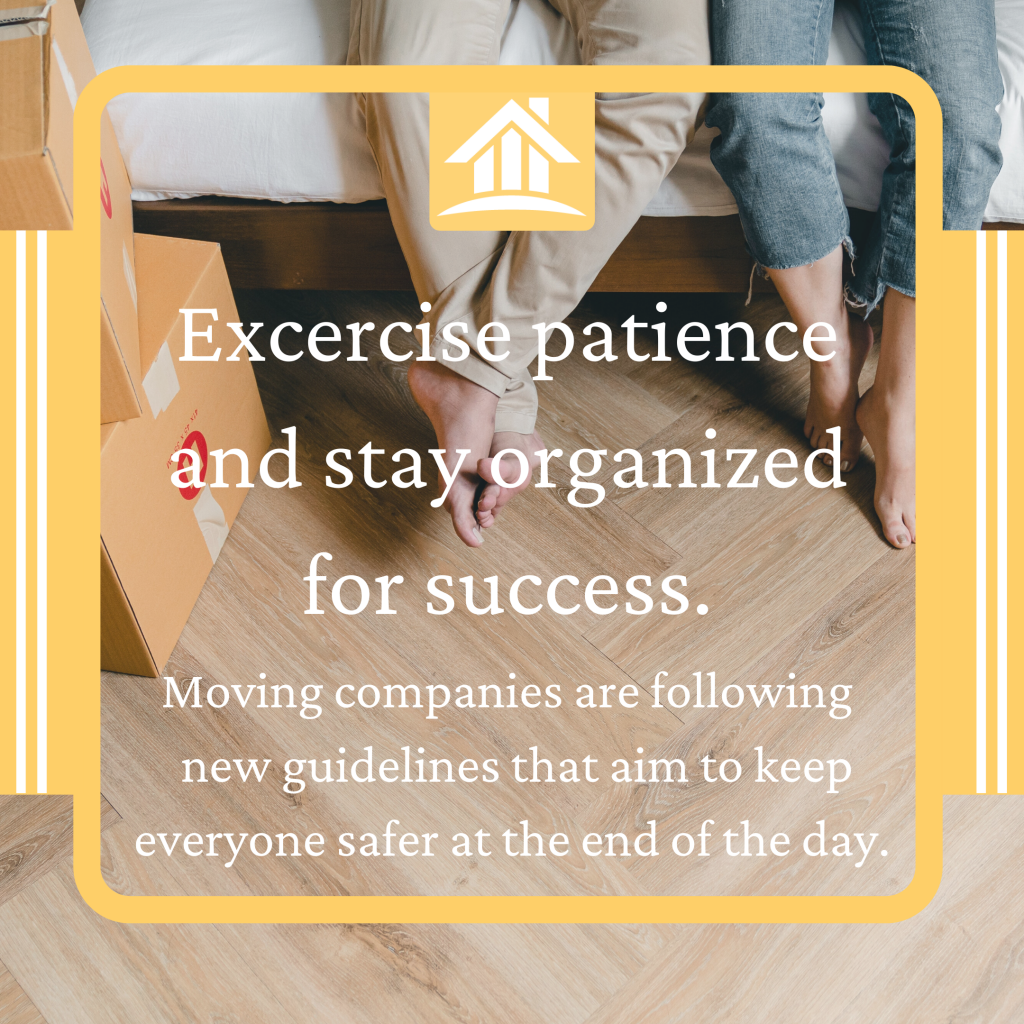 Movers are also taking precautions during the actual move. However, they are limited in what protections they can use. While it's ideal that movers wear masks and gloves, this protective equipment can interfere with their work. Gloves can ultimately reduce a mover's grip and increase the chances that they drop something. This can not only damage your item but also injure the movers. Masks can also reduce the mover's ability to breathe. And when they're moving heavy furniture, a good airway is critical to safely maintain enough strength to hold heavy fixtures.
Movers are requesting that you leave a washbasin open to them. As we know, washing our hands is more important now than ever before. Informing movers which sink is available to them and leaving some soap and hand sanitizer can help protect the movers, your family, and others.
To prevent spread among different movers, companies are staggering when their employees come into your old and new home to reduce the amount of contact. Moving companies may also limit each truck to two people.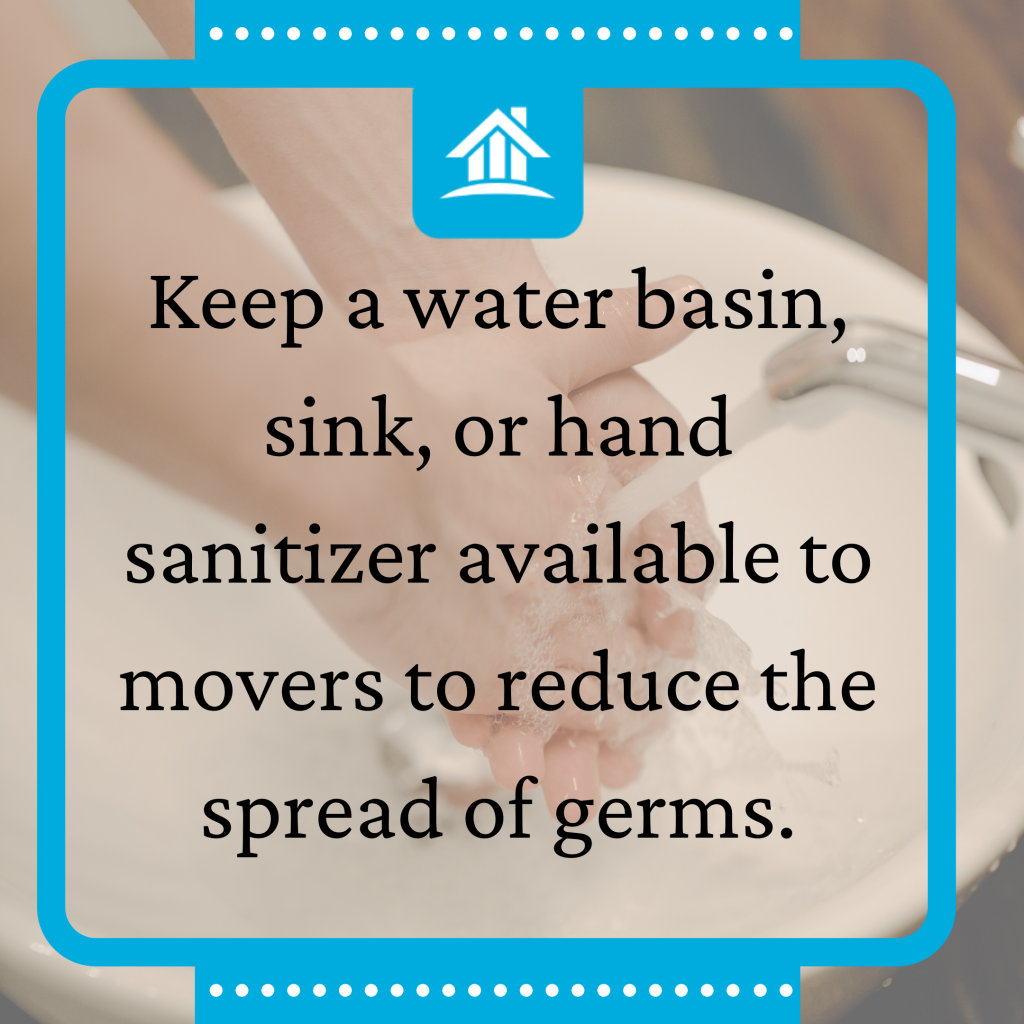 Truck and Container Rentals
Opting to move without a moving company can be a safer option because it involves fewer people you don't know. However, you'll likely still need to rent a truck or container. Companies such as U-Haul are taking strict measures to sanitize their vehicles. They disinfect everything from steering wheels, seats, and seat belts. Additionally, many have implemented six-feet distancing guidelines when individuals come to their stores. Online check-ins for some companies are also available to further reduce contact with any truck rental company staff.
What You Can Do to Ensure a Safer Move During COVID-19
As mentioned before, if you're using a moving service, one of the best things you can do is provide the movers with a washbasin and soap. But there are additional steps you can take to secure yourself and your family further:
If you want to monitor your home as movers come in and out, limit it to yourself or to one family member. Ultimately, limit the number of people present.
If your movers are comfortable using protective equipment on the job, a poncho is an additional step to ensure that there's even less contact between them and your items/home.
Pack whatever you can yourself. This can limit how many people touch your possessions.
Ask your moving company what health measures they have in place. Ensure that they're sanitizing their trucks and equipment and staggering their staff as they enter and exit your home.
Disinfect any hard surfaces.
Provide movers with precise instructions on the layout of furniture in the new house. This can prevent the amount of time they need to spend at the property.
Prepare separate bags with clothes that you can use for the first week at the new property. This can help prevent the need to open your other clothing boxes.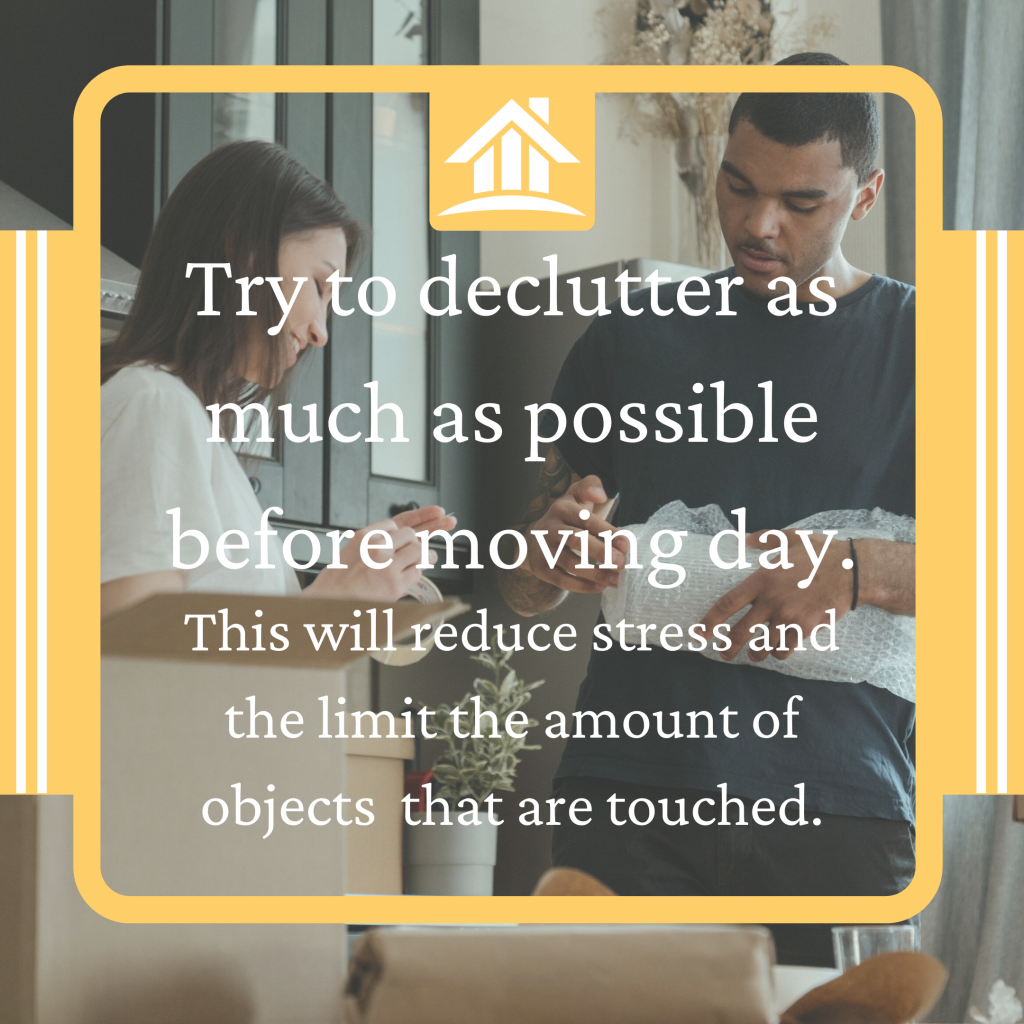 Additionally, it's common that you'll want to declutter the number of possessions you have during a move. Although it's commonly a great time to bring some no longer used items to a donation bin, the Coronavirus pandemic has resulted in the closure of donation bins. Friends and family may also be wary of accepting any second-hand items as a precaution. Therefore, many of your no longer used possessions may end up in a recycling bin or landfill. Although this is unfortunate, it's part of limiting the spread of COVID-19.
There's no doubt we've entered a new normal. In an ideal world, try your best to delay moving until the situation gets better. But for some, there's no choice but to move to a new location. If you're in that situation, know that moving companies and rental businesses are taking measures to make your move as safe as possible. Additionally, your own precautions, such as preparing clothing and home layouts, can help reduce the chance of COVID-19 spreading.