The real estate market in 2020 took us for a wild ride. The pandemic unraveled the yearly spring rebound. Then the pent-up demand released itself during the summer and fall months to send Canadian home prices to record highs. So, what will 2021 bring Canadians? Especially those looking to buy or sell their home?
Nothing is certain, but with a COVID-19 vaccine on the way, the market may return to something closer to what we're used to. However, the pandemic left us with low-interest rates and housing trends, such as a desire for more living space, that will likely continue.
This article discusses three things we can expect from the Canadian real estate market in 2021. This includes:
A return to a typical real estate cycle with higher home prices;
An increasing demand for single-family homes in suburban cities; and,
A rebound of the condominium apartment market.
The Real Estate Cycle Should Return to Normal with Even Higher Prices
In March 2020, the effects of COVID-19 finally hit Canada. The federal and provincial governments implemented new policies, such as closing non-essential businesses. People generally stayed indoors, and realtors could no longer hold open houses.
Although the spring season is usually when real estate markets rebound from their winter lows, home sales in Canada dropped drastically last spring. This downturn caused a "delayed spring market" which led to record-breaking sales in the summer and fall months of 2020. The Canada Real Estate Association (CREA) predicts that 2020 should end with a record national sales number of 544,413 units sold, an 11.1% increase from 2019.
Many real estate agents and professionals believe that the sales cycle will return to normal this year. That means we likely won't see another spring drought or delayed market. The COVID-19 vaccine brings more certainty to our safety, and this hopefully translates to some normalcy returning.
People who have been holding out to sell or buy their homes due to the pandemic may feel more confident with a vaccine circulating in Canada. As a result, many expect that real estate activity will increase in 2021. The low-interest rates, reduced spending habits during lockdowns, and the vaccine may likely drive demand for homes and push average home prices across Canada upwards. CREA forecasts that home prices in 2021 will rise by 9.1%. Additionally, the 2021 RE/MAX Housing Market Outlook Report estimates that national residential home prices should increase 4-6% in 2021.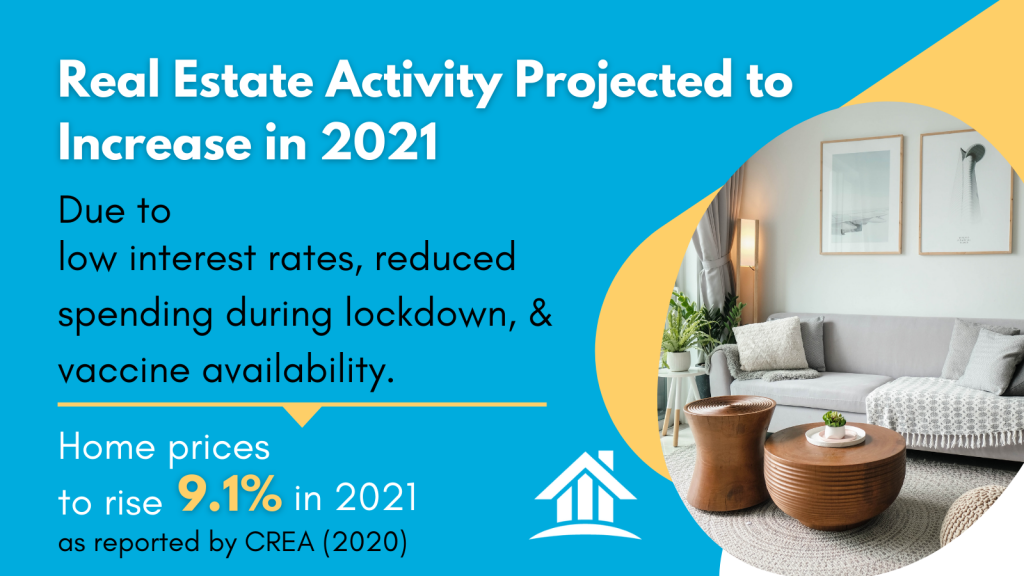 Single-Family Homes Will Continue to Drive Demand in the 2021 Real Estate Market
The move to single-family homes in suburban areas is a pandemic-induced trend we saw in 2020 that'll likely continue into 2021. With the closure of offices and a need to stay home except for essential tasks, many city-core dwellers realized that a 900-square foot condominium is not enough space. Being stuck between the same four walls can be maddening!
As a result, many Canadians took advantage of the low-interest rates to move into a bigger, single-family home. These homebuyers commonly looked to areas further from the downtown office centres due to the ability or requirement to work remotely. For some, this means that they can move to the cottage country and only have to commute to their kitchen table or home office to start their workday.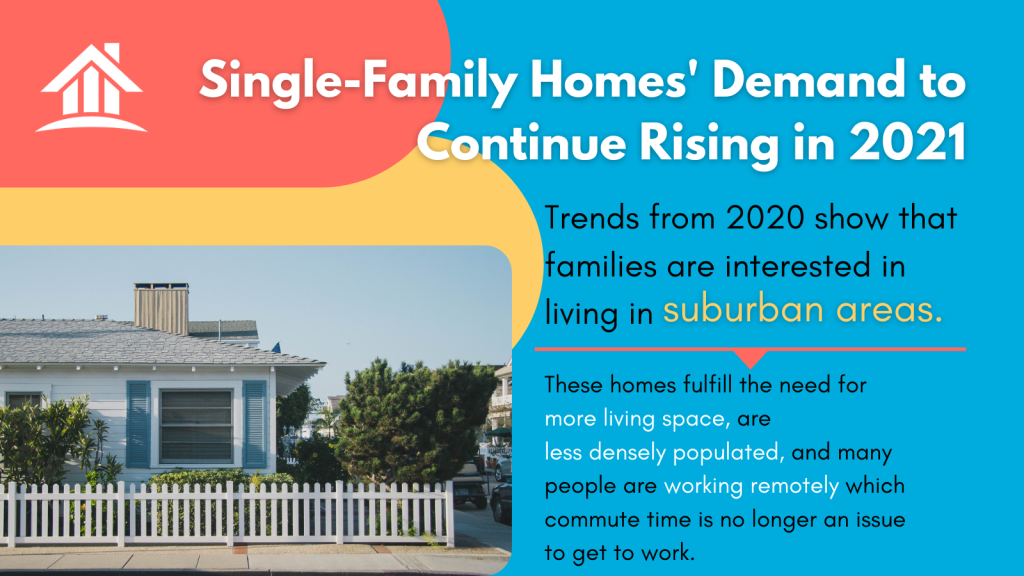 Mid-size cities can provide attractive amenities but at a lower cost of living than Toronto or Vancouver. Houses in less dense areas are also usually better value. Small towns can provide even more value and possibly more greenspace.
For example, Ottawa became one of Canada's hottest markets in 2020. In November, home prices grew 19% year-over-year, and people don't believe it's stopping any time soon. A Royal Lepage market survey predicts that Ottawa home prices will increase by 11.5% year-over-year in 2021.
The 2021 Condominium Market Will Rebound Once Travel and Universities Reopen
The condominium markets of busy cities such as Toronto declined in the later months of 2020 — a rare sight. Condo apartments in Toronto's 416 area decreased 3.0% year-over-year in November 2020. These once busy condo markets have also declined in rent prices as it becomes a tenant's market.
The fact that many city dwellers are moving to single-family homes is a large factor. But restrictions on travelling in and out of the country is also a factor. Short-term rentals for apartments are no longer viable for landlords as travel dries up. As a result, many of these apartment owners attempt to list their properties for long-term rentals or just sell their units.
In 2021, we may see investors take advantage of the declining condo apartment prices in core areas and low-interest rates to add to their rental portfolio. It may also be an opportunity for first-time homebuyers to get their foot into a competitive real estate market. This is why the condo apartment markets in busy Canadian cities will likely return to normal.
Many real estate professionals suggest locking in a lease with a favourable monthly rent now because 2021 will likely return rent prices to normal. As the vaccine begins to roll out, it's expected the Canadian government will slowly lift travel restrictions, and tourism and demand for short-term rentals will boom again.
Additionally, new immigrants commonly start as renters. Between 2021 and 2023, Canada aims to welcome approximately 400,000 new immigrants each year. And these new immigrants will likely push up demand for condo rentals.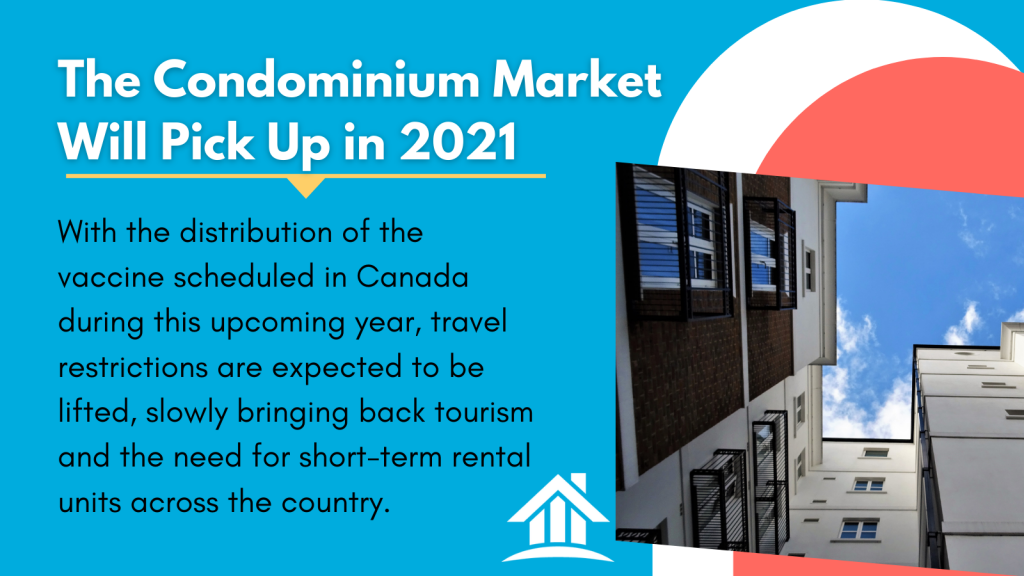 Hopefully, 2021 will be the year when the pandemic finally ends. The vaccine brings plenty of hope. Canada's real estate markets may look more normal than last year, but the trend towards larger homes in the suburbs and smaller cities remains. Once travel returns, we can also expect that the condo apartment market return to where it was pre-COVID-19.