How REALTORS® Should Handle their Business During COVID-19
April 29, 2020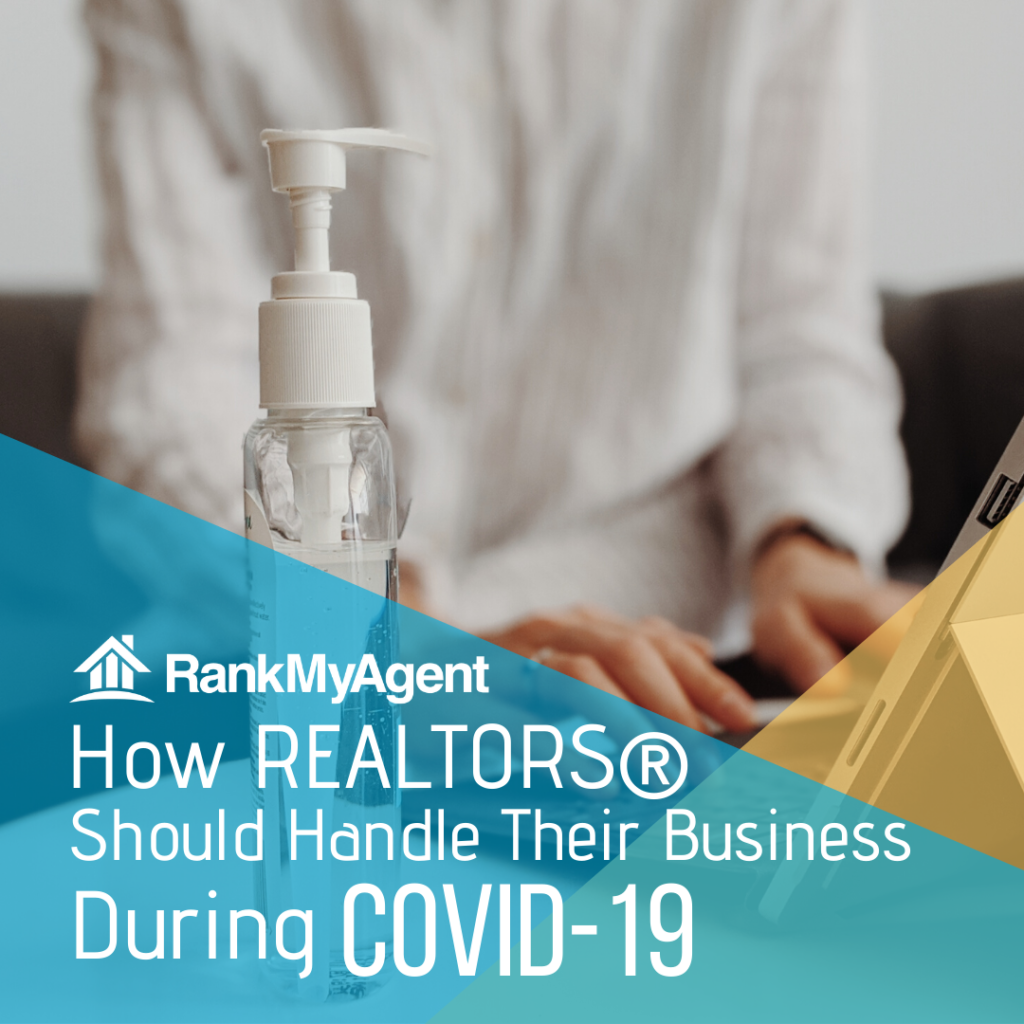 COVID-19, otherwise known as coronavirus, cases continue to escalate in Canada. But Canadians remain optimistic. To combat the spread, provincial governments have mandated the closure of many businesses deemed "non-essential", and the government is continually revisiting this list. Luckily, real estate agents continue in the essential category.
While you can still operate your business, it doesn't mean you should run it like COVID-19 isn't around. In fact, some real estate boards and provincial governments have outright banned open houses, escalating it from the prior "strong recommendation". Further, real estate boards around the country have put out recommendations on how their agents can do business safely.
CREA (with other boards making similar recommendations) suggest shifting business to the digital landscape wherever possible. This include virtual meetings and home showings. Where you do need to meet in person, they recommend precautions such as hand sanitizer and disinfecting wipes.
This article will dive further into how you, as a REALTOR®, can continue your business safely. It explains how to operate virtually, and recommends other activities that you can do to remain pre-occupied as we self-isolate to prevent the spread.
Hosting virtual meetings and tours to avoid unnecessary in-person meetings
For some REALTORS®, meeting clients in person is a best practice. It's easier to develop relationships, you understand the situation better due to body language, and communication is generally smoother. However, for everyone's safety, we must make some sacrifices.
Many technologies let us do online what we want to accomplish in in person. Video conferencing tools like Zoom, Google Hangouts, and Skype allow us to not only do video chats but also to share screens. This can make the document negotiation process easier. Additionally, software such as DocuSign or HelloSign allow for legally binding signatures without ever having to meet in person.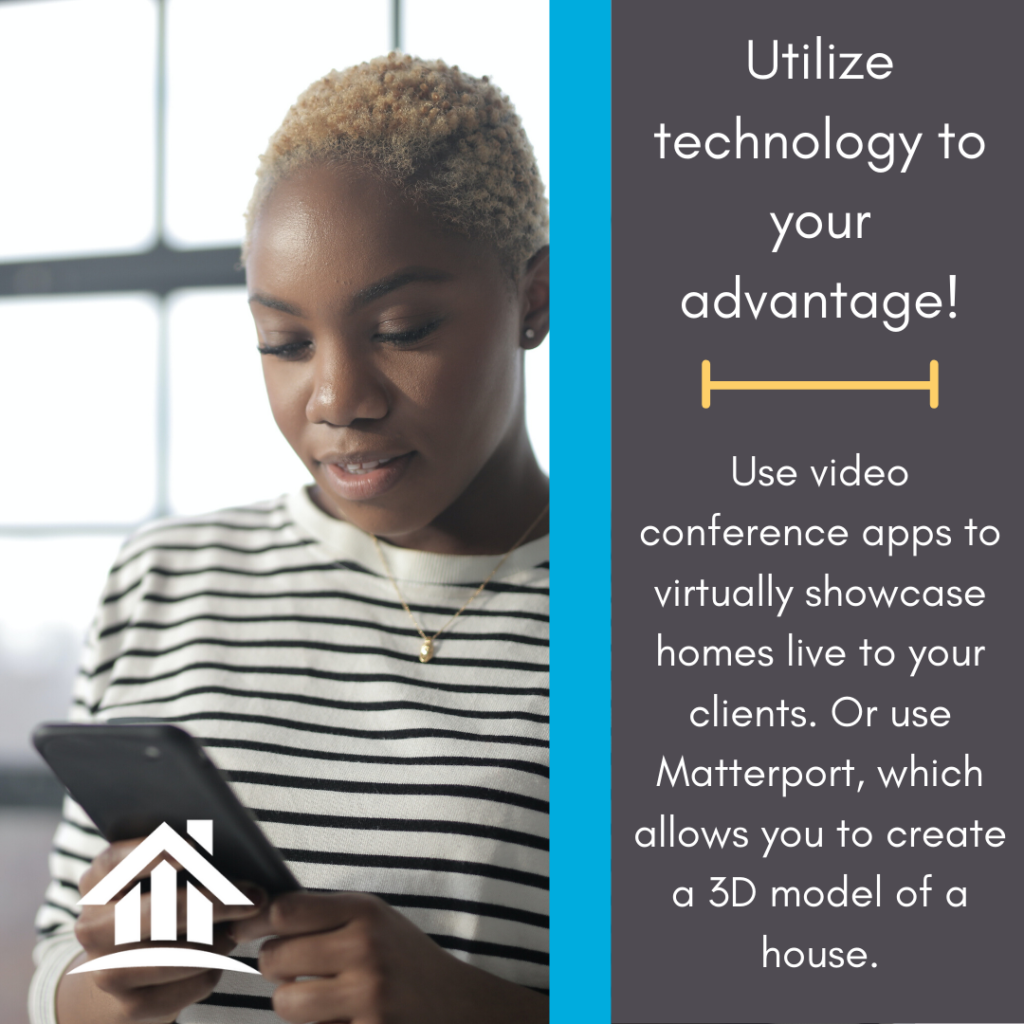 You should also replace open houses and regular home showings with digital alternatives. Even before COVID-19, REALTORS® have used video home tours to show off properties. This is also commonly accompanied with photos. If a buyer has interest after viewing a digital tour, you can arrange for an in-person showing. However, it's strongly recommended that you avoid in-person showings all together.
Video tours don't require you to be a media expert or videographer. It's as easy as grabbing your phone, walking around the home, talking about its features, and recording it all. Just make sure there's plenty of lighting! You can even do live home showings via Facetime or other video conferencing phone apps. This allows you to get immediate feedback on what the potential buyer thinks about the property.
Technologies, like Matterport, take virtual home showings one step further. These 3D virtual home showing technologies allow you to create a 3D model of the home. An individual that's interested in the property can then virtually make their way through the home. You can also add annotations to highlight key areas and develop 3D guided home showings. These types of technologies are also supported by tools such as REALTOR.com.
How to approach a virtual home tour during the coronavirus pandemic
Whether you're doing a live video showing, taking photographs, or setting up a 3D-model of the property, there are some precautions to take. For example, the seller or tenants may live or recently have lived in the home. It's important to ask the seller/tenant whether they've travelled out of the country recently or have shown signs of sickness. If they have, areas of the home may contain the COVID-19 virus. Ultimately, asking these questions can help you assess whether it's safe to enter the property.
When you enter the property, it's recommended that you sanitize your hands, wear gloves, and limit the number of things you touch. Someone else may have to return to the property or enter it later on, and it's important we limit the spread by taking these precautions. If the seller or tenant has to return to the space after you leave, let them know what you touched and what areas of the home you were in so that they can disinfect appropriately.
Activities REALTORS® can do when home showings are not an option
Although you may be stuck at home, there are plenty of other activities that you can pursue for your business in the meantime. This includes improving your digital marketing strategy, keeping up to date with ongoing COVID-19 developments,
The coronavirus pandemic is temporary. As a global society, we will inevitably get through this together and return to our normal lives. Because, as an agent, you're constantly out at showings, your marketing strategy may have been an afterthought. This time at home is an opportunity to revisit your online presence and see if you need to make any changes. This could be revamping your website, working on content for blog posts, or reorganizing your email marketing funnel. You can read more about digital marketing for REALTORS® here.
Keep up to date with COVID-19
There's no doubt that COVID-19 is having a big effect on every real estate market in Canada and the world. Whether it's the big banks allowing homeowners to defer mortgage payments or the Bank of Canada lowering interest rates, it's important to understand these policy changes. Current, former, or future clients may reach out to you to understand how this affects their individual circumstance.
Garry Bhaura, Broker of Record of Century 21 Real Estate offers some practical advice on what professionals can work on during these times:

• Complete your continued education if it's due in the upcoming months.
• Up to date all the admin or paper work you have for your pending transactions.
• Learn something new online which you always wanted to learn
• If you work with a franchised company research all the tools and services they provide to grow your business
• Schedule all your online marketing posts, update all your online information on all platforms.
• Register any online designation course if possible and upgrade your professional education.
• Learn more about your board or local organization you are member with by visiting on their website there are lots to explore and learn.
• Call your clients if they are feeling okay, or need anything where you may be able to help.
• Call your fellow realtor friends if you can provide any support during these times.
• Check all new construction project timelines.
• Follow up all your upcoming closings*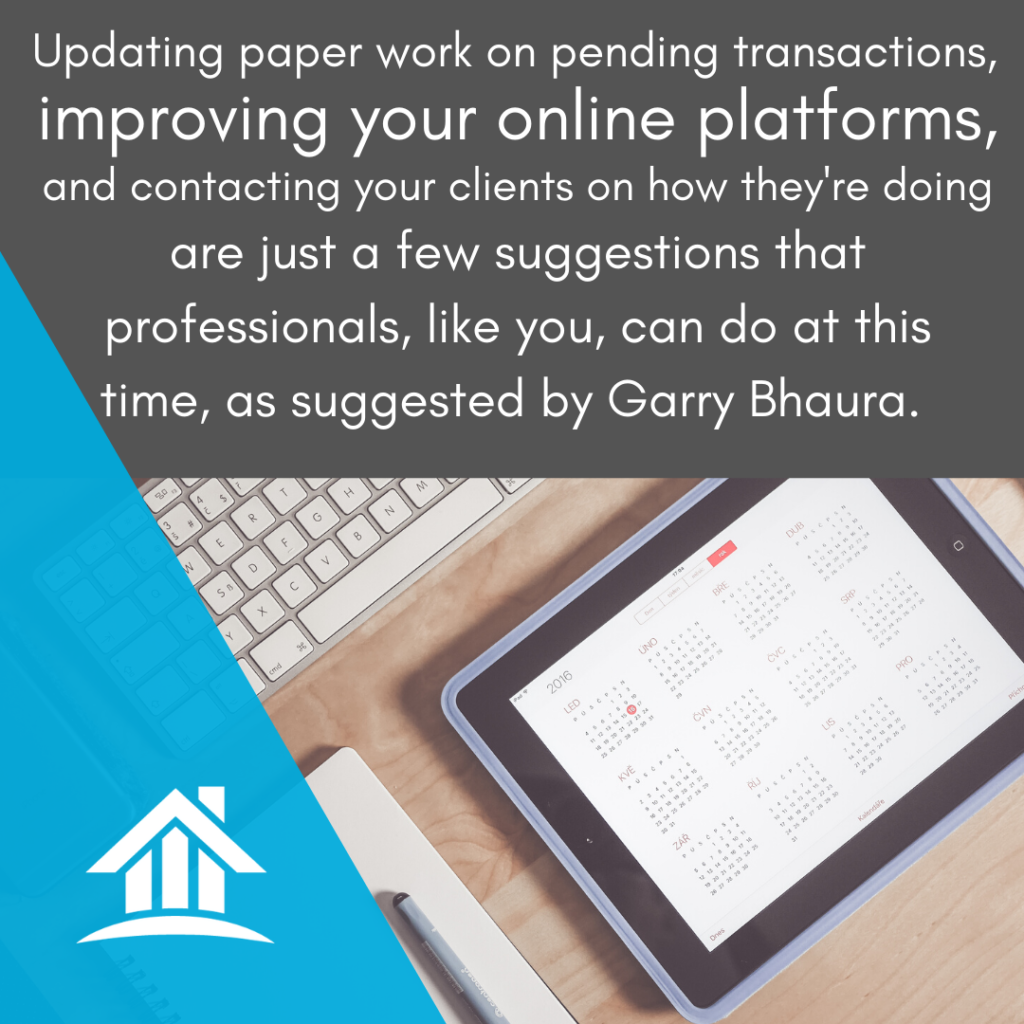 COVID-19 is impacting every industry. For REALTORS®, it's time to virtualize your business with technologies that allow for virtual home tours, video conferencing, and online document signing. Alternatively, you can also use this time to up your digital marketing game, learn how coronavirus policy measures affect and will affect the real estate market, or to take a break. Remember, that this pandemic is only a temporary battle. We will ultimately get through this.
*Garry Bhaura originally posted this advice for REALTORS® on Facebook, March 18th, 2020