Dave Elfassy & The Dave Elfassy Team
March 11, 2019

The Dave Elfassy team streamlined review collection, helping them collect over 100+ reviews. They attribute 4-6 extra deals/year due to their reviews on RankMyAgent (RMA).
RMA client since Dec 2014
Website: https://teamelfassy.com
The industry-leading marketing strategies and cutting-edge technologies of this team, have positioned Dave Elfassy in the top one per cent of realtors across Ontario. He's been featured on HGTV's Agent Vs Agent, the W Network's My House, Your Money. He's made appearances on CTV and Rogers TV, and was published in Toronto Star.
Dave is a passionate top REALTOR® in Vaughan, Ont. His team of specialized real estate agents (Team Elfassy) has set the bar for value, service and results. Clients and neighbours in Thornhill, Richmond Hill, Aurora, Markham and Toronto have all benefited from their experience and expertise.
Dave was also recognized by the Canadian Real Estate Wealth magazine when he was named Realtor of the Year.
The Challenge
Authenticating reviews was the biggest challenge Dave Elfassy's team faced. Anyone can write reviews online, so how can we prove which reviews are real and which are posted by bots, trolls or individuals wishing to damage reputations.
Potential clients who research future agents online often have a hard time trusting reviews unless they were verified by a third party and based on real transactions.
It was also a challenge to request reviews. The process prior to RankMyAgent (RMA) was tedious and seemed like a chore whereas now, requesting reviews is streamlined using RMA.
The Solution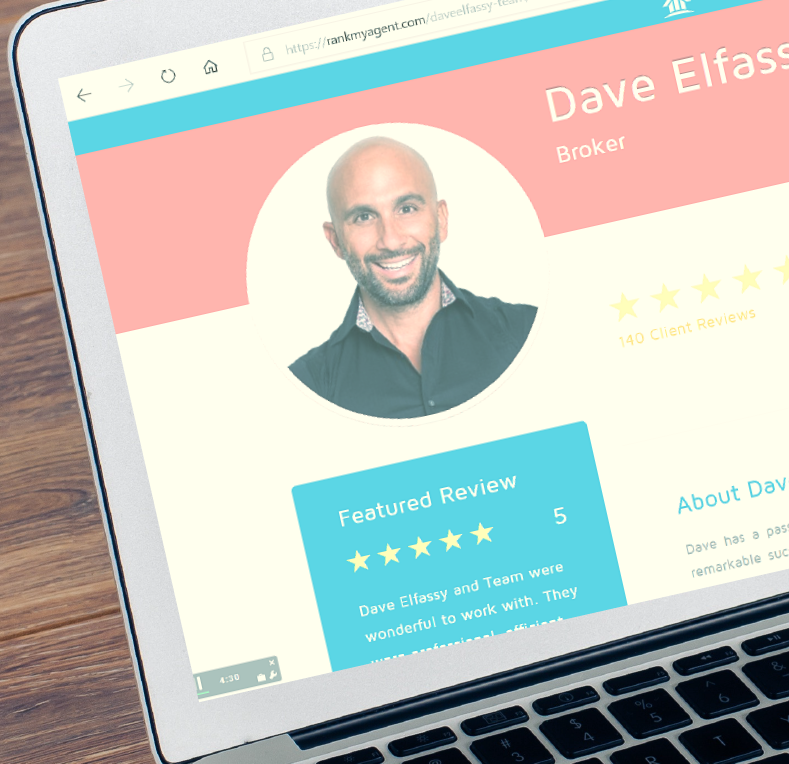 The Dave Elfassy team added requesting reviews as part of their business workflow which simplified the entire process.
The team requests reviews at critical moments during the sales cycle, such as the firming up of transactions. Because of this, buyers and sellers have peace of mind knowing each review on the RankMyAgent are based on verifiable transactions.
The team receives real-time review alerts as they come in and agents can respond to the author, then share the review on their website and social media platforms to maximize exposure.
Outcome
Since joining RMA, the Dave Elfassy Team has collected over 118 reviews as of today.
The reviews on RMA have helped the team build a greater online presence — especially when prospective buyers and sellers searching online are seeking an agent in their area.
RMA's geo-farming capabilities have given the team the ability to connect with potential new clients that they would not have met with previously as the geo-farming allows agents to market to a designated area.
The Result
Dave Elfassy and his team credit at least four to six closed deals per year to the reviews featured on RMA.
Not only is the team boosting their online presence, but they are gaining key insights on how to enhance their service.