Real estate agents provide plenty of value to the complicated process of buying your first home. This is usually the largest purchase you make in your life. Having an agent by your side can ensure you do it right. Although you can purchase your home without a realtor, the benefits associated with an agent usually outweigh the costs — especially if you're purchasing your first home.
This article explains:
How real estate agents are paid
The benefits of hiring an agent to buy your first home
Scenarios where purchasing without a realtor may be less risky
How real estate agents make their commissions during the selling & buying process
The home buying process generally involves a real estate agent representing the seller and another representing the buyer. If your offer on a home is accepted, these two agents work together to negotiate the fine details and close the deal.
The buying agent then negotiates with the selling agent to split the commission paid by the home's seller. Thus, effectively, the seller pays both the selling and buying agent.
If you purchase without an agent, you could convince the seller's agent to reduce their fee. This could save you some money overall, but it's not guaranteed. But is such a discount worth more than the value a realtor brings to your side of the deal?
The home buying and selling process is highly complicated. Buying without an agent means doing your research, booking your showings, and finding other professionals, such as a home inspector or real estate lawyer. This could amount to another job on top of your regular nine-to-five.
The benefits to purchasing your first home with an agent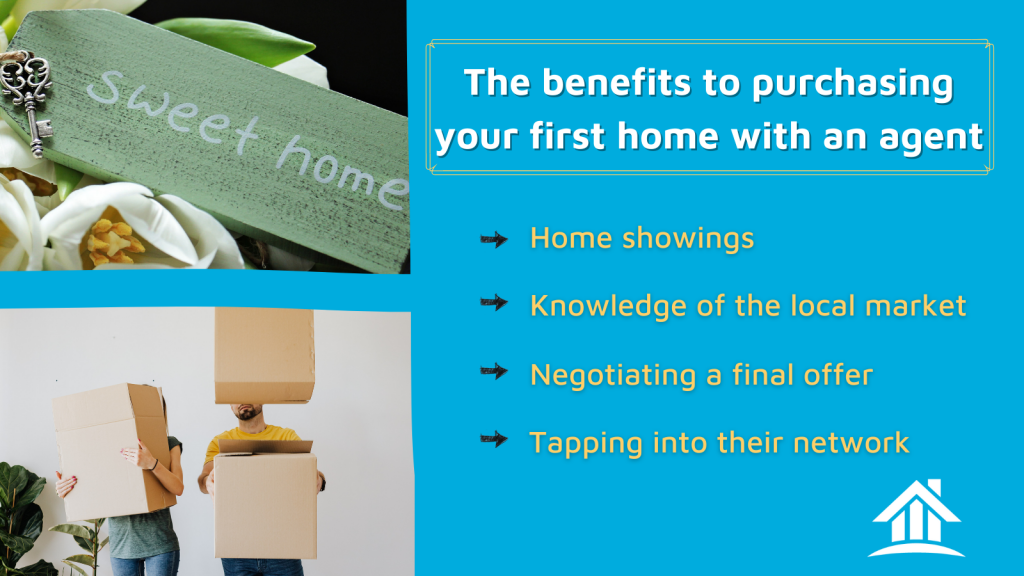 Home showings
You'll need to book an appointment with listing agents and plan a daily home showing schedule without an agent. But the benefit to a realtor is that they prepare this for you. All you do is sit back and relax as they take you from showing to showing and bring you through the process of each home.
During a showing, a buying agent can also point out ageing fixtures that may need repair or red flags, such as signs of rot, leaks, or foundational damage. You can then see a property's problems before putting down an offer and paying a home inspector hundreds of dollars to do an inspection.
Knowledge of the local market
An agent's value derives significantly from their knowledge of the real estate market. Veteran agents have decades of experience watching the rise and fall of their local real estate market. Realtors further keep up-to-date with the local economy and know what to expect in the weeks and months to come.
Although you should do your research, you likely can't replicate the understanding of an experienced agent overnight.
If you're buying in an area you're not familiar with; the challenge is even more significant. At least with your neighbourhood, you know where the prime locations and best schools are. But if you're moving to a less familiar area, the whole thing could be a stab in the dark. In such a case, think of an agent as a guiding light.
Your realtor can further help sort the tools available to you as a first-time homebuyer and educate you on using them most effectively. They can also break down complex concepts such as future capital gains taxes and the principal residence exemption.
Negotiating a final offer
When you find a home you like, the next step is to place an offer. Without an agent, you'll be responsible for the negotiations a buying agent would usually handle. Negotiating effectively requires you to research the market thoroughly, have a sense of comparable houses in the neighbourhood, and understand the pros and cons of the home.
It doesn't stop at price. Once you get the purchase agreement, you may want to add or take out clauses. Again, if you aren't working with an agent, it's even more critical to have a real estate lawyer at this stage to look out for what could negatively impact you without your understanding. You may also want to discuss repairs or minor renovation requests that the seller could complete before signing the final papers.
Although a real estate lawyer can help with parts of the negotiation process, remember that the other side likely has the help of both a lawyer and a selling agent to advocate for their interests.
Tapping into their network
Finally, an agent over their career has accumulated a network of other real estate professionals. Your realtor can likely refer you to a quality real estate lawyer and home inspector who are both critical to the home purchase process.
When buying without an agent is okay
As a first-time homebuyer, having an experienced realtor is invaluable. But not every transaction requires a realtor. For example, the following are scenarios where you may not need a real estate agent:
Purchase from a family member: If you're looking to purchase your parents' home or the home of another trusted family member, then negotiations, the need to book showings, and knowledge of the local market may not be critical. However, a real estate agent can still provide valuable advice on first-time homebuyer tools or alternative ways to purchase the home.
You have experience in the real estate purchase process: It should go without saying that there's no point in hiring another agent if you're a realtor yourself. But if you've also purchased properties in the past or had a similar experience, it may justify buying a home without a realtor since you already understand the process. This experience, alternatively, may also help you understand why having a realtor is so important.
Friend or family with experience open to helping you: It may be an uncle or aunt or  parent who is or was a real estate agent. This individual may be available to help you for free or at a low cost. In such a scenario, you could book your own showings and tap their experience to help with the closing.