2023 has had a record year in immigration to Canada with a remarkable 500,00 new immigrants making Canada their new home. Even more impressively, this trend is expected to continue over the next two years, with similar levels of growth anticipated.
This influx represents one of the highest rates per population of any country in the world.
These newcomers will be looking to navigate the dream of owning a home in Canada. According to REALTOR.ca insights, approximately 40% of individuals currently searching for homes are first-time buyers.
This article lays out the three significant steps to help you become prepared about the purchasing a home in 2024, including:
Planning out your needs and what you can afford;
Arranging your finances and mortgage; and
Selecting a real estate agent
Plan the Requirements of Your First Home and What You Can Afford in 2024
What do you need in a first home?
Homes come in all shapes and sizes, in different neighbourhoods, and with various amenities. Before you even look at potential homes, you need to decide what's important to you. This is especially true if you're buying a home with a partner. It's better to understand each other's needs and wants now rather than later on in the process. For example, the neighbourhood and school district may be vital if you want or already have children and want to live in a neighbourhood with great schools.
What kind of first home can you reasonably afford?
You should also consider what you can afford when contemplating your needs and wants. You may want 3,000 square feet of space. But such a large home is out of reach for most first-time homebuyers. Areas with high-ranking school districts are also expensive.
Even if you can get an enormous mortgage to purchase the most expensive house available to you, it doesn't mean you should. A sizeable monthly mortgage payment can hurt your financial and mental well-being in the long term. The Canada Mortgage and Housing Corporation recommends keeping your total housing payment (this includes taxes, maintenance, and mortgage) under 35% of your gross household income.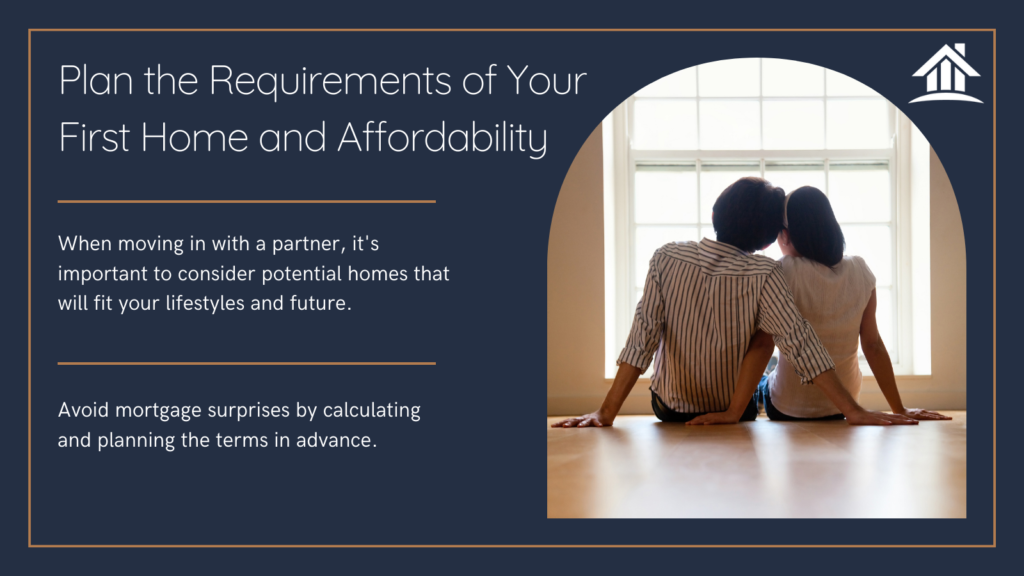 Arrange Your Finances and Mortgage for Your First Home
Are you financially ready to purchase your first home in 2024?
Buying your first home requires financial readiness. At this point, you've likely saved for a downpayment. But are you ready for closing costs such as legal fees and home inspection costs? These costs can amount to 2 – 4% of your purchase price. Further, once you purchase the home, are you ready for property taxes and maintenance expenses on top of your monthly mortgage payments?
It's also important to understand what tools the Canadian government provides to first-time homebuyers. These tools generally make it easier for first-time homebuyers to make their purchase.
What is your credit score?
The next step is to review your credit score, which determines whether you're qualified mortgage. It's handy to find services that can help track your credit score. Many banks offer free credit score estimates without impacting it.
If your credit is on the low side, it's essential to bring it up. This isn't something you can do overnight. Raising your score may even delay your first home purchase. But a better credit score can provide you with better mortgage rates and more financial flexibility. If you're purchasing your first home with a partner, note that lenders consider both of your scores.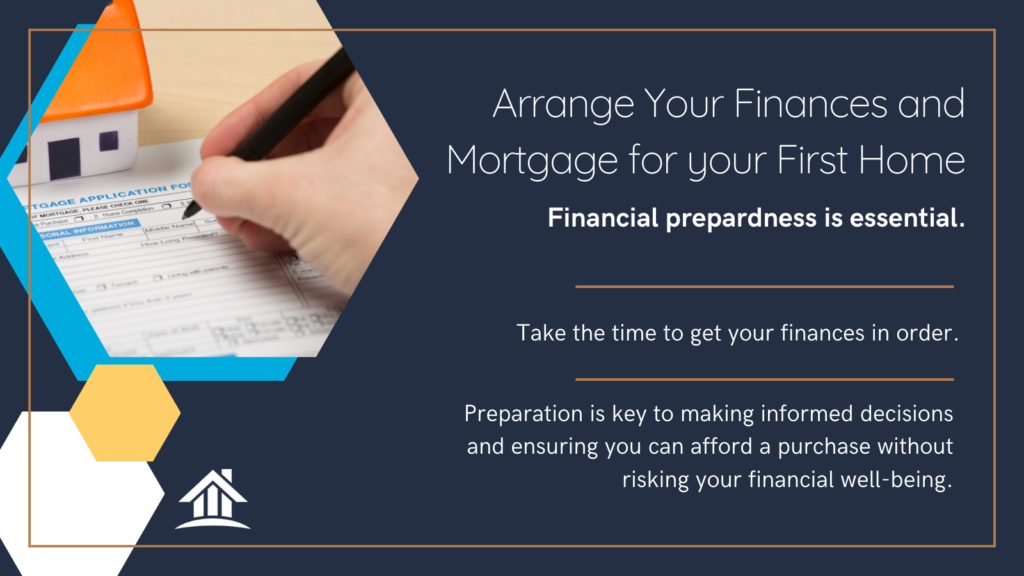 How to find a mortgage for your first home
Your mortgage is commonly the largest loan you'll take out in your lifetime. Therefore, it's essential to shop for the best one. You'll likely speak with two types of people in this process: a mortgage lender and/or a mortgage broker.
Mortgage lenders are most commonly your large banks or credit unions. They lend money directly to you.
Mortgage brokers don't directly lend to you but arrange a transaction to help you find a lender. Brokers have access to many lenders beyond the big banks and credit unions — generally referred to as "A Lenders". They can introduce you to B and C lenders who may be more lenient if you have a less-than-pristine credit score.
Previously this process involved visiting numerous banks and mortgage broker offices. But post COVID-19, this process is more commonly done over video conferencing. When the deal is settled, some lenders or brokers may still require you to visit in person to sign the paperwork.
The interest rate on your mortgage is the most crucial characteristic, but also consider aspects such as:
Do I need to purchase mortgage insurance?
What fees do I need to pay if I break the mortgage?
Are there any penalties if I refinance my home?
Getting your mortgage pre-approved before you begin to look at properties is essential but optional. A pre-approved mortgage can provide certainty in how much you can bid on a house when you find the one.
Find a Real Estate Agent
Buying a home isn't easy. It's a lengthy process with complicated steps and procedures. Luckily, real estate agents are here to help. A realtor can match your needs and wants with what you can afford. They can also advise what to look out for in a first home — things you've never anticipated. They can address your concerns about the current market conditions, how certain neighbourhoods are, and what red flags to look out for and provide referrals to real estate lawyers, home inspectors, and other professionals part of the home buying process.
A REALTOR® can also do a lot of the in-person work for you during this COVID-era. Suppose you're afraid of attending a home showing. In that case, many agents may be happy to visit the property on your behalf and show it to you via ZOOM, Facetime, or similar applications.
Once you're ready to close on your deal, a real estate advisor can help prepare your offer package. This includes your offer price, pre-approval letter, proof of funds for the down payment, and terms and conditions.
It's also important that you meet with several real estate agents before selecting the one you want to work with. Hiring an agent is similar to hiring an employee. You'll want to meet with multiple agents and ask questions to understand their credentials. Online reviews are also a great way to differentiate between agents as reviews are written by real clients that have had a full experience working with the prospective agent you are interviewing.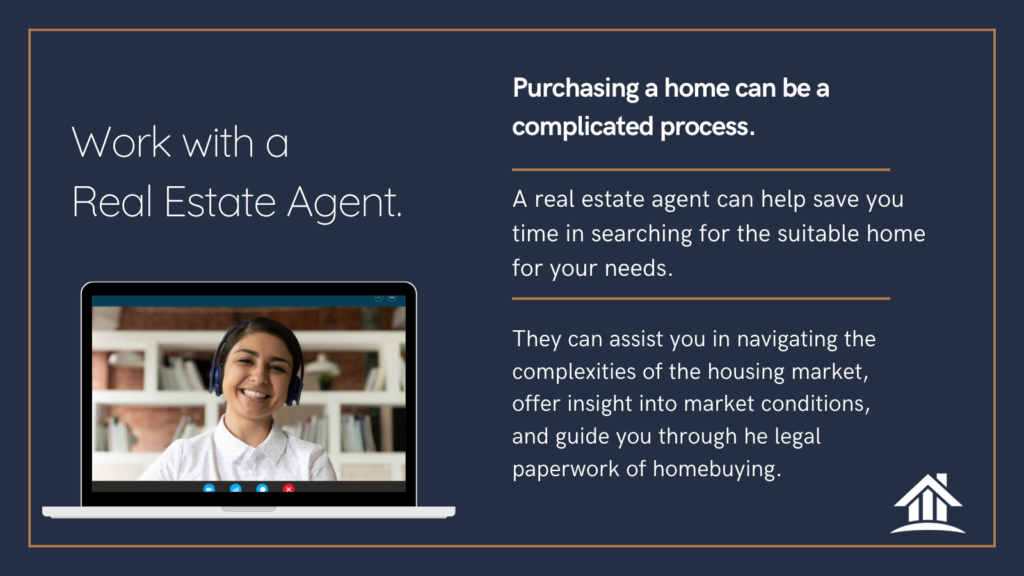 Buying your first home is a complicated and exciting process — especially in 2024. It's important to plan out what you can afford and what amenities and features that you and your partner need in a home. Arranging your finances and mortgage and finding an excellent real estate agent are also critical to making this process as smooth as possible and turning your homeownership dream into reality.