Renting an apartment is tough. Sometimes, Kijiji and Craigslist listings are sketchy or a downright scam. You could also call a listing only to find that someone has gotten there before you—even if that listing was only posted a day ago. Furthermore, what happens when you're too busy to find available rentals or don't know the process of renting in a new city?
Enlisting the help of a realtor could solve all these issues. In this article, we explain how a realtor provides access to rentals that you can't find yourself, helps with the heavy lifting in finding and securing a new home, and provides valuable expertise in the rental process—especially if you're moving to a new city. The best part is that it won't cost you a dime.
Access to exclusive listings through MLS
You may be looking to rent an apartment by scouring websites such as Kijiji or Craigslist to find that perfect deal. In markets with low vacancy rates, this is a nightmare. Often, the second a rental is posted, dozens of prospective tenants call in. By hiring a realtor, you avoid these issues.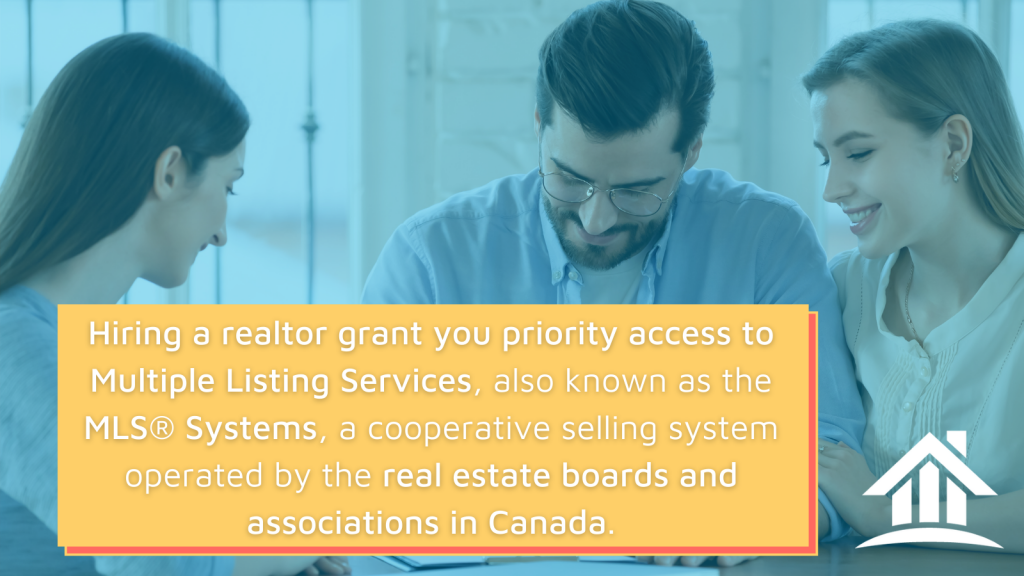 Although MLS is publicly searchable through Realtor.ca, there's a 48-hour lag before non-realtors can see these listings. Thus, in cities with low vacancy rates, it's common for the listing to be already gone by the time the public can lay eyes on it.
Helping with the nitty-gritty of renting
If you live a busy schedule, your real estate agent can also help with the "heavy lifting" of finding a property. This includes finding an available property and closing your rental agreement with the landlord.
After telling your realtor what you're looking for and your price range, he/she can sift through the hundreds of listings on MLS and other sources to find the perfect fit for you and arrange viewings. They'll also drive you around to view each place! This can save valuable time that would otherwise be spent calling landlords to set up an appointment to view the property and scouring the internet for your next home.
If you think you've found the home or apartment of your dreams and want to make an offer, the advantages of a realtor continue to shine. Because agents deal with rentals so often, they know exactly what the process is, what forms you need to fill out, and what document to provide the landlord. They can help you source papers, such as an employment letter when requested by the landlord.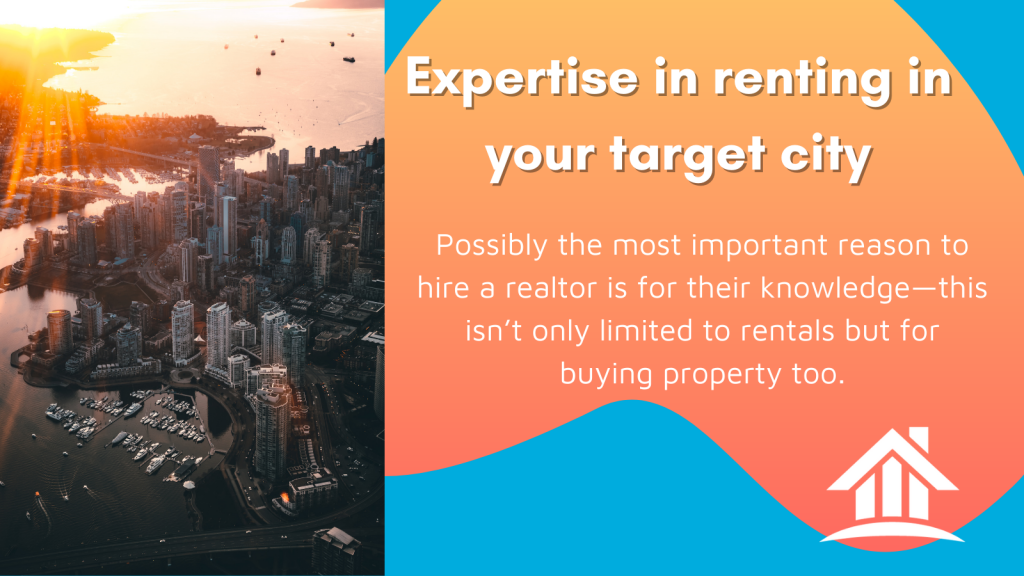 An agent provides insight into both the rental process and the local real estate market, which is critical when you're moving somewhere new.
Their expertise can cut out rental listings that are sketchy. The agent also understands your rights as a tenant and makes sure that landlords don't do illegal acts such as ask for a security deposit in certain Canadian provinces. These two benefits can help save you from common rental scams, something that's becoming more common as property markets get more competitive.
Ultimately, your realtor is there to look out for you. He/she can pick up on uncommon or illegal clauses in the lease agreement that you may not entirely understand. And due to their knowledge of the local market, they know or can find out if certain buildings have a bad reputation. For example, some condo buildings may have a history of cockroaches or moulds or were designed by a developer with a reputation for low-quality products.
If you're moving to a new city, it's better to hire an agent who knows the market than bothering your one or two friends who live in the city, asking them about every neighbourhood. Real estate agents know their city and the neighbourhoods well. They understand which neighbourhoods are ideal for you, whether their family-friendly, commuter accessible, and much more. They can also prevent you from taking that value listing that turns out to be in the rough part of town.
You don't pay—so what's in it for the realtor?
There are many realtors who won't touch rentals. Other just don't advertise the fact that they do work with renters. The commission for rentals is much lower than if the agent had sold the property to you. While you, as the tenant, don't have to pay anything, the landlord usually pays a commission valued at the first month's rent. This commission is then split between the landlord and the tenant's agent and any brokerages they work with. So, an agent would ultimately have to take on a considerable number of deals to turn a profit.
So why would real estate agents even help a renter? It's usually to build a client base and hope that today's renters become tomorrow's homebuyers. If you're satisfied with your rental, you'll likely go back to the same real estate agent when you buy a home, and this is where the agent would profit. Better yet, you may even refer some of your home-buying friends and family to the agent. This is why, despite the fact that helping you find a rental is unprofitable, a good real estate agent still puts their best foot forward, hoping that your satisfaction makes them a hefty commission down the road.
If you're looking for a rental property in a market with a low vacancy rate or in a city that you're not familiar with, then hiring an agent is a must. Even if you aren't in one of these situations, hiring an agent is still beneficial and likely costs you nothing. So why not take the chance?