The last ten years have seen a sharp rise in the number of homeowners choosing to sell their property as part of the FSBO (For Sale By Owner) movement rather than listing with a traditional REALTOR® and/or real estate company to sell your home. Enticed by the premise of pocketing more money from the sale of their home rather than paying out commission to a REALTOR®, many homeowners find they've bitten off more than they can chew when it comes to selling their property.
Why is that?
Simply put, selling a home takes a lot of time and effort. Although FSBO is not an impossible path by any means, there are a number of key points to keep in mind before choosing to oversee the sale of your home.
Not only are you responsible for all aspects of putting your home on the market, including, but not limited to, setting the listing price, advertising the property and setting up as well as being in attendance for showings for potential buyers, you'll also have to negotiate in terms of the sale, including price, closing date and more. In other words, instead of having multiple specialists to help you with the sale of your home, you will be the all-rounded expert in all fields.
For many home sellers, these tasks are worth their time and effort in lieu of paying out commission to a REALTOR®.
But to backtrack just for a moment, let's look at setting the listing price a little more closely:
One of the biggest risks associated with selling your home on your own is not hitting the "sweet spot" of home prices. Market changes can cause housing prices to fluctuate. If your house is overpriced, you might find it sitting on the market for longer than what you might have expected. Additionally, prospective buyers may shy away from a home that has been sitting on the market for an extended period of time because they might think negatively about the house or the neighbourhood.
On the other side of the coin, selling the house for too little benefits no one except the buyer. If trying to avoid paying commission is the primary motivation behind selling your home on your own, but you undervalue the price of the property, the cost-savings benefit of FSBO might not be fully realized.
This is one of many areas that working with a REALTOR® can come in handy. Real Estate professionals have access to data on actual selling prices – not listing prices – and would be familiar with relevant market demands and changes in your neighbourhood helping to provide analysis of current trends.
Some Risks when you decide to sell on your own:
Leaving money on the table as FSBO don't get as much exposure without the help of a REALTOR who is well connected to buyer agents
Will have to pay for legal, marketing costs yourself
Risk that home defects have not been documented, running into legal issues down the line
Time spent trying to list, market and negotiate your own transaction
Safety concerns when showing your own home
Wasting time and efforts by staging and showing your home to potentially unqualified buyers
First time home buyers may be apprehensive to seal a deal without the help of a professional
Statistics show that selling your home with the assistance of a professional REALTOR® will garner you a bigger profit. According to the National Association of REALTOR®'s 2022 Profile of Home Buyers and Sellers, the average FSBO home price was $225,000, while the average home price sold by an agent was $330,000.
That report also showed that only 10% of home sales in the U.S. were FSBO. It also stated that 86% of buyers purchased their home through a real estate agent or broker, a share that has steadily increased from 69% in 2001.
Only 28% of FSBO home sellers decided to market their homes on websites including social networking websites and FSBO websites. However, it is evidently a useful platform to use because 51% of buyers found their home on the Internet. Other FSBO sellers marketed their homes through friends, relatives, or neighbours (28%) or yard signs (20%).
The most difficult tasks for FSBO sellers cited in the report include getting the right price (16%), understanding and performing paperwork (13%), selling within the planned length of time (10%), preparing home for sale (6%) and having enough time to dedicate to all aspects of the sale (1%).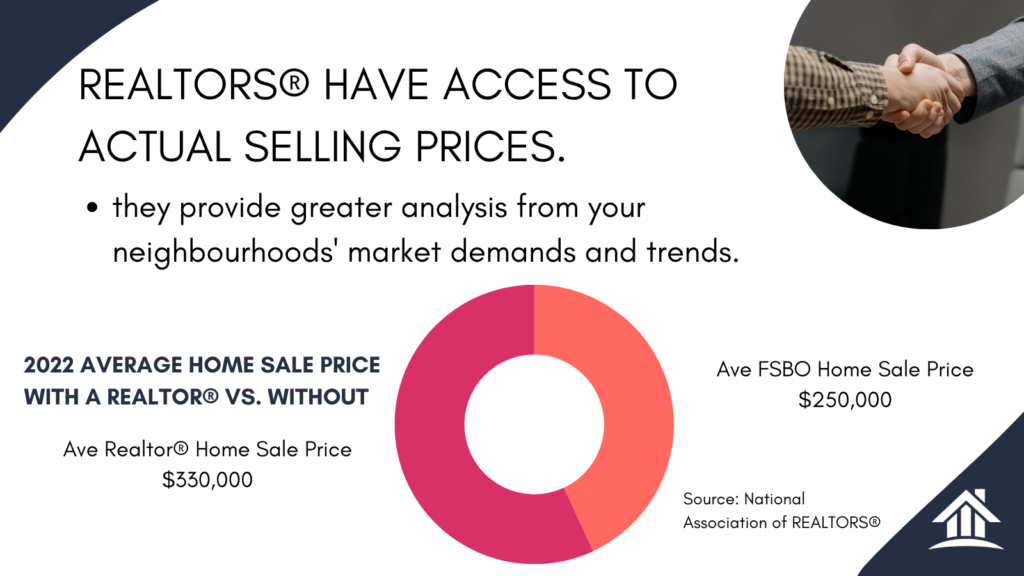 Although you may think there is no one better qualified to show off your house than yourself, a REALTOR® can ensure the presentation of your home goes as smoothly as possible.
Not only can a REALTOR® offer expert tips on staging your home to look its best, they are also able to highlight certain features or aspects of the home that the homeowner may unintentionally overlook during the presentation process. REALTOR®s also know the current trends as to which designs or furniture arrangement can attract buyers. For those pressed for time and find themselves juggling a career and family, working with a REALTOR® can be a wise investment.
The ultimate goal in any home sale process is to get as many eyes on, and as many people passing through, the property as possible. A REALTOR® can not only have your property listed on the Multiple Listing Service (MLS), they can help promote the property via flyers, pamphlets and postcards with eye-catching photos and major selling points to help drum up interest.
These are costs that FSBO sellers would otherwise be responsible for absorbing.
Another benefit of using a REALTOR® is the exposure they can provide to other agents who might have the perfect buyer for the property already in mind. An agent tour of the home early in the sales process allows other agents to ask questions and gather information about the property that cannot be discovered through pictures and MLS information alone.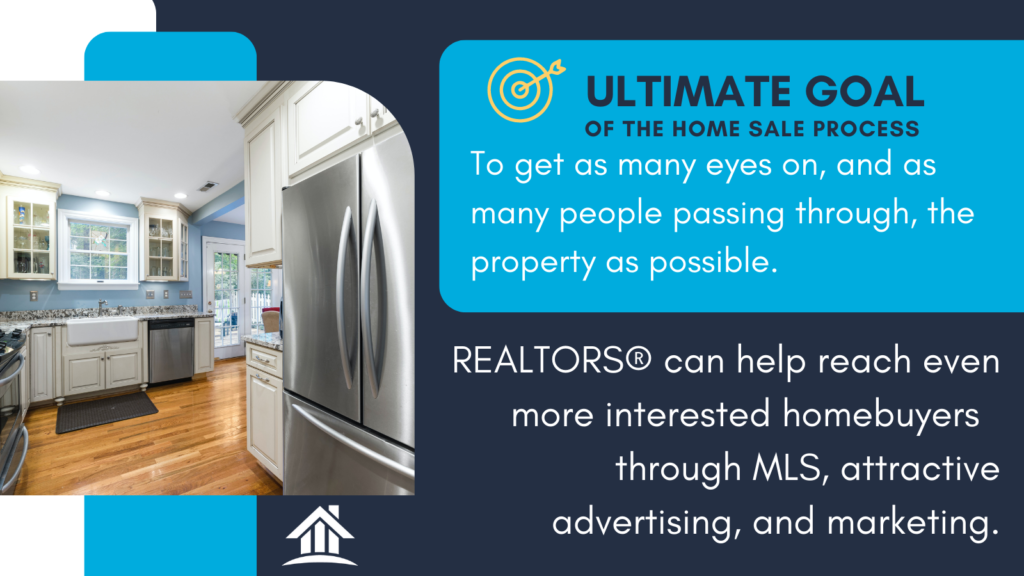 Most importantly, a REALTOR® is there to represent your best interests as a seller.
Your REALTOR® can help you objectively evaluate each offer without compromising your marketing position. With a REALTOR® in your corner, they serve as a bit of a buffer between you and the seller. REALTOR®s can solicit honest and open feedback from prospective buyers, who may not be as candid when dealing with a homeowner on a one-on-one basis.
And when you're lucky enough to reach the offer stage, they will not only help you devise a win-win agreement that will appease both parties, they can also help walk you through the process of appraisals, inspections and financing – tasks that you may not be as familiar with as a FSBO.
Keep in mind that several different variables can arise between the sales agreement and the final closing of the property, as both buyers and sellers have various legal responsibilities that need to be fulfilled.
REALTOR®s carry Errors & Omissions insurance, which serves to protect parties from potentially financially-crippling liability should they be brought to court for negligence, errors, failure to disclose, or other possible reasons.
Your home is among the most valuable assets you'll ever own. When it comes to selling your home, trust a professional REALTOR® to ensure you get the job done right without undervaluing your home.