Staging is vital to the home-selling process. Although houses in some real estate markets are flying off the shelves, more demand for your home can mean a higher sale price—something most people wouldn't complain about.
But with COVID-19 and a migration to the digital world, staging your home isn't only for showings and open houses. Staging your home is also crucial for the photos and videos used to sell your home. These marketing assets will make the first impression on potential buyers.
In this article, we discuss how to stage your home for the virtual world and how COVID-19 may change how you should stage your home in 2021.
The home staging basics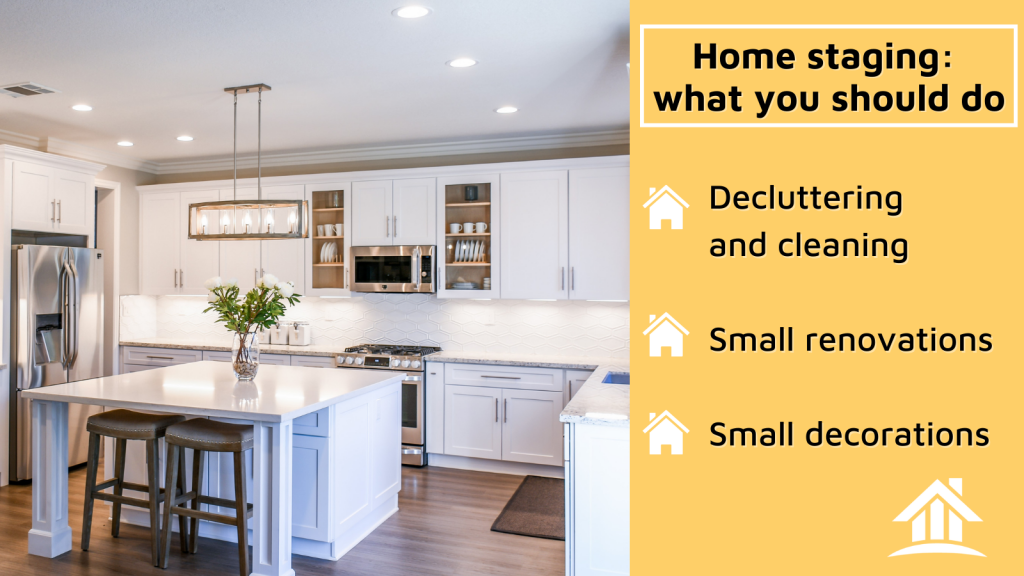 Decluttering and cleaning are still important
Decluttering and deep cleaning your home is an effective way to stage your home. This remains true for staging in the virtual world. Decluttering can make your home seem more elegant and help potential buyers imagine themselves moving in.
Although people won't be visiting your home in person (just yet), it's still essential to deep clean your rooms. Often, the dirt, dust, and grim around your home can add up and provide a sense that your house isn't for the person looking at the photos of your rooms. Unclean windows, a fine layer of dust on your furniture, or a stain on the rug can quickly put someone off.
Small renovations can help you shine
Painting your rooms can be one of the easiest ways to freshen things up. It can turn an old room into a new one. A fresh coat of paint removes any stains, marks, or scratches—no matter how small—from being noticed. This can also reduce the cost of virtually staging your home as the photo editor will have fewer details to clean up (more about virtual staging later in this article).
Enlist small decorations
Commonly, what sets apart a fancy home from a regular one are the details and minor decorations that add up to a certain suave in a room. For example, hardcover books, throw pillows and blankets, potted plants, and artwork can add a lot to a room and jazz it up. The best part is that these items are usually easily accessible from places such as Amazon, so you don't even need to leave the comfort of your own home.
Consider how COVID-19 trends have changed home staging
Home offices and gyms are now in-demand spaces
COVID-19 has changed what buyers look for in a home. People are moving to the suburbs and to larger homes as they envision a home gym or office to compensate for their inability to have a gym or office like before.
Instead of staging an area as a second dining or living room or as a storage closet, these places could be better set as a home office. You could further stage an empty basement with a set of dumbbells or even a squat rack to expand a potential buyer's imagination. Other possibilities could include a home classroom, media room (to replace movie theatres), or spa area.
Create an outdoor retreat
The pandemic has also driven demand for private outdoor space. People, more than ever, want fresh air without being in public. Staging your outdoor patio with excellent patio furniture or even a fire pit can create a sense of an "outdoor retreat" that buyers are willing to line up for. It creates an opportunity to entertain guests when the weather is warmer while reducing the fear of COVID-19 transmission.
DIY or professional stager?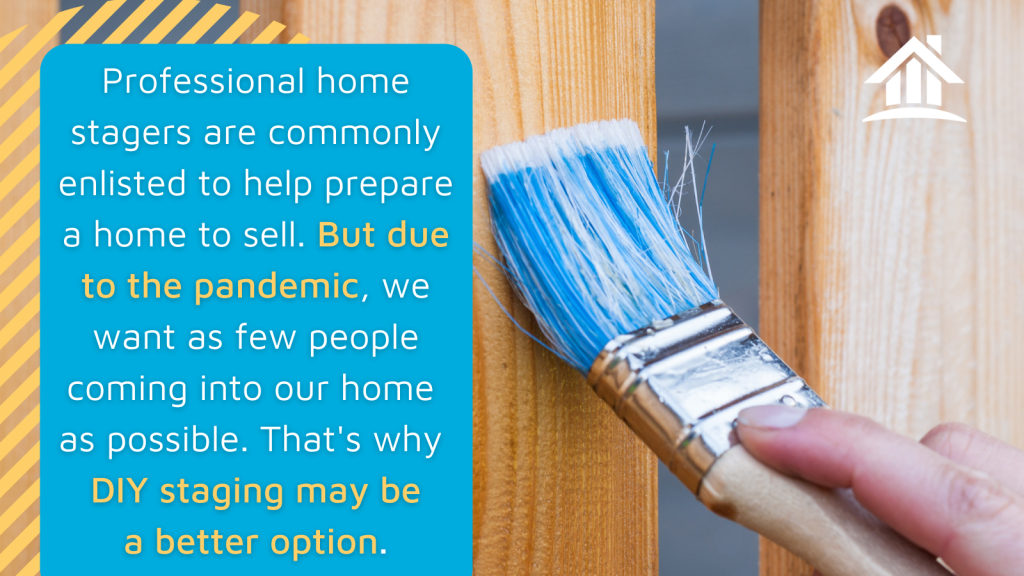 This generally centres around declutter and trying your best to make everything appear fresh and pretty for the pictures that'll sell your property.
However, stagers have also adapted to COVID-19. Some stagers are now offering their services virtually. You can take them around your home via FaceTime or Zoom as they provide suggestions on how you can spruce the place up. Another alternative is to find a real estate agent who also provides home staging services.
A stager can be expensive. Especially with furniture rentals, it can amount to thousands of dollars. However, it's commonly worth the cost. A well-staged home can help your property stand apart from others in the market and ultimately increase the final selling price.
If you do look for a professional home stager, you want to look out for the following:
Portfolio: What was their past work like? What do their prior clients say about them?
Professionalism: Do they act professional when they communicate with you? Do they get deliverables to you when they say they will?
Real estate knowledge: A stager who understands the real estate market understands what's in demand and can orient your home to fulfill such market demands.
What about virtual staging?
Virtual staging beings with a photographer taking photos of your rooms. The photos are then sent to a virtual stager who uses software to achieve a particular look akin to a staged home. This effectively removes the need to rent furniture when staging your home (an enormous cost and hassle).
Virtual stagers can remove or add in pieces of furniture, change a room's colour schemes, or even change whole areas of your home. This type of service is more important than ever as demand for staging has increased due to an increased dependency on real estate photography to drive sales. At the same time, traditional home staging has become more complex with COVID-19.
This method of staging is also more cost-efficient. Virtual staging services can cost anywhere between $16-$100 per photo. Although it's common to have 20 pictures for a single home listing, rooms such as washrooms and closets likely won't require this treatment. As a result, you're probably not looking at thousands of dollars to virtually stage your home.
Staging your home is a great way to make it stand out from other properties in your area. It can ultimately help you sell your home for a better price at a faster rate. There are many options to stage your home, such as DIY, a professional stager, or doing it virtually. Whichever option you choose, you can be sure that it'll likely add value to your selling process.