A Guide to Digital Marketing Strategy for Realtors
May 15, 2019
Word of mouth was once the most powerful lead generator, but the rise of technology has made the internet more and more important. Real estate agents in 2019 need to prepare for the digital landscape. And this article goes over a few strategies to market yourself online. This article includes how to:
● Best utilize a personal website;
● Expand your social media presence; and.
● Capture leads through email marketing.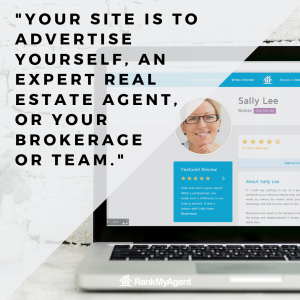 Website
Having a website for your business is the bedrock of a digital marketing strategy. And a good website is one that is mobile friendly and which has all the right content.
According to Statista 52.2% of website traffic was from mobile devices, as opposed to desktop computers, in 2018, and this has been a growing trend over the past few years. In 2012, the percentage of mobile web surfing was only 10.7%. Additionally, Google prioritizes mobile-friendly sites in its search engine, providing optimized sites with more SEO juice. So, make sure your website is optimized for mobile phones.
There are also a number of things a good realtor website should have, including all your listings, content to guide potential buyers and sellers, and proof of your credibility.
Including your current listings on your website is a no-brainer. However, setting up your listings isn't always easy and can require an IDX (Internet Data Exchange) website, which allows you to display MLS listings. Implementing IDX is not easy and may require a professional web developer or an IDX vendor, who charges a monthly subscriptions for an IDX-compatible site. Some vendors charge $30-$60 a month, while professional web developers can be in the thousands. The benefit of a professional developer is that they can provide a more robust website that is faster and more reliable. While expensive, an IDX website is worth its cost.
Content for your site is also important. It can show potential clients that you really know a lot about the buying and selling process or the areas that you work in. Content is commonly sorted as materials for a buyer and materials for a seller and can speak to topics such as purchasing mistakes, buyer/seller closing costs, and much more.
A rule of thumb is to use your website content to answer the questions you hear the most. If you really want to step it up a notch, a blog page is a great start. Posts about common home buyer/seller questions can be sent to current and potential clients, shared on social media, and help with your site's SEO. To get the most SEO benefits from blog content, make sure posts are at least 1000 words.
Your site is to advertise yourself, an expert real estate agent, or your brokerage or team. Thus, make sure to have an "About me" or "About the Team" section. This is your time to brag about how great of a salesperson you are by listing any sales awards, past experiences, and customer testimonials. Skills like additional languages can sway potential clients to reach out, as well, so make sure to include it.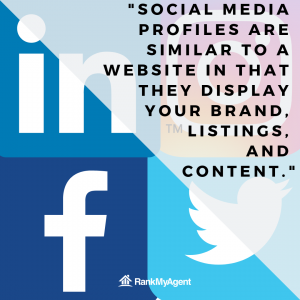 Social Media
Social media profiles are similar to a website in that they display your brand, listings, and content, but each social media platform has its own rules and quirks. At the very least, you should have a Facebook page, Twitter, Instagram, and LinkedIn. For each platform, you want to post content a few times per week.
A Facebook page provides an outlet to reach future, past, and current clients, while having powerful marketing tools and analytic insights. Use graphics to share positive reviews of your work, to promote your current listings, to share your latest blog post, and take time to also interact with your followers. Facebook has great features for live video and 360-degree photos to bring digital open houses to the next level.
With a Twitter profile, messages should be shorter. This is a great space for interesting real estate statistics and for retweeting stories related to your city. Many of the Facebook page tips also apply here: sharing blog posts, current listings, and positive reviews, as well as interacting with followers.
A lot of realtors use Instagram to portray a more personal side of themselves. While there's space to advertise your listings and monthly sales and average price figures of real estate in your city, it's also a place to showcase your beloved pet and the delicious sushi you had last night. Make sure your pictures are well lit and taken nicely. Instagram stories are also a great place to portray live events, such as realtor conferences or brokerage holiday parties.
On the complete opposite end, Linkedin is where you keep it 100% professional. A good profile is the most important part, and Linkedin is a great place to share your blog posts.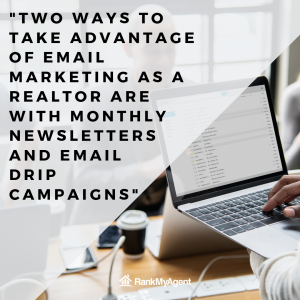 Email Marketing
According to SmartInsights, real estate emails have a 21% open rate and 1.9% click-through rate, which is in line with most industries. Two ways to take advantage of email marketing as a realtor are with monthly newsletters and email drip campaigns.
Monthly newsletters are a great way to lightly contact new leads and to stay in touch with past clients who may want to buy or sell a property in the near future. Every realtor, team, or brokerage has a different way of putting together their newsletter, but sharing real estate market reports, upcoming open houses, and new blog posts are a great way to interact with your contacts. Also include fun team events through the month and any charitable events that your business has participated in.
If someone attended an open house or left their contact info after visiting your website, it could be an opportunity to nurture this contact into a client. Email drip campaigns are usually automated through a CRM (customer relationship management) system, and sends contacts relevant materials like open houses in their area, blog posts that they may have an interest in, and opportunities for them to take the next step and to give you a call.
So what are you waiting for? It's time to expand your digital presence and generate more leads through a website, social media, and email marketing.