If you're entering the world of homeownership, congratulations! Owning a home is an important milestone in life, but it comes with new responsibilities. You may or may not have purchased tenant insurance if you rented before buying, but home insurance is essential to homeownership.
Home insurance isn't mandated by law like car insurance. However, your home is likely the largest single purchase of your life. It's vital to ensure you're covered in events such as a flood or fire. Additionally, a home insurance policy is commonly mandated by mortgage lenders as a condition to your mortgage.
In this article, we explain the basics of home insurance to new homeowners. The article explains what home insurance generally covers and doesn't cover and the types of insurance policies you can purchase.
What Can New Homeowners Expect to Home Insurance Cover?
Damage to Your Home and Others' Homes and Property
New homeowners commonly think of home insurance in cases where there's a flood or fire. In events where your home suffers severe damage or destruction, home insurance generally provides the cost of rebuilding your home up to the policy limit.
Further, if a fire starting from your home also causes damage to your neighbour's house or a detached part of your home, such as a garden suite or shed, your home insurance policy may also cover these costs.
Not all forms of damage are covered, however. And it's up to you to choose what is and isn't part of your policy. Some events to look out for in your policy include:
Flood: often not available for purchase in areas that commonly see flooding
Windstorms: structural damage may be covered, but water and hail damage may not be
Sewer backup: damage from backed-up sewers, drains, toilets, and showers
Earthquake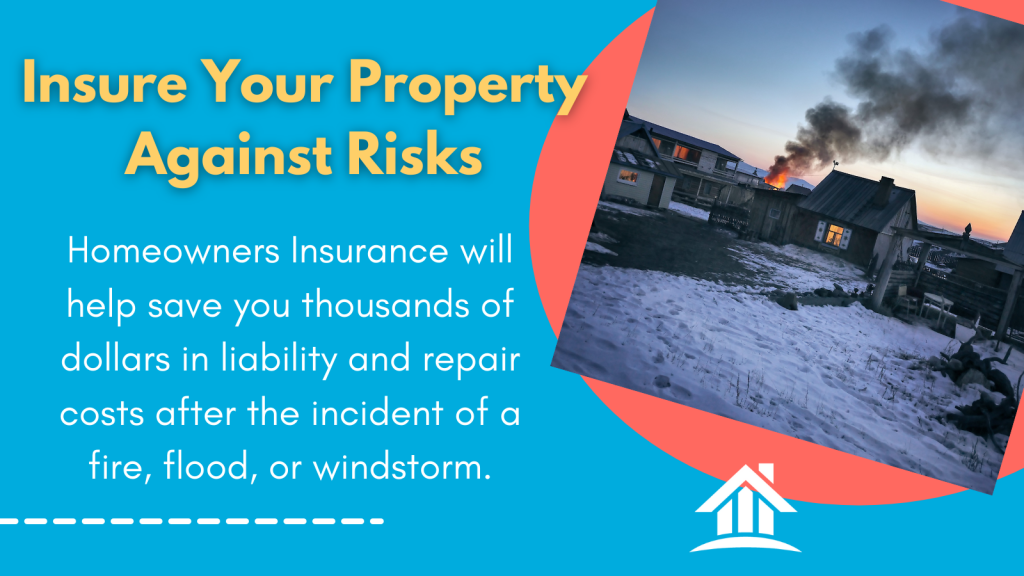 Further, "predictable events" are not covered. I.e., if you don't drain your pipes in the winter and they burst, your insurance won't cover this. Damage that's a result of not maintaining your house is also not covered. For example, if you don't regularly replace your roof, and this results in water damage to your home, your insurance won't cover repair costs.
Damage or Loss of Personal Possessions
If your home burns down, it's not only about rebuilding your home but also replacing its contents. Home insurance policies cover damage or loss of your personal property, including incidents such as burglaries.
There's a long list of what and when a home insurance policy won't cover personal property. Typically, home insurance policies don't cover:
Loss or damage of items when they're outside of your house or inside your vehicle
Expensive jewelry or fine art. This commonly requires a separate insurance policy or must be added to your policy after the insurance company appraises the jewelry or fine art.
Equipment breakdown, such as a laundry machine or HVAC system — even if it's not unforeseen and unrelated to general wear and tear
Equipment or stock related to a business. This requires a business insurance policy. Additionally, home insurance doesn't generally cover any business-related damages or losses, even if you run your business from your home.
As your years of homeownership go by, you'll accumulate more things in your home. It's important to keep an inventory of what you own and regularly renew your insurance policy. The worst-case scenario occurs when the property inside your home is destroyed, damaged, or stolen, and you discover that your insurance doesn't cover this loss.
Additional Living Expenses if Your Home Becomes Uninhabitable
Suppose something happens to your home. It could be a fire, weather damage, or another unpredictable event. Your house may become uninhabitable, and you and your family may need accommodations such as a hotel or short-term rental until the situation is fixed.
As a new homeowner, you can rest assured that your homeowner's insurance covers these associated costs to the policy's limit. Home insurance policies may also cover lost rental income if you used your property fully or partially for rental.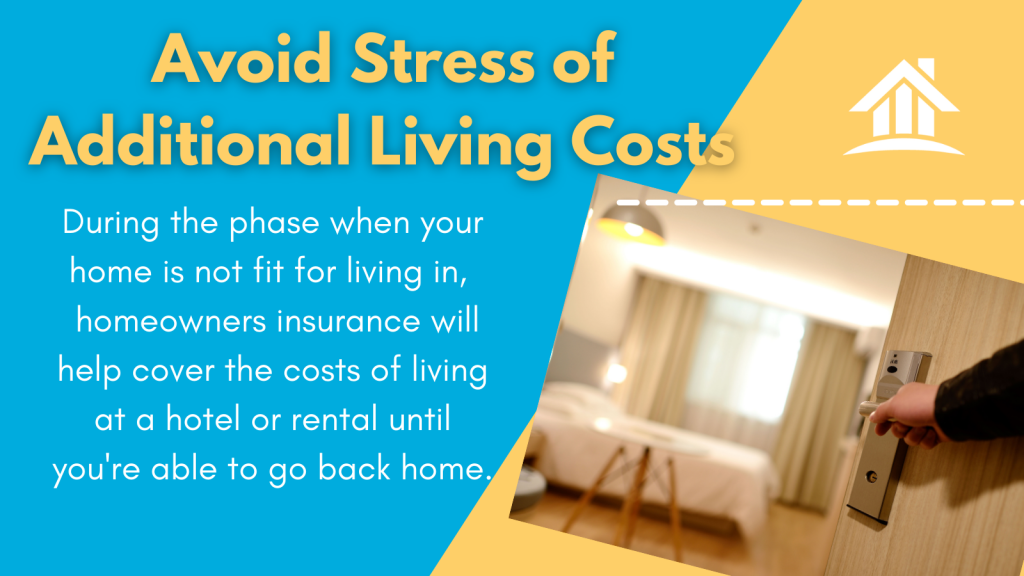 Damage of Injury When Someone Visits your Property
As a homeowner, you may be personally liable for injuries that happen on your property. For example, if a guest trips or slips as they reach your front door, which causes the guest an injury, they could sue you for damages. This is a common instance that home insurance is set to protect new and veteran homeowners alike.
To further draw the line between business insurance and home insurance, most home insurance policies won't cover personal liability damages if the person visiting your home is a client. To ensure that you're covered if your business client visits your home, you need a general liability business insurance policy.
What Types of Home Insurance Policies are Available?
Home insurance policies vary depending on what you need. Some new homeowners may need a home insurance policy with more or less coverage. Some new homeowners may want protection against earthquakes or floods, which many policies don't cover. There are generally four types of policies you can expect when you speak with an insurance agent or broker:
Comprehensive: A policy that provides the most coverage and protects your home from all risks unless expressly excluded by your policy.
Standard: A policy that provides less coverage than a comprehensive policy and only covers instances and risks mentioned in the policy.
Broad: A policy that sits between Comprehensive and Standard. Generally, it provides a Comprehensive policy (covers all risks unless excluded) for your home but a Standard policy (only covers what's mentioned) for the contents inside your home.
No-frills: The policy that provides the least coverage. A no-frills policy may not offer enough coverage to satisfy requirements by mortgage lenders.
Regardless of your policy, it's important to regularly revisit your policy as your home's contents and your home itself change. You want to notify your insurance company whenever:
Your home is damaged, vandalized, or robbed
You make renovations to your property — especially if you're getting a pool
You start a business from home
A guest is hurt while visiting your home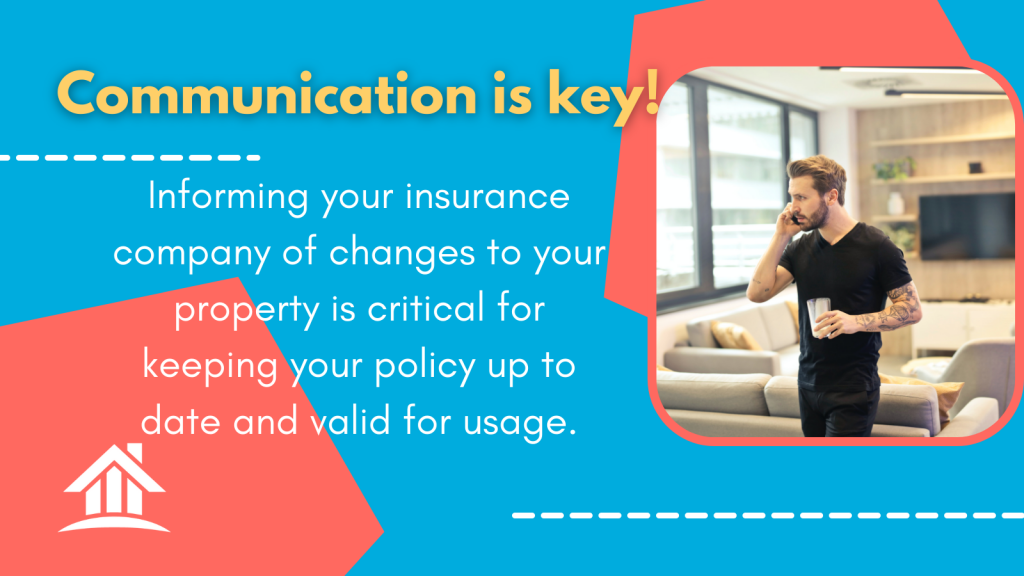 Homeownership comes with many risks, but the right insurance policy can help mitigate much of these issues. It's essential to understand your policy's coverage to avoid surprises once you need to make a claim.