Recently, there's been significant chatter about the new mortgage stress test that came into effect on June 1st, 2021. If purchasing a house — between bidding wars and record-high prices — wasn't challenging enough, the mention of a new mortgage stress test may cause even more anxiety.
Although the test makes it harder for homebuyers to qualify for certain mortgages, it's one of the many efforts that the Canadian government is taking to reduce the rapid appreciation of home prices in major Canadian cities.
This article answers some of the questions regarding the new mortgage stress test, such as what it is, how it has changed in 2021, what to expect as a result, and what first-time homebuyers can do to adjust to the mortgage stress test.
What is a mortgage stress test and how has it changed in 2021?
You may be hearing the term "mortgage stress test" for the first time, but it's nothing new. A prior mortgage stress test came in 2018. The test requires that a borrower theoretically make mortgage payments at a substantially higher interest rate than what a bank had qualified them for. This protects borrowers by assuring that they can maintain mortgage payments if interest rates increase — a not unlikely scenario as Canadian rates sit at historic lows.
On June 1st, 2021, the Office of the Superintendent of Financial Institutions (OSFI) and the Department of Finance introduced a new mortgage stress test that impacts anyone applying for a mortgage starting June 2021.
If you already have a mortgage, you won't have to worry about this new stress test. But any home refinances, homeowner line of credits, or a switch to a new lender require the revised test. OFSI also plans to review the mortgage stress test every December moving forward – whether that's increasing or decreasing the requirements.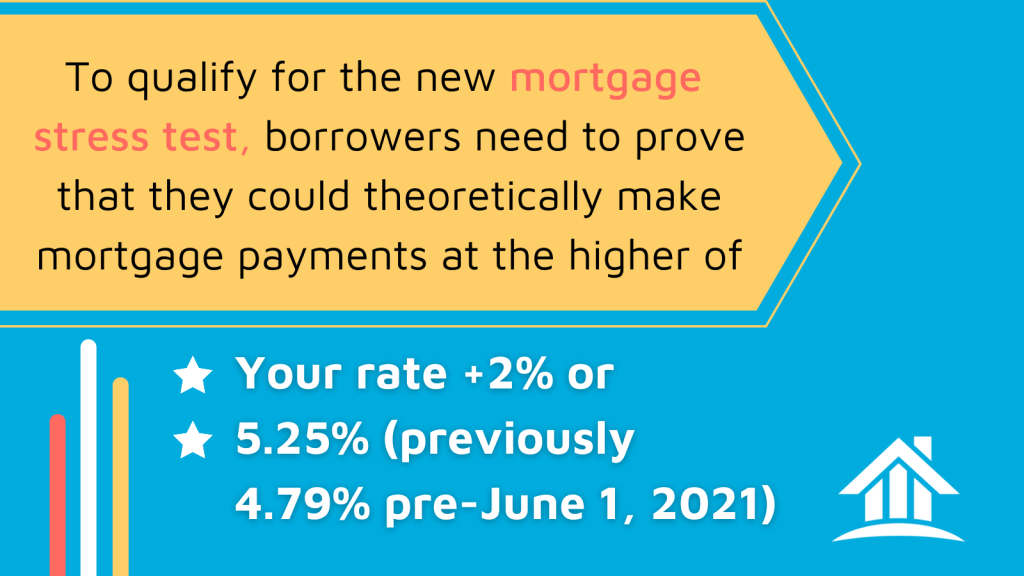 So, if you obtain a mortgage rate of 2%, the stress test focuses on whether you could qualify if the rate were 5.25%. If your mortgage rate is 6%, you'll have to be eligible for a theoretical mortgage rate of 8% (6% +2%).
This stress test applies even if you fulfil credit score requirements and have a 20% down payment ready. Many believe that homebuyers of all income levels should see a 5% change in the amount of mortgage they can qualify for.
As an example, imagine you're trying to purchase a $500,000 home with a 20.0% down payment. This means you'll have a $400,000 mortgage. Let's also assume the amortization period is 25 years. Without a mortgage stress test, a 2.0% mortgage interest rate would mean you'd have to be able to make a monthly mortgage payment of $1,694.
However, because of the mortgage stress test, it means being able to hit that 5.25% rate, or monthly payments of $2,384, to qualify for your mortgage. Before June 1st, 2021, the 4.79% mortgage stress test rate would require you to be able to make payments of $2,279 per month.
A bank then takes this mortgage payment rate and compares it to your income and other expense (and your partner's if you're purchasing the property together) to determine whether you could make such a monthly payment and qualify for your mortgage under the stress test.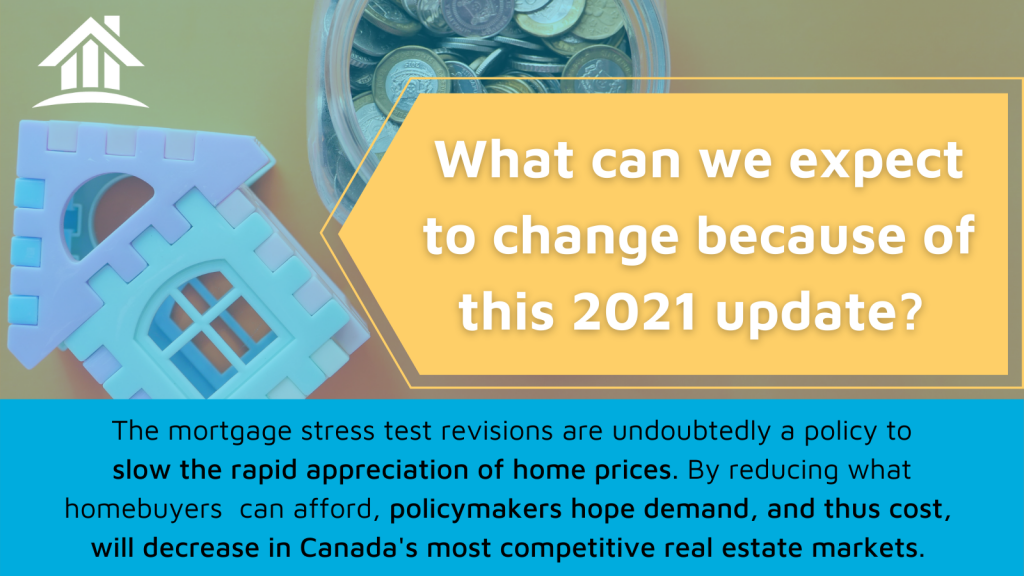 Likely in anticipation of the stress test, the Canadian Real Estate Association reported that the number of homes sold in April fell 12.5% from the month prior. Although the market remains hot, this is the first sign of some unwinding.
An economist for RBC, Robert Hogue, states that the revised stress test is only a "partial" fix to the unbalanced Canadian housing market. Hogue believes that the stress test, along with a gradual rise in long-term interest rates, a resumption of office work, and other factors, will cool demand further. As well, high real estate prices could further entice some to cash out, meaning more supply.
Overall, although a cooling of the market may continue into the months to come, it's not likely that this revised mortgage stress test was the trigger. The test is only one factor, among many, that'll lead to a more balanced real estate market. Other policy decisions such as vacant property tax on non-resident homeowners will also factor into the market balancing.
Simultaneously, policies such as increased immigration could put upward pressure on home prices in Canadian cities.
What can first-time homebuyers do?
Although the mortgage stress tests aim to make housing more affordable, first-time homebuyers may find this as another obstacle to owning their first home. Here are a few tips on how first-time homebuyers can cope:
There are many tools first-time homebuyers can take advantage of, such as the first-time homebuyer incentive or the ability to borrow from your RRSP.
Because real estate prices are at record highs, some parents are either downsizing or taking out a loan against their home's value to provide funds for their children's first homes.
The opportunity to work remotely means many are no longer bound to live close to an office. As a result, some can move to areas where real estate is more affordable.
The mortgage stress test is one-way policymakers hope to put downward pressure on the quickly appreciating real estate market. Overall, the recent revision will make it harder for all homebuyers to purchase a home. But, for those purchasing the first time, don't forget the many tools available to you despite reducing what you can afford.