How Real Estate Agents can Maintain a Positive Mindset When Things Get Tough
May 19, 2020
With the COVID-19 or Coronavirus disease and the recent downturn in the stock market, many real estate agents may be thinking that we're headed for the worst. As more people social distance themselves to prevent the spread of the pandemic, it also means fewer open houses, home showings, and, likely overall, less business. But in times like this, it's good to keep a positive mindset, despite the worry in the world.
In this article, we'll explain how to stay positive as a real estate agent in tough times. Whether you're at your A-game or you're in a downturn, keeping healthy habits and listening to podcasts can keep you positive so you can put your best into your business.
Start with Healthy Habits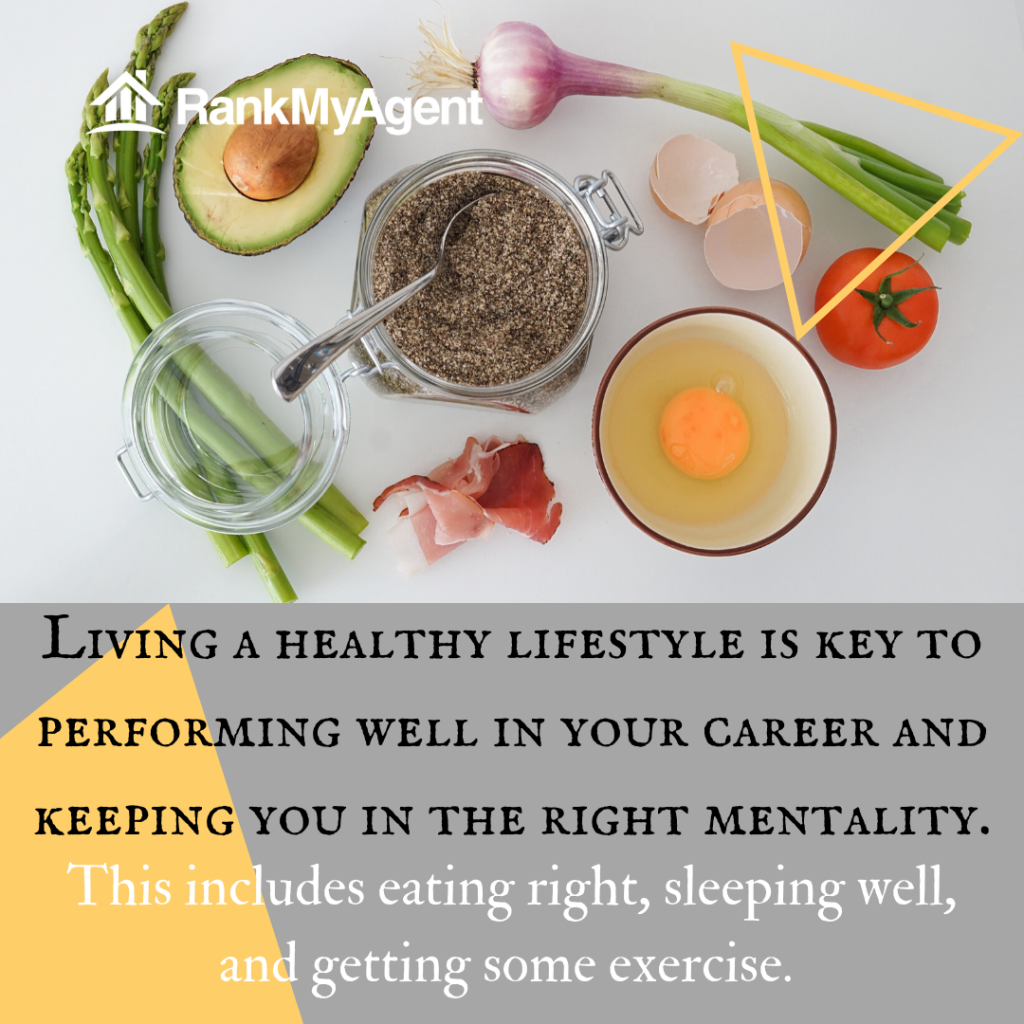 It's hard to stay mentally healthy when you're not physically healthy. Although you may have a busy schedule, it's important to remember to eat healthy, sleep well, and to exercise.
Your job requires you to go in and out of showings, open houses, and client meetings. So, preparing a meal ahead of time can be challenging when you don't know when you'll even have the time to eat. This can make fast food options tempting. But by preparing healthy snacks, like vegetables and fruits, beforehand or by making sure you have time to eat, you can avoid unhealthy and expensive fast foods.
It's also important to get enough rest. Agents commonly get caught up in paperwork and emails after a long day. But that shouldn't be a reason to stay up when you have an early morning the next day. Yes, agents need to reply to emails and messages from clients quickly, but no one expects a response at 11PM. The National Sleep Foundation suggests at least 7-9 hours of sleep a night.
Lastly, busy schedules can make it hard to find time to maintain fitness. But many studies have found that a bit of exercise can make you more productive throughout your day. So that one-hour of workouts at home or at the park could mean a return on investment.
Make these Healthy Habits a Daily Habit
While it's easy to know that eating healthy, sleeping well, and exercising are good for you, it's harder to execute. This is why you need to make them a daily habit. For example, making healthy eating a daily habit could start with meal prepping. While it might seem daunting, meal prepping is easier than ever now with Instant Pots and other similar pressure cookers. There are articles upon articles with dozens of recipes for quick dishes that can be prepared at the beginning of the week and eaten throughout that week. Here are just a few of these articles:
Keeping a consistent sleep routine is also an important daily habit. The life of a realtor means you don't have a regular 9-5 schedule, and this can result in an inconsistent sleep schedule. But the Sleep Foundation recommends that sleeping and waking up the same time every day, even on weekends, can regulate your body's internal clock and help you fall asleep, and most importantly, stay asleep.
For fitness, you should try to cut out an hour every day for physical exercise. This can ensure that that workout sessions or jogs becomes part of your routine. It also gives you no excuse to say that you don't have time to exercise, because you've cut out an hour each day for it. If you need more motivation to start exercising, there are many resources across the web, in particular YouTube, that feature workout and training videos that can help boost your adrenaline!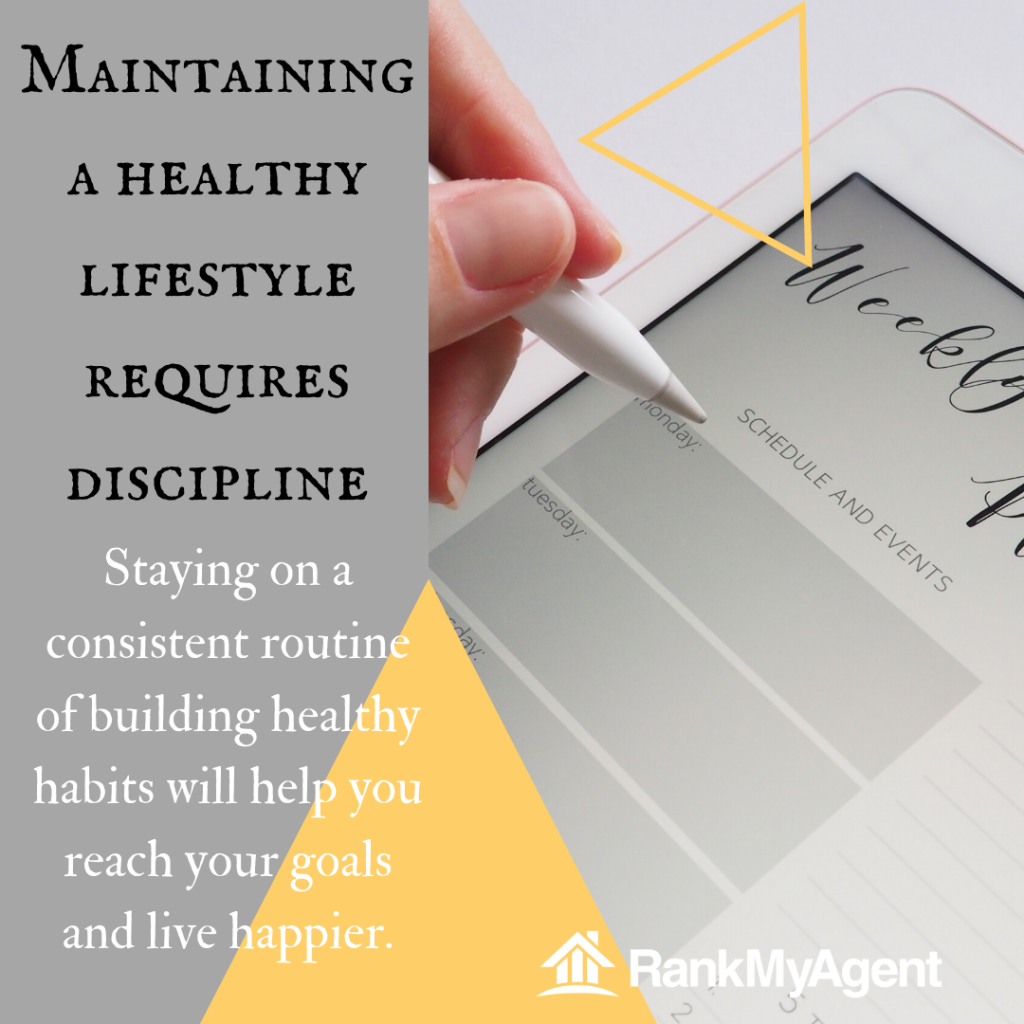 Listen to podcasts for motivation and knowledge
Listening to real estate-related and business podcasts won't only make you more knowledgeable about relevant topics, but also inspire you. It's very common for podcasts to interview other leaders, business owners, real estate investors, and even realtors. The stories of these people—learning about their challenges, struggles, and successes—can make you realize that you're not the only person facing tough times. Even better, these podcasts can remind you of the light at the end of the tunnel.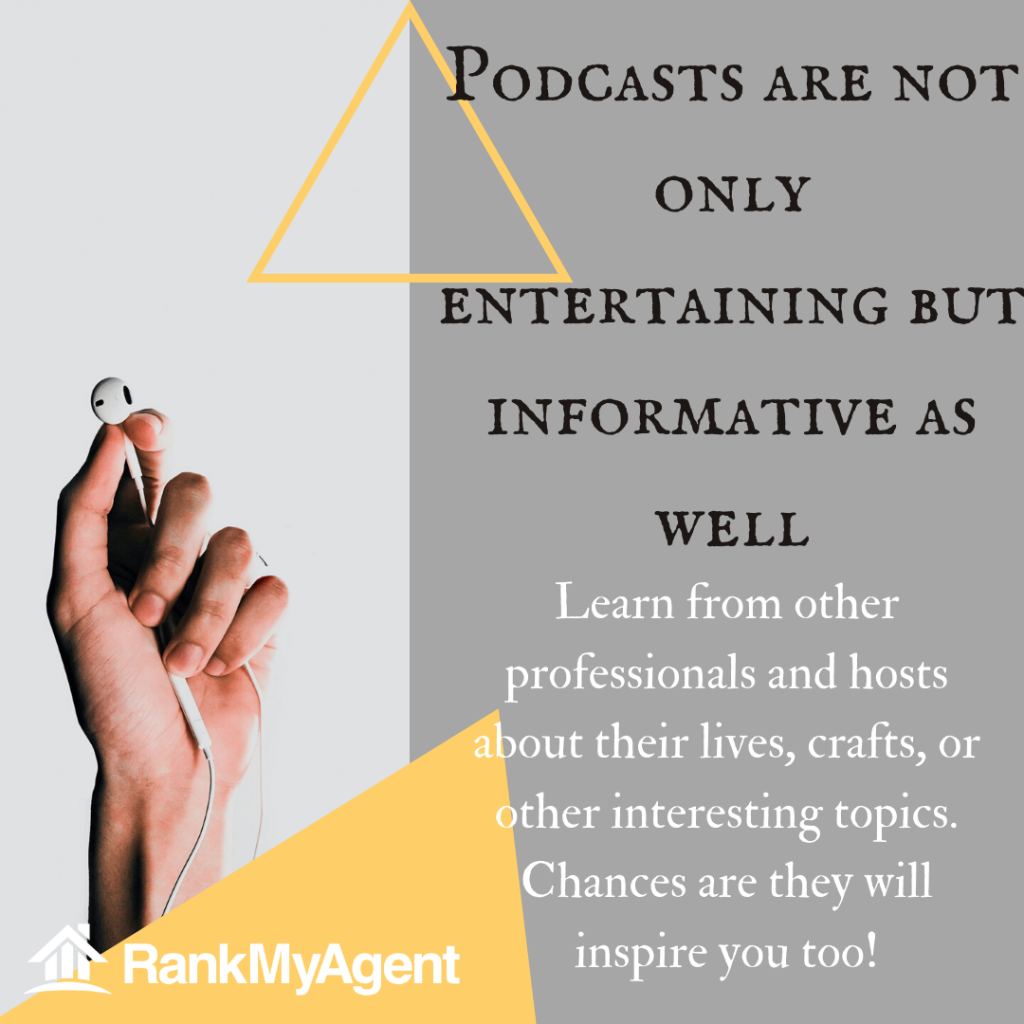 There is no shortage of real estate-related and business podcasts out there. Agent Caffeine provides great tips on how to get ahead as an agent. The podcast interviews experts on developing more leads, using new marketing methods, and implementing new technologies into your business. The BiggerPockets Podcast is also a great option to listen to. This show follows everyday real estate investors on their journey in real estate investing. They explain their hardships and how they found success in whatever market they are in. Another recommendation is the the Tim Ferris Show. This podcast is one of the top podcasts on most streaming services and hosts interviews with actors, businesspeople, political leaders, and more to teach listeners tactics and routines that they can implement into their own lives. For Canadian agents, REAL TIME, created by the Canadian Real Estate Association (CREA), is a recommended podcast. It features Canadian REALTORS® who discuss varying topics about the industry and inspire listeners to learn more about what Canadian real estate has to offer. Our final recommendation is The Buzz Conference, which hosts a platform of different leaders, influencers, and innovators, who share more information about the Canadian Real Estate & Proptech space. This website is filled with different podcasts and Zoom conferences that provide informative and inspiring discussions that may pique your curiosity!
Podcasts are a great way to replace television after a long day. They're entertaining, but also informative. Another way to consume podcasts are in the car. As an agent, you're likely driving from place to place very often. So instead of turning on the radio and fussing through ads, why not turn on a podcast? This can ultimately help you learn more about your industry (and of other industries), inspire you, and put you back into a positive mindset.
We know the world is in a tough spot right now. However, it's important to remain positive in times like this. By keeping healthy habits and looking to podcasts to learn more about your industry and to find motivation, it's possible to keep a positive mindset. This mindset will ultimately help fuel your business!