Your home is your greatest asset. If you're renovating, you want to make sure you're getting the most value for each upgrade you make. In this article, we discuss some of the best renovations for your home to increase its value. Some upgrades include making sure that the basics and fundamentals are intact, renovating your kitchen and bathroom for maximum return on investment, and the importance of an aesthetic front of the house.
Renovating the Basics
Renovating your home doesn't always mean taking a sledgehammer, destroying whole rooms, and rebuilding said rooms from the ground up. Refurbishing the less sexy parts of your house can commonly deliver the best return on investment. These include
Painting walls
Removing carpeting
Adding new roofing and windows
Painting
Painting a room is regularly an under-appreciated home improvement. But a simple, fresh coat of paint can make your whole property stand out and look brand new. It's perfectly fine to do this yourself, but a professional painter can ensure the final product is even more excellent. A professional painter can skim walls, repair minor damages, and do the other work before selecting the proper paint for each surface.
You can also consult with an interior designer to help discuss tones and colour palettes and whether a matte or glossy paint would be better for specific rooms.
Removing Carpets
A lot of older homes may still have carpeting everywhere. Decade-old carpets look worn and are plagued with stains. And potential buyers may look at a home's carpeting and think of the chores they'll need to do to maintain it. Unlike other floorings, carpet requires heavy vacuuming, chemical cleanings, and more. Although the soft flooring may be ideal for kids who play and could trip, temporary soft floor mats are a great alternative until they get older.
Vinyl flooring is a popular alternative to carpet because it's durable and affordable. Unlike hardwood, it won't cost an enormous amount. At the same time, it provides a similar aesthetic to your home. Or even better, maybe once you pull those carpets up, you'll discover hardwood underneath. In this case, you only need to refinish the floors for an updated look.
New Roofing and Windows
No matter how beautiful a kitchen, if your roof is leaking water into the home or if the windows are letting in winter chills, buyers will still turn away. Ensuring that your roofs and windows are intact can prove that the integrity of your home is stable. If your roof is crumbling, then leaking water can cause water damage or mould. Less than airtight windows can increase the costs of heating and air conditioning. Depending on your property's specifics, replacing roofs and windows can return 80 percent or more of your investment at resale.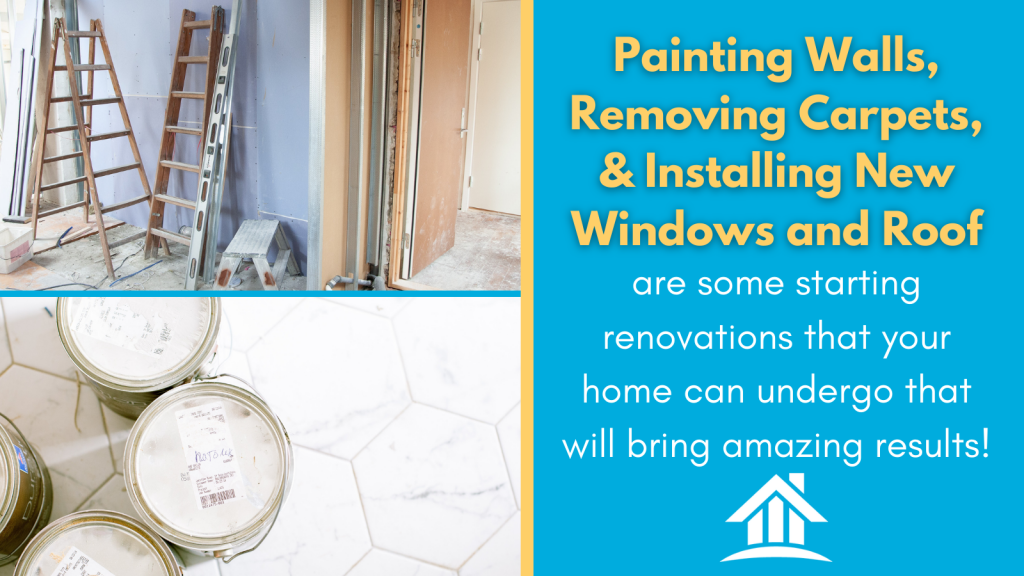 Kitchen and Bathrooms are the Money Makers
The kitchen and bathroom are often the standout parts of your home. They're what most people notice and what homeowners want to show off. That's why it's common for people to spend the most renovating these two areas. And it's a smart idea to do so. The Appraisal Institute of Canada found that the kitchen and bathroom were two renovations with the highest return on investment. But precisely what renovations should be done to the bathroom and kitchen to increase your home's value the most?
Kitchen
Kitchens are important gathering places for families and friends. It's a place to show off marble countertops and induction stoves. There's an unlimited number of ways to pour money into your kitchen, but generally, a minor remodel can deliver more returns than a big one. A minor remodel could include:
New flooring
Replacing appliances
Refurbishing cabinets
When renovating these areas, it's vital to choose traditional looks such as wooden cabinets, stainless steel appliances, and natural stone finishes for floors and countertops. Although you may want to get creative with personal tastes and trends, remaining conservative is best for your home's value. Dark green cabinets may look good in 2020, but if you sell your home ten years from now, it'll likely look outdated. Ensure that you use high-quality materials and that the quality is similar to the rest of the house.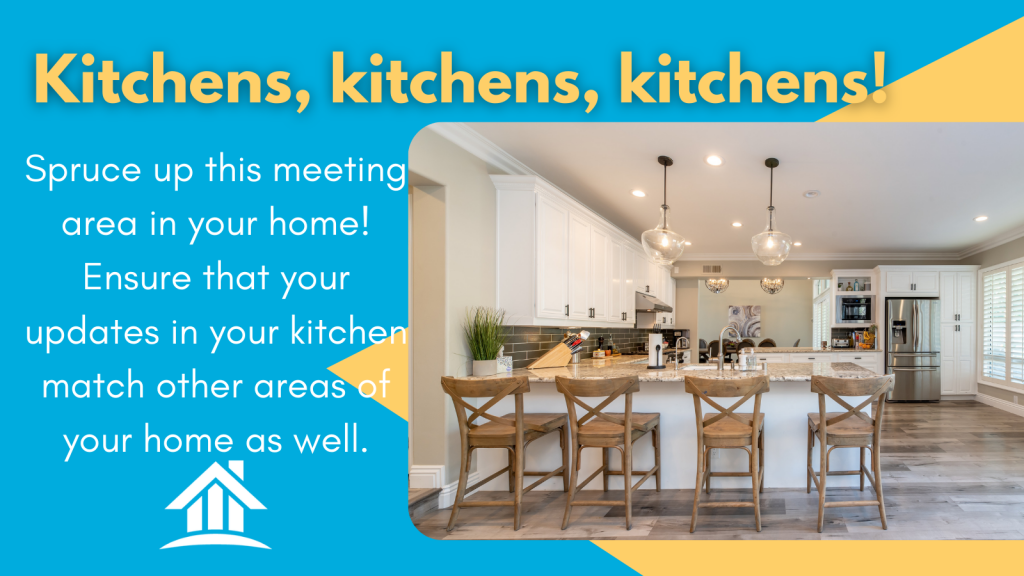 It's also important to not overspend on luxury materials when cheaper ones suffice for what your home's worth. This is an essential piece of advice for renovating any area of your home. For example, if you live in a middle-class neighbourhood, laminate countertops will likely be good enough, while real marble countertops could be too luxurious for your home's area. This could make your house too expensive or high-end for the area it's in.
Bathrooms
Bathrooms are similar to kitchens because you can sink plenty of money when renovating your home. There are countless fancy tubs and countertops that you can add. It's common for a home to renovate their bathroom once it becomes worn and damaged. Counters may start to crack, and mould may begin forming in the shower.
The best return on investment for a bathroom, however, is adding a new one. If you live in a home with three bedrooms and only one bathroom, and there's space for a second one, a second bathroom could drastically increase the home's value. More so than any bathroom renovation.
The Face of the House: Curb Appeal
Your home's curb appeal is its first impression to anyone entering it. So, it's not surprising that this is a great place to put your money if you want to renovate your home to increase its value. Common curb appeal renovations that provide a good return on investment include:
Replacing or painting your garage door
Installing a sturdy steel front door
Adding a front porch
Any of these renovations can provide the front of your house with a fresh look. A front porch can add dimension in cases where the front of your home looks flat.
Like the interior of your home, you can liven the exterior with a new coat of paint. Although not every house may have a painted exterior, it's an easy opportunity to increase home value.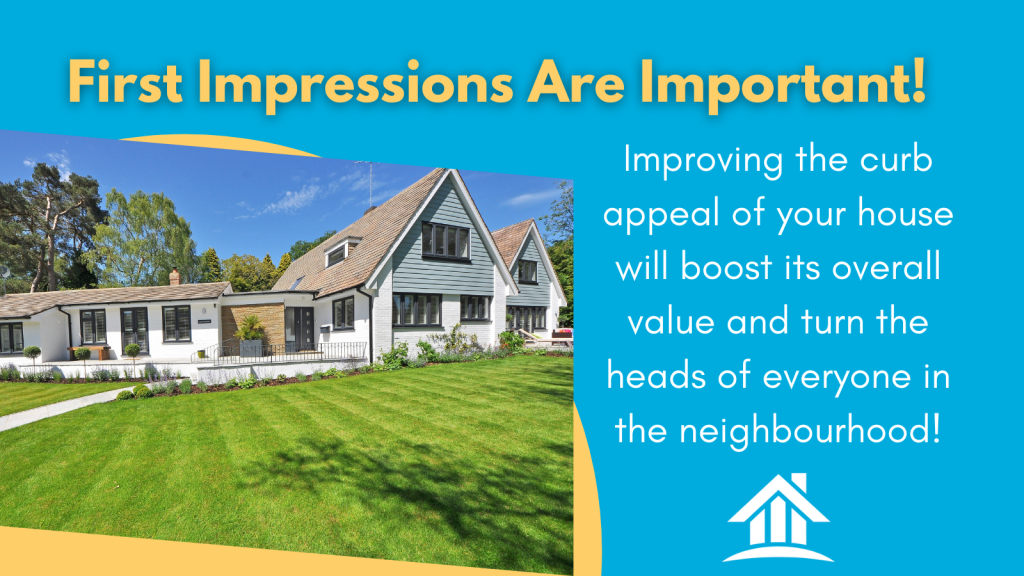 Renovating your house is exciting and fun. At the same time, it's a stressful process. We hope that this article explained what renovations increase home value the most and aid you in your renovation process.