Ah, Calgary. The home of the Greatest Outdoor Show on Earth — the Calgary Stampede. The bustling metropolis that offers fantastic dining and a wild night life but still gives off a small town vibe where everyone knows your name. Who wouldn't want to live here?
I mean, the city was one of only three Canadian cities to make The Economist's "most livable cities in the world" list — landing a 96.6 out of a possible 100 and claiming a cushy fifth position just behind Vancouver and Toronto.
Have I convinced you yet? Good. Now, the question is what do you move in to? A rental? Or should you invest in your own home?
Purchasing a home in Calgary is by no means inexpensive, or in some cases even, affordable. Yet, homeownership rates have stayed consistent at around 73% since 2006, according to Statistics Canada.
Personal circumstances
Your living situation should reflect who you are as a person — what your goals are, what kind of lifestyle you live. By asking these types of questions you can narrow your search down.
For instance, if you work downtown and you like to grab a cocktail at happy hour, perhaps you'd enjoy living closer to the Core. This may mean purchasing a condo in East Village or renting an apartment in Calgary's Beltline is ideal.
Or, perhaps you enjoy escaping to the Rocky mountains on the weekend for a hike. Maybe Purchasing a home in New Discovery or Springbank Hill is more up your alley.
If you know you intend on staying put for a while — say for at least a decade — purchasing a home should be given some extra consideration.
But, if you are anything like me. A Millennial that graduated from university a few years ago, purchasing your first home may seem far from reach.
When we were younger, we were often told the story of the white picket fence and it ultimately became an end goal for many of us. You know the story. You grow up, graduate from university, get a good job, get married and buy a house. But, a lot has changed since the archetype storyline was in full swing.
For starters, the cost of post secondary has increased exponentially. Tuition in Canada has increased by almost 40% over 10 years. With that in mind, it's interesting to note that home ownership rates have declined in sync over the same time period. In fact, according to Stats Canada's 2016 census report, homeownership dropped to about 50.2% among Millennials.
By the Numbers
The average price tag of a home in the city is hovering around close to $500,000. If you are seeking a condo closer to the downtown core, that will run closer to the $300k mark.
Or, if you would rather rent you are looking at forking out between $998 and $1,488 according to Rentboard.ca, depending on the number of rooms, of course. A three-bedroom home in the city will ring in at approximately $1,471 per month.
Choosing living accomodations is one of the most important steps as it will (most likely) be the highest ticket item you pay for each month.
The Credit Counselling Society suggests we should aim to spend no more than 35% of our income on housing and Statistics Canada reports show the median income for a Calgarian was just over the $43,000 mark in 2015. So, with those numbers in mind, is it better to rent or buy in Calgary?
 If we sign the one year lease for the three bedroom home at $1,471 that will cost $17,652 for the year. Unfortunately, if we are making the median income of $43,000, the rental costs a little over the 35% suggested. Instead, the rental absorbs 41% of our income.
Perk: if something breaks — or needs to be replaced — like a boiler or a furnace, that bill falls on the landlord's lap. Not yours. Even those little fixer-upper projects like replacing toilets, or fixing leaky taps, can really add up. But, renters can avoid these costs.
If you'd rather take the leap and invest into owning a place to call your own and you've had your eye on the average Calgarian single family running around $487,685, then you will need at minimum a 5% down payment of $24,384.
Down payment aside. Costs of homeownership also include mortgage and home insurance, property tax, utilities and maintenance — CBC reports that will typically run around $3,000 for a home close to the $500s. Each month. And that doesn't include the initial moving costs.
If we are basing this example on the median Calgarian income of $43,000, purchasing a single family home would leave this individual with only $7,000 of their income.
Compared to the rental, the homeowner would be spending a difference of $18,348 on mortgage payments and property tax.
Don't worry. There's hope
 The numbers are in favour of renters  — for now. But, purchasing a home can lead to great returns depending on the fluctuations of the market.
Whatever option you choose fits your lifestyle, there are so many resources in Calgary that can help you find the perfect place to call home.
There are thousands of experienced Real Estate Agents that serve the Greater Calgary Area that are capable of answering questions. Realtor.ca or Rankmyagent.com are great resources to find the perfect Realtor to assist you in your home buying journey.
The Canadian Real Estate Association (CREA) is always and excellent place to start your research as they provide a lot of key resources including the Homebuyers' Road Map which is a comprehensive guide that will point you in the right direction.
At the end of the day, Calgary is a great place to call home. All your amenities are offered. From playgrounds, schools and leisure centres to great shopping, nightlife and fine dining. Whether you own a home in a bustling 'burb, a sleek condo downtown, or rent from someone, be mindful of your budget and be patient. Purchasing a home is a big step. Seek advice from professionals and be sure to keep and open mind.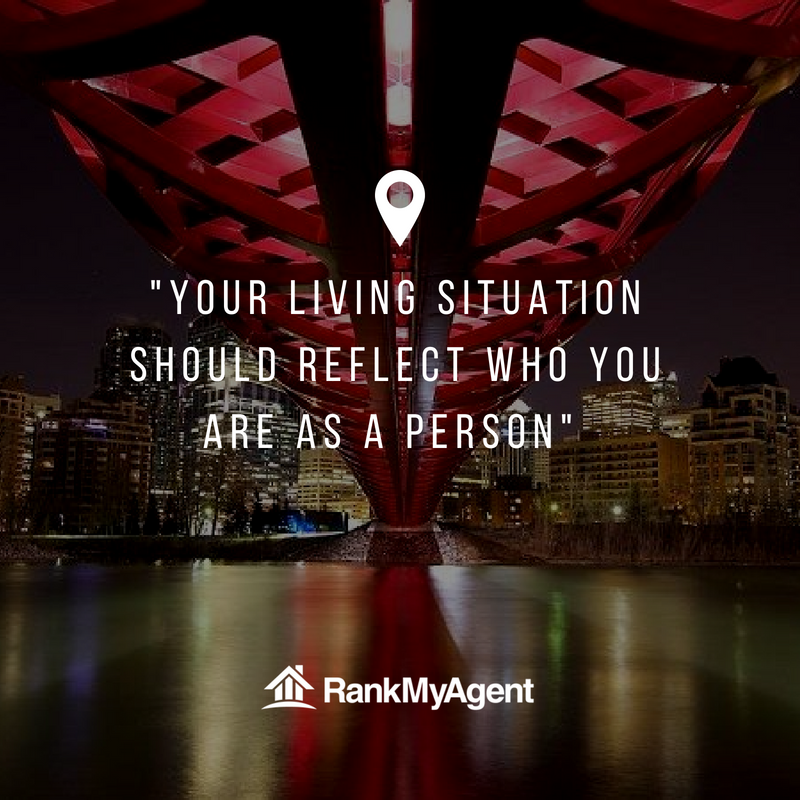 Interested in relocating to Calgary? Check out RankMyAgent's guide to finding a real estate professional in Calgary.