To live on campus… or off… that is the question
The smell of sharpened pencils lingers in the air. The soundtrack: the fresh crack of new textbook spines. That's right, it's that magical time of renewal. It's fall time; the leaves are changing and the heat of summer is fading, but our sunburns are still pretty well intact after the long weekend.
But now, our attention is being pulled—nay, dragged—back into the classroom. It's school time.
For many, this means big changes are a'comin'. In fact, more than 2,000,000 Canadians are expected to be heading back to university, based on 2015-16 findings from StatCan. That's a population twice the size of Edmonton, and many of those students will be relocating to attend the school of their choice.
But where will they live?
There are two choices, really. Students can opt-in to #dormlife—if there is room, of course—or they can decide to try to stand up on their own two feet (maybe with the help of a few friends) and rent a place of their own.
There are definitely pros and cons to each of these choices.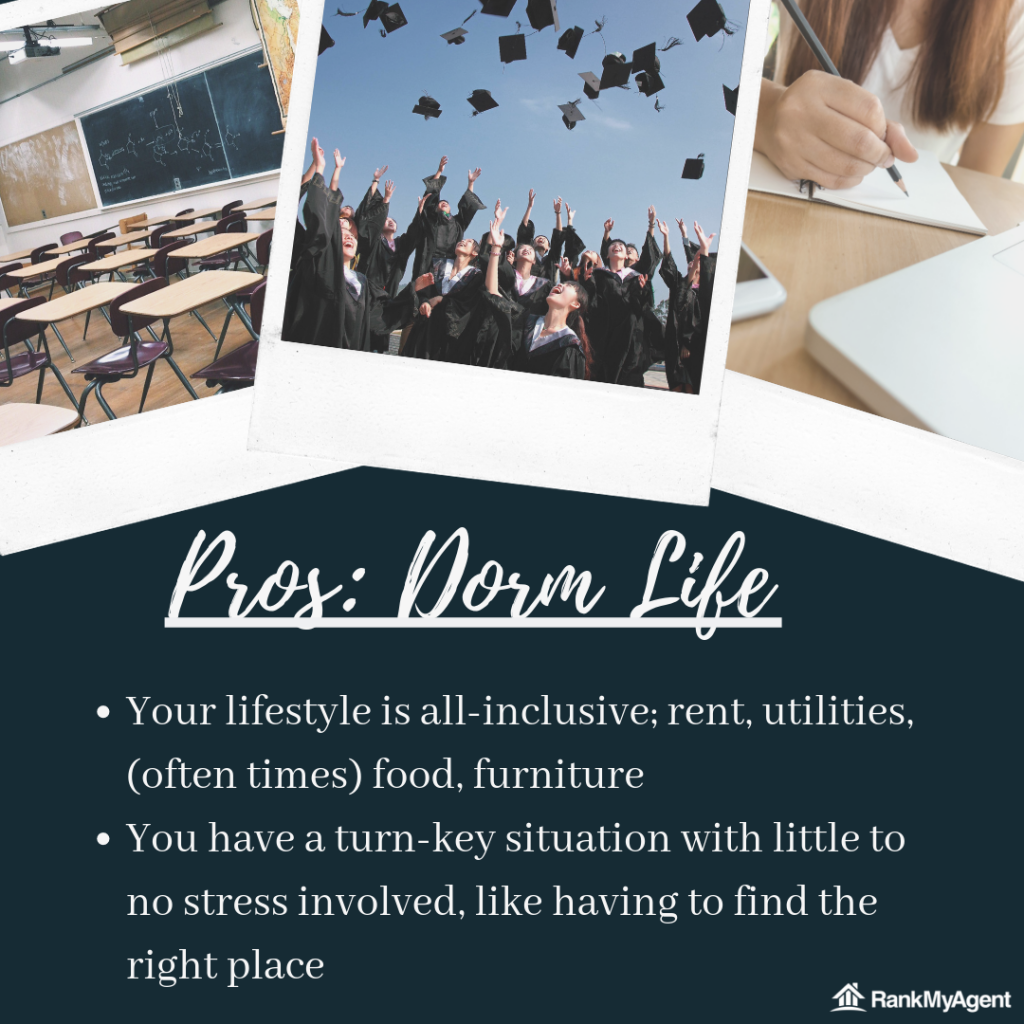 Pros of living in a dorm:
You meet a lot of people really quickly
You are constantly involved with on-campus activities
Your lifestyle is all-inclusive; rent, utilities, (often times) food, furniture
You don't need to worry about a commute or transportation
You have a turn-key situation with little to no stress involved, like having to find the right place
Cons of living in a dorm:
You will most likely have to live with a roommate—often times, you won't get to pick who it is
You will likely be living in tight quarters
You may have to share a bedroom
Your all-inclusive meal plans may cost you more than you would normally spend on groceries
You may not appreciate, or want to abide by all of the dorm rules set out by the school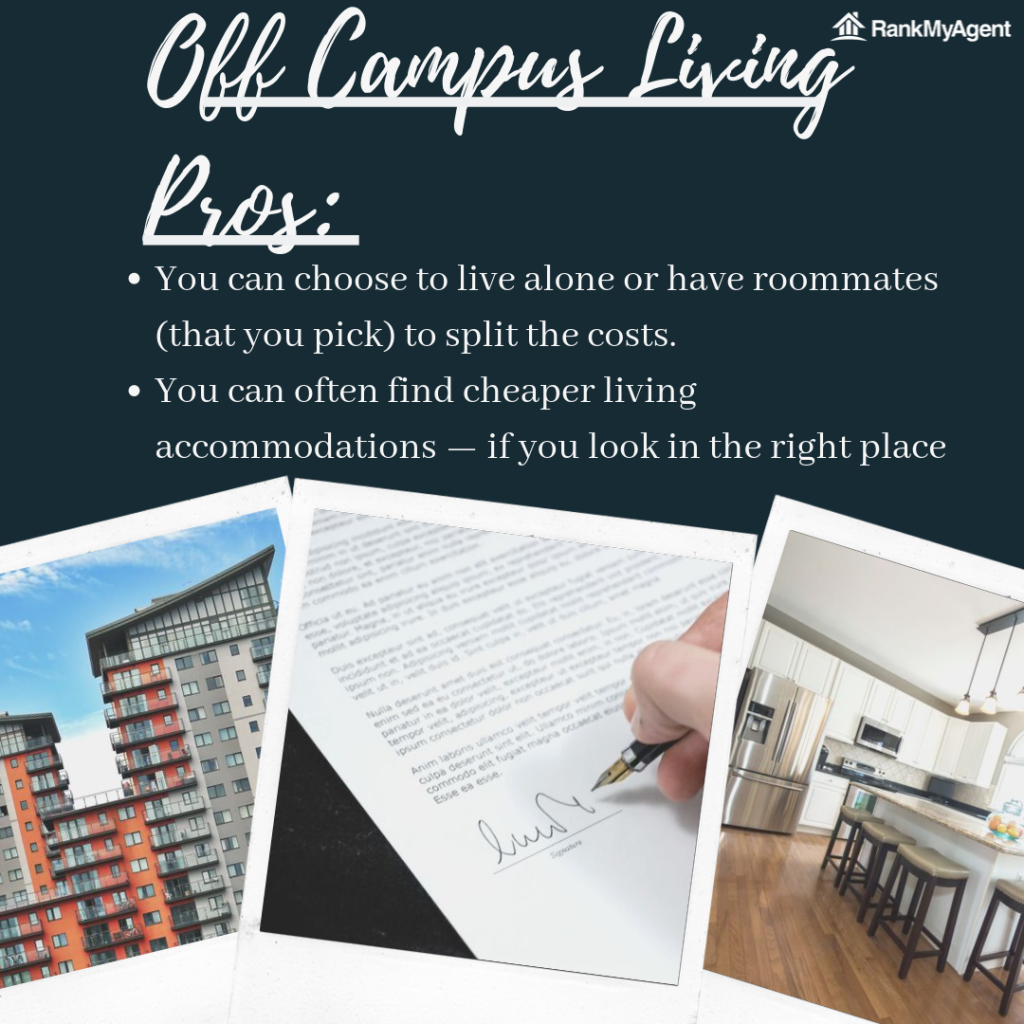 Pros of finding an off-campus rental
You get to find a place that you love
You can choose to live alone or have roommates (that you pick) to split the costs
You can often find cheaper living accommodations — if you look in the right place
You can have that whole independent, I'm really an adult lifestyle
You can furnish a place and decorate it to make it feel like home
You will be able to buy the groceries you need and create the meals you love
You don't have strict rules about how you live in your home
You can definitely have your own room
You can diversify your social calendar by living away from the university-lifestyle bubble
Cons of finding and off-campus rental
If you are in a university town, good rentals may go quickly to returning students or students who never left their rental unit over the summer
It may be tricky to find an affordable place to live on your own
You may find strict landlords pushing 12-month lease agreements and you know you're only there for about eight months (September-April)
You may find some landlords are less inclined to rent to students due to "party animals who ruined it" before you
You may find you are spending extra cash on things like transportation, cleaning supplies, furniture and other household needs
You will most likely have to fork out money for utilities
But, once you weigh out the pros and cons of all the situations—and add in your own concerns, as well—you will be better equipped to make a decision that is best for you.
Now it's time to make your search.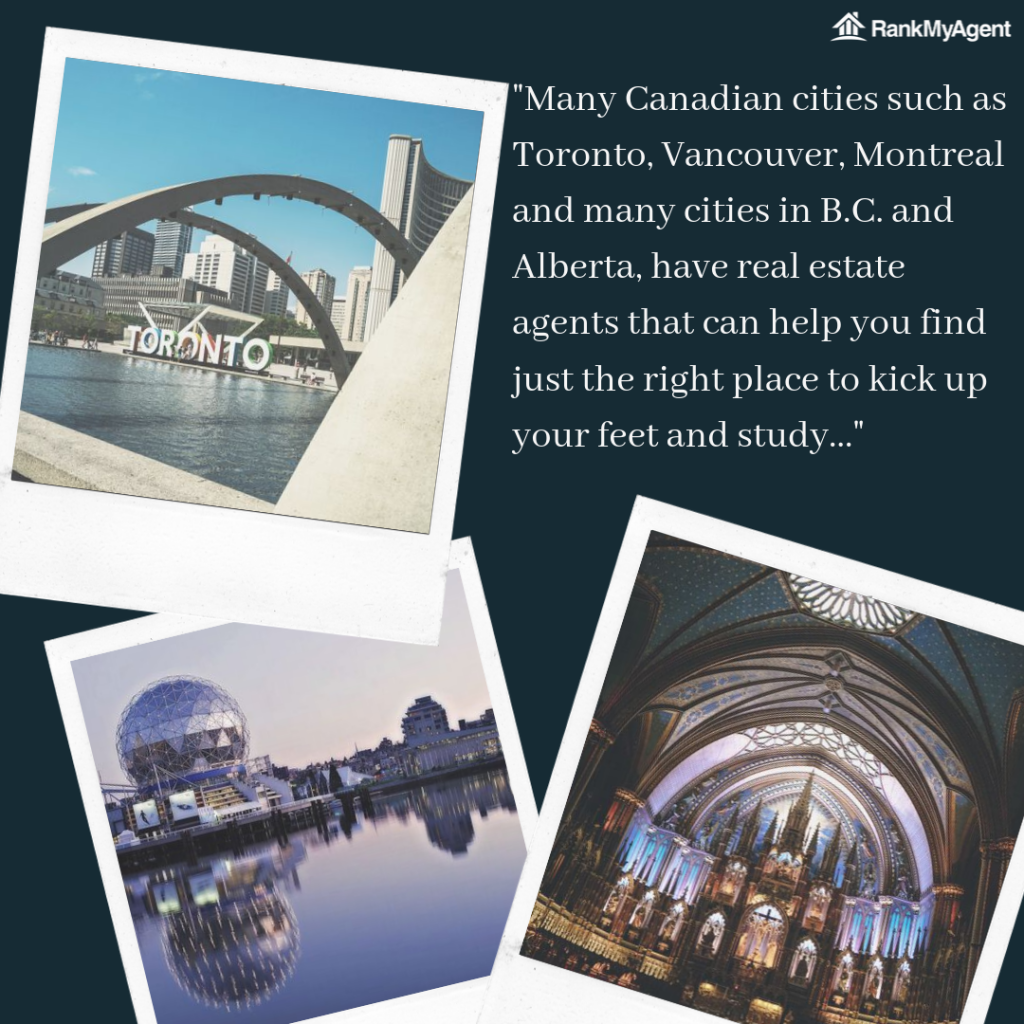 Off-campus rental units can be tricky to find. Especially if you're not too familiar with the area. Luckily, many Canadian cities such as Toronto, Vancouver, Montreal and many cities in B.C., have real estate agents that can help you find just the right place to kick up your feet and study your coursework in your new home away from home.
In 2017, the Star reported that Toronto had a 3.4 per cent vacancy rent, meaning finding a sweet suite was going to be a daunting task. But if a potential renter chooses to work with a real-estate professional, not only are they saving time by skipping their own research time, they will be protected in the same way homebuyers and sellers are.
Plus, it's good practice for when you are readying yourself to purchase your first home.
Websites such as rentfaster.ca are excellent sources connecting landlords and tenants. Realtor.ca is also a great source for trusted rental units. In fact, at any given time, the website boasts and average of 310,000 residential, commercial and rental properties online. Plus, they can connect you with a trusted realtor.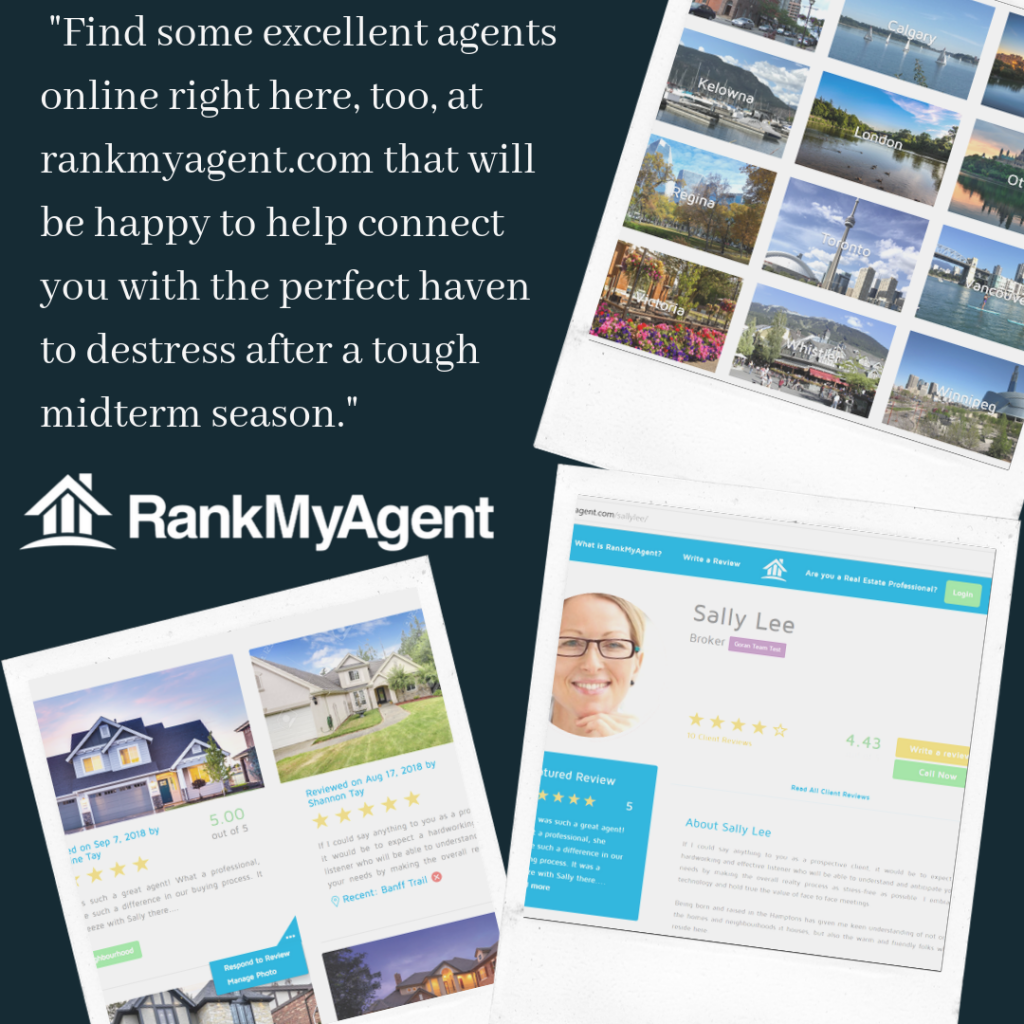 When picking a real estate agent to represent you in the hunt for the perfect rental—whether short term, or long term—be sure you are clear with your expectations, your needs and your budget. Be sure to pick a reputable agent with great reviews. You can find some excellent agents online right here, too, at rankmyagent.com that will be happy to help connect you with the perfect haven to destress after a tough midterm season.
All in all, whether you choose to live on campus, or find the perfect place off campus close to downtown or a cool neighbourhood café, we're just jazzed that you're back in class—or embarking on this new life adventure.
We hope you take university, college, tech school, or whatever you find yourself in, by the horns and enjoy the ride. 'Cause, when it's all said and done and you're preparing to walk the stage to collect your really expensive certificate, diploma or degree, we hope you can look back on it fondly. I know I do!
Have fun this year. Study hard, do the work, meet the people, but most importantly, enjoy it.
Happy learning.