There's plenty of data to know how to optimize your Airbnb, but learning about regulatory information is also a must
Almost one year after going public, Airbnb has an enormous market cap of over $106 billion, which is approximately $60 billion higher than Hilton's market cap and $93 billion higher than both Choice and Wyndham hotels. As a property owner, adding an Airbnb to your portfolio, or turning one of your current properties into one can become a highly profitable venture. However, like any business move, research is needed to make sure your Airbnb profits can be maximized.
How are Airbnbs doing in this stage of the pandemic?
While higher vaccination rates have allowed North America and other well-vaccinated countries to inch closer back to normal, it seems almost intuitive a business-like Airbnb would be disadvantaged in a pandemic. There is truth to that while Airbnb has faced difficulties such as having to lay off a quarter of its workforce, the company has weathered the pandemic better than some of its other counterparts in the hospitality industry. Airbnb, compared to companies like Expedia and Marriott, experienced much smaller drops in revenue during the advent of the pandemic. Since its IPO, Airbnb has had gains in revenue. While consumer trends in housing accommodations for travel have changed, seeing less short-term rentals and more longer-term stays, new Airbnb hosts have collectively made over $1 billion during the pandemic. If you are willing to attract longer-term rather than shorter-term tenants, and your Airbnb is located in a travel destination such as Toronto, Montreal or Vancouver, a profitable Airbnb may be in your future.
What are the regulatory burdens to making my property into an Airbnb?
It's no secret that Canada is in a housing crisis, and some feel that something that contributes to that housing crisis are Airbnbs. Thus, regulatory risk is a serious consideration for those thinking of running an Airbnb. Airbnb regulation, like housing regulation, can be done at both the municipal and federal level, so different jurisdictions will approach Airbnbs differently. Toronto for example, requests that all short-term rents in a dwelling unit (essentially Airbnbs and other bed and breakfast type ventures that are rented out for less than 28 days) are registered with the city and collect a 4% Municipal Accommodation Tax.
Edmonton also requires short-term rental owners to have licenses for their dwelling, but no Municipal Accommodation tax like Toronto. British Colombia is more on Toronto's end of the spectrum regarding Airbnb regulation, collecting 8% provincial sales tax and up to a 3% municipal and regional district tax on short-term rentals. BC is also a good example of how provincial regulations can mix with municipal regulations, as Vancouver (like Toronto) limits short-term rents to primary residences. Overall, there is quite a bit of variation in Airbnb laws through Canada and North America as a whole – New York for example, features a total ban on certain apartments being rented out for fewer than 30 days.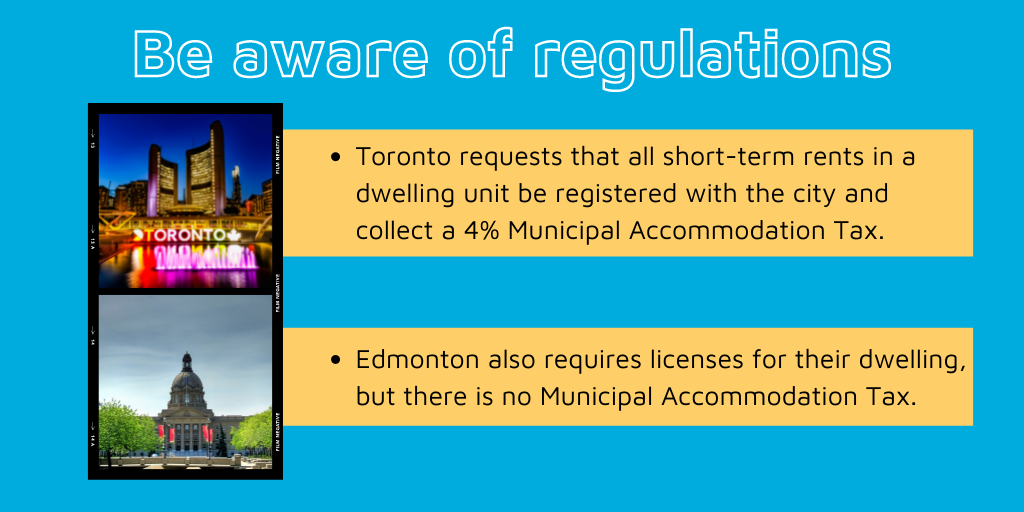 Before getting a lawyer, there are many online resources to educate yourself on your jurisdiction's Airbnb regulations. Airbnb's website features regulatory hubs for potential hosts in each city. Be you in Calgary, New York or anywhere else, Airbnb likely has a nice digestible summary of all relevant regulations an Airbnb host should know. Aside from Airbnb, Provinces and Municipalities also feature education resources, such as this 10 things you should know about short-term rentals article on the City of Toronto's website. Of course, only lawyers can provide legal advice, but a simple google search can provide you with a quick baseline of knowledge of what you may be dealing with as an Airbnb host.
How should I run my Airbnb?
So, after examining the state of Airbnb overall and the regulatory burdens associated with short-term rentals, you've decided you want to proceed with owning an Airbnb. How do you run it? Considering that over 63.5 million reviews on Airbnb average 4.8 stars, excellence is the standard for a successful short-term rental venture.
Before you start Airbnb-ing, insurance is something you should strongly consider to protect your investment. Airbnb offers its own host insurance, but other private sector entities can provide insurance as well. Once insurance is settled, there then comes the question of how you stock your Airbnb. Perhaps you have great taste and a love of furniture and interior design – you can probably skip this paragraph then. However, if you need a little help deciding what to buy to make your short-term rental unit amazing, HostGPO.com is a great resource. HostGPO is a buying group for short-term rental companies, where members get access to "the best deals on furniture, supplies and more". For subscribers or those who are using their 3-month free trial, Airbnb owners can get access to brands such as Pottery Barn, Brooklinen, Helix Sleep and more for your furniture, amenities and textile needs.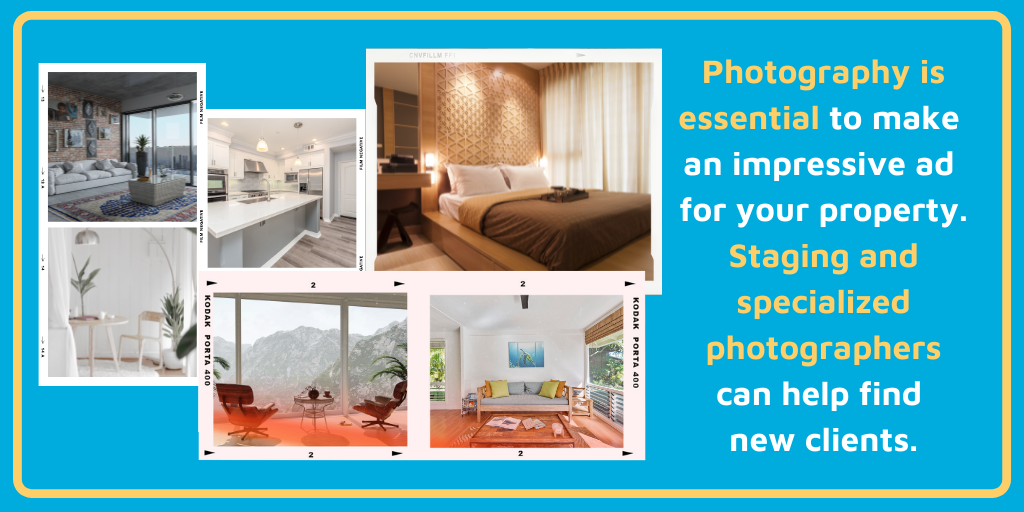 Once your Airbnb is stocked and looking nice, you must now post your listing with photographs of your Airbnb and a written description. The photograph is key – like how real estate photographers can help a listed house get sold, Airbnb photographers can help owners receive new tenants. It is said that the right photographer can get you 24% more bookings, and a 26% increase in Airbnb prices. Once people purchase a stay at your listing because of the excellent photo, they get to stay in your nicely stocked property, and the five-star reviews will start rolling in.
The Airbnb learning never stops
Like any continuous venture, the learning of running an Airbnb never stops.Learnbnb.com is one of many excellent online resources that can guide new Airbnb owners to success. Google (or Bing!) is your friend and can lead you to new information to help maximize your Airbnb investment. These resources can lead you to continually improve and refine your Airbnb process. Airbnb also publishes important information for owners, that can give data points that suggest guests note helpfulness, communication and friendliness as important factors in getting a five-star review. Any investment has risk but done right, an Airbnb can be very profitable. Download the Airbnb app, and get started.