"Recession" is a scary word. We associate it with unemployment, a declining stock market, and other negative scenarios.
An economic downturn could stress you out if you're selling your home. A contracting and uncertain economy doesn't usually yield top dollar for home sales.
At RankMyAgent, we aim to make the home selling process more manageable. So this article explains what a recession entails and tips to sell your home for the best price during a recessionary environment.
What is a Recession?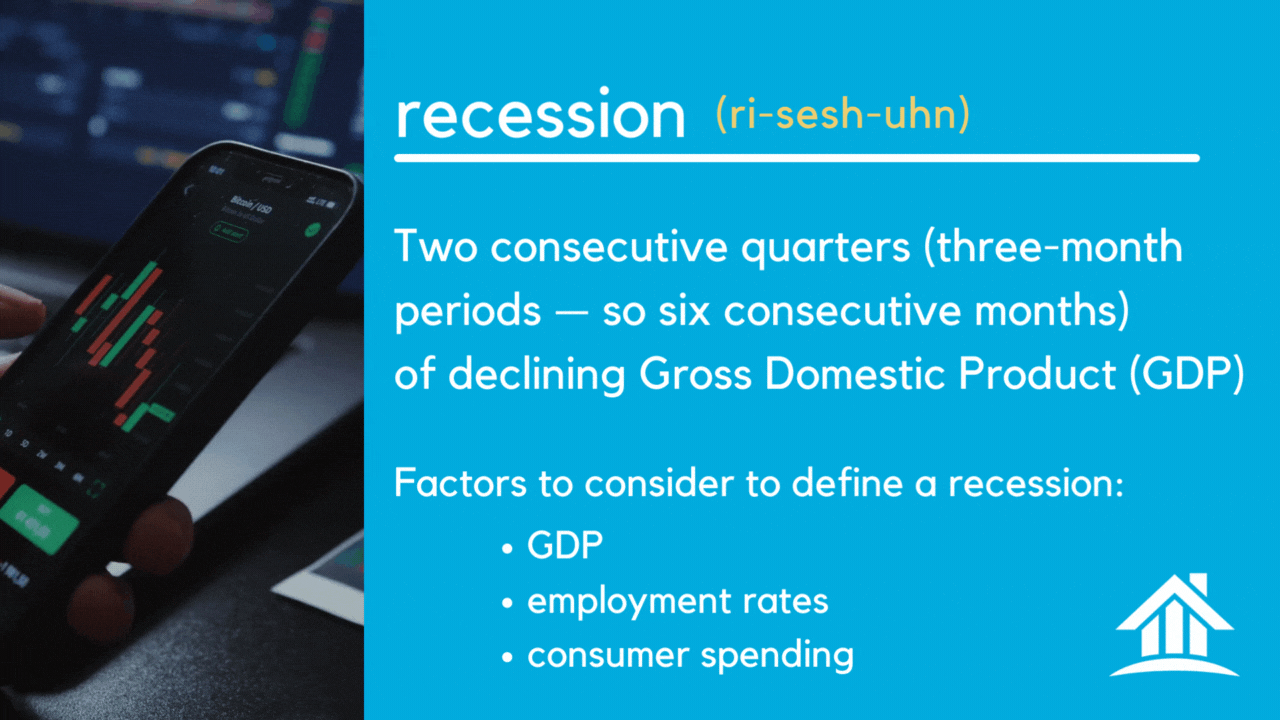 The traditional definition of a recession refers to two consecutive quarters (three-month periods — so two consecutive quarters equal six consecutive months) of declining Gross Domestic Product (GDP). But this definition comes with numerous asterisks.
Even if Canada faces two declining quarters, we may not be in a recession. We continue to face record-low unemployment rates, and in a recession, unemployment peaks.
A recession depends on numerous factors like employment, consumer spending, and GDP. An "official" recession usually occurs once a group of leading economists looks at these factors and determines we're in a recession.
What Can We Expect During a Recession?
A recession's outcomes and contributing factors are a "Catch-22" — i.e., the presence of the factors indicates a recession, but the same circumstances also result from an economic downturn.
We usually see the following during a decline:
Layoffs: Businesses fear the unknown and want to reduce spending when the economy begins to tumble. You can expect layoffs in business departments that aren't critical or where companies previously overhired.
Less consumer spending: People are also fearful when we hit a recession. We're scared of losing our jobs or taking a loss in the stock market. As a result, we might spend less and save more of our income for a rainy day.
Depressed stock market: Investors may sell their stocks and choose safer investments. So, you can expect stock prices to decline. Some corporations also don't fare well during a recession, and their stock price reflects that.
Higher interest rates: This isn't true for all recessions. But in our case, a recession may be caused due to the Bank of Canada increasing borrowing rates to tamp down inflation. This would make buying a home and making mortgage payments more expensive.
These factors can turn the residential home market in favour of the buyer. We're more cautious about making significant financial decisions in a recession. We're also unsure whether we can hold our job or afford increasing interest rates.
As a result, there are fewer buyers on the market. We might wait until economic conditions are more positive and confident before applying for a mortgage and making the largest purchase of our life.
But the number of sellers remains the same or even increases during this time. Some Canadians may need to sell their second home to cover costs or downsize to afford their mortgage in a poor economic environment.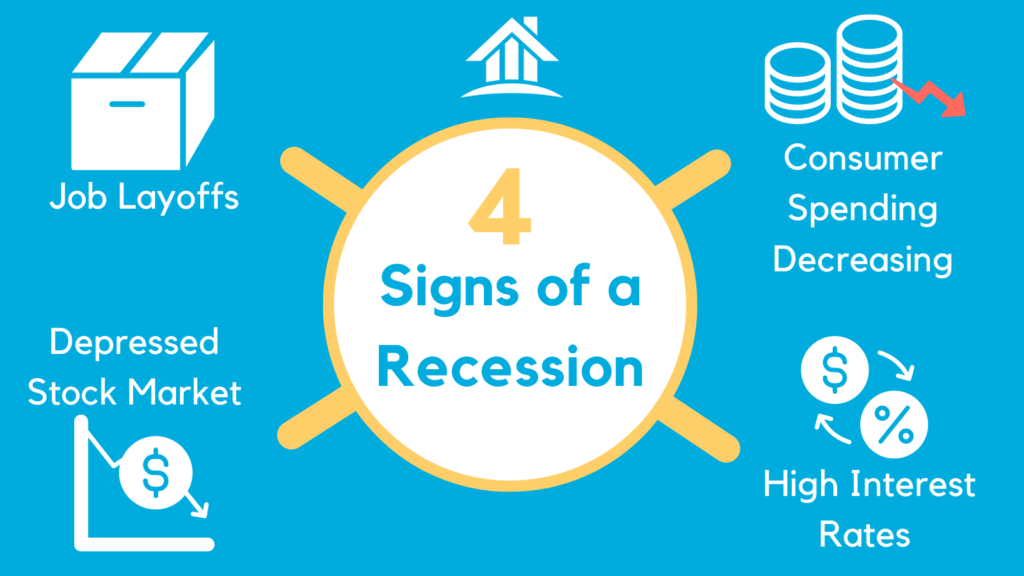 Tips for Selling Your Home During a Recession in Canada
1. Rethink if You Need to Sell
Housing prices tend to peak before an economic decline and slide once a recession becomes a reality.
Selling in the middle of the downturn might not bring you the best price. Downturns tend to be buyer markets, where homebuyers have more leverage. You won't likely have the same bidding wars or unconditional offers we saw a year ago.
Sometimes, you might not need to sell an investment property or move into a larger home right now. It's best to consider whether entering the real estate market is required.
2. Sell Sooner Rather than Later
Past recessions show a history of dipping home prices. If you plan to sell in the near future, it's better to do it as soon as possible. You're only going to face tougher selling conditions.
Otherwise, you should wait until the economy is more positive before you sell. Home prices tend to fare better when there's financial prosperity among Canadians.
3. Don't Overprice Your Home
You might be used to seeing bidding wars and homes selling for hundreds of thousands of dollars over asking. But the market right now might not have the same prospects. You should temper your expectations to something reasonable.
Working with a real estate agent can help you set a reasonable selling price. Additionally, a realtor can guide you towards getting the best dollar for your property. They might suggest minor renovations or staging to bedazzle the prospects.
4. Give Your Home Some Minor Renovation
Minor renovations, deep cleanings, and restoring curb appeal can help move your home on the market. These changes make your home shine in photos and showings.
You don't need to overhaul your entire kitchen. It may not be worth it in the current environment since labour is in short supply — contractors aren't as open to negotiations or discounts. At the same time, home prices are going down.
Contributing your own labour by refreshing walls with a coat of paint or deep cleaning your carpets may be what you need to increase your chances of selling. A clean and refreshed home can help potential homebuyers envision themselves living there.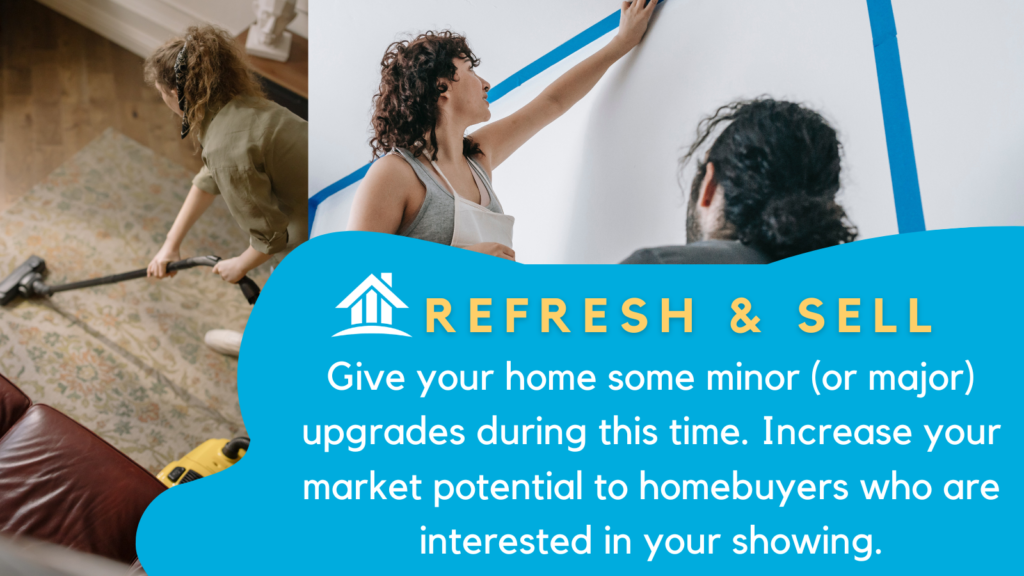 5. Consider Renting your Property Out Instead
Cities like Toronto and Vancouver are seeing record-high rent prices because surging interest rates have left prospective buyers unable to purchase a home — therefore, many Canadians continue to rent.
Some sellers who aren't getting the offers they hoped for have turned to the rental market because the sky-high rent prices make being a landlord much more appealing.
If you aren't in a rush to sell, renting out your property until better economic conditions might be an option to get the best return on investment from your property.
Recessions don't have to be scary. Yes, there's a fear of layoffs and depressed stock prices, but things rebound eventually. If you're planning to sell your home during a recession, it's vital to temper expectations. You can't expect your home to sell for the same amount that homes sold for during a growing economy.