Ahh, summer. Hot sun, sand between your toes, an icy mojito in hand… Oh, yeah. Right. It's January. Bah! Humbug.
Winter. Everyone's LEAST favourite season. Well, unless you are an avid skier or snowboarder… or snowshoer, for that instance.
Whatever your winter passion may be, hang onto it, because for the rest of us, we just count down the days until that mojito finds its way back into our hands on a sunny patio.
There is one thing winter is really good for — and often overlooked — and that's listing your home for sale.
"But there's snow, and it's all grey and yucky outside," you might be thinking.
That's right. There is. And, for the most part, other people who are looking to sell their homes are thinking that too. That means if you list in winter you are gaining a bit of an upper hand here.
You are getting a head start on those waiting for the turn of the season.
Basically, what I'm trying to say is by putting your home on the market during the colder months, you are lowering the number of competitors you are up against.
Here are a few tips and tricks you can keep in your pocket to prevent any more negative thoughts about this blessed selling season.
Keep it clean
Just as you would rake up leaves from your yard in the fall, or weed your garden in spring and summer, you must, must, must keep your pathways, driveways and sidewalks clear of snow.
Not only does this make it look like your home is well taken care of and loved, but it may save you from a lawsuit if there is a slip at one of your many showings.
No one likes to shovel, but you'll have to stay on the ball over the winter months. Be sure to get out there after each snowfall. You may even have to get out there multiple times a day — unfortunately.
On the bright side, it's great exercise — if that was something on your resolutions list. Or, if you can, hire a young neighbourhood entrepreneur who is looking to make a few bucks.
Use your listing to your advantage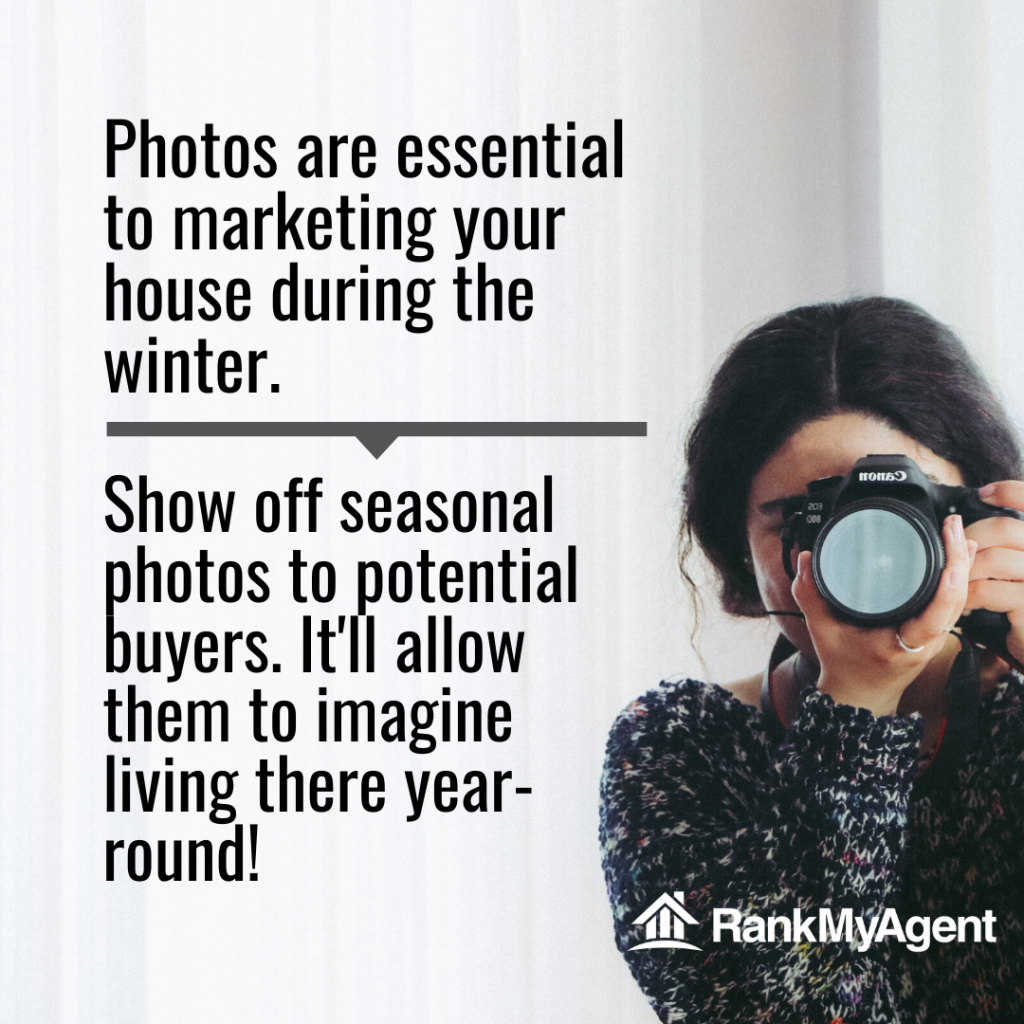 When marketing your home online, photos are worth 1,000 words. However, when you are marketing your home in winter, those photos are suddenly worth a lot more.
Use your listing to showcase your home in other seasons as well so potential buyers can imagine themselves living there year-round.
Show off those photos you took last summer when your trees and flowers were in full bloom and the sun-soaked yard screamed for garden parties and late-night bonfires.
While choosing photographs of the home's interior that were captured during winter, be sure to select those images that are drenched in natural light or are tastefully lit by lamps, candles and overhead lighting.
Use the calendar to your 'advent'age
Do you see what I did there? 'Tis the season to make spirits bright. That's what we all look forward to during these frigid months, so use this! USE THIS!
Those holiday decorations will work double time to make your home stand out and emphasize just how cosy, warm and festive your home is — even during the darkest and coldest days of the year.
During home showings, have a nice fire going (if that's an option, of course); have some goodies baking in the oven to trigger the olfactory senses, and adorn your tree with simple, festive and sophisticated ornaments that will allow guests to picture their own families enjoying the holidays here.
Turn the lights on
Have you ever been walking at night and caught a glimpse of a home with loads of light pouring out of the windows? How inviting does that look!
Lights not only make interiors look their best, but they emphasize those cozy undertones that we are after while trying to market a home during winter. So, flick on the lights. Up the wattage in your bulbs and invite some of that warmth into your home.
Don't forget about your exterior lights as well. Illuminate walkways and pathways leading to your home for a warm welcome — and an extra safety measure for those slippery days.
Decorate with lights, too. That's right. Create warm layers with lighting. Set up lamps to illuminate those dark, shadowy corners and take advantage of spotlights and LED strip lighting to direct attention to your home's finest assets.
Don't be afraid to use holiday lighting to your advantage here, as well. Tying into my last tip, those twinkle lights look fantastic both inside and out. So, bring 'em in.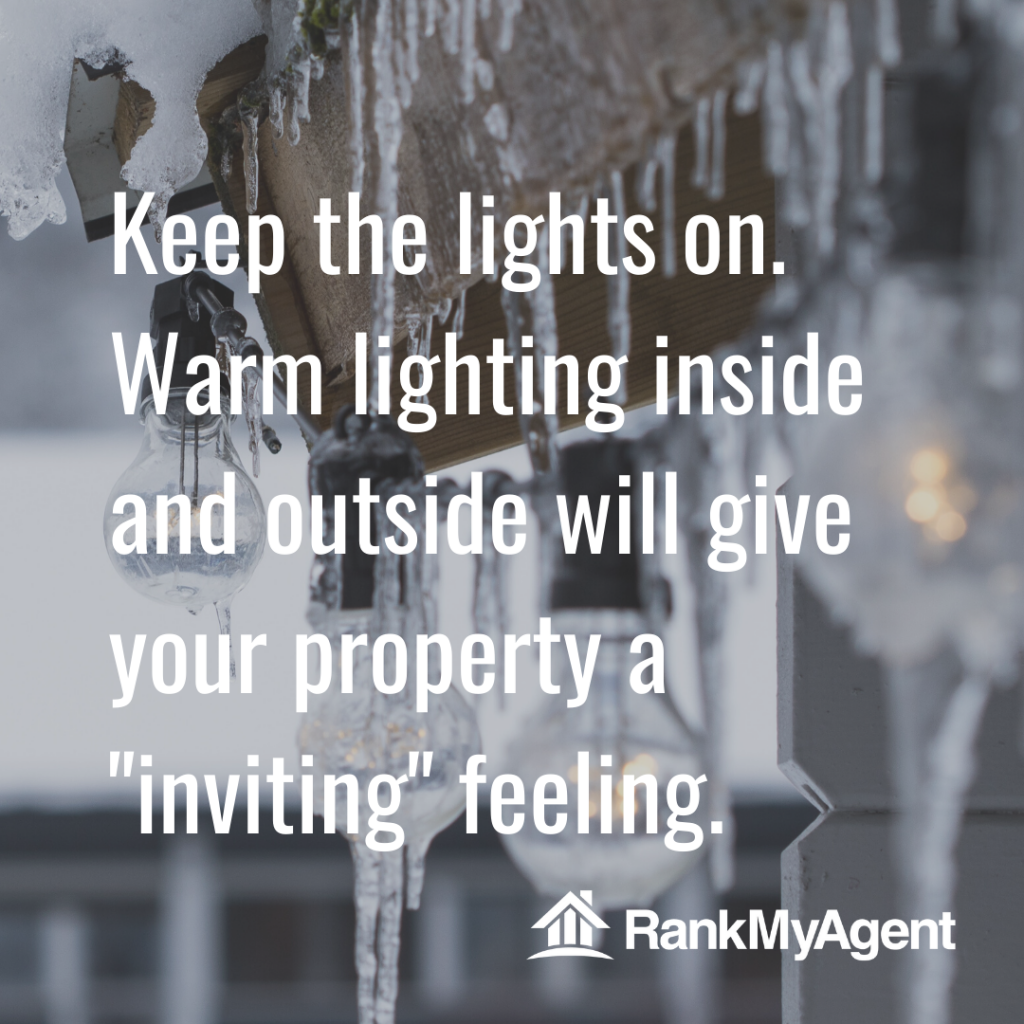 Show off the home's winterproofing
Have you recently installed energy-efficient products that help lower your utility bills come winter?
Have you installed new windows, LED lights or a high-efficiency heating system?
Show these off to your potential winter buyers. These (mostly inexpensive) upgrades will be greatly appreciated by the next homeowner as they will reap the rewards for years to come.
Those looking to buy a home during the winter months are typically paying more attention and are more aware of things such as materials used in construction, lifespan and maintenance on the furnace and other winter-esque things that are vital for the upkeep and durability of a home after the first snowfall.
Listing your home in winter doesn't sound all that bad now, does it? So, if you are looking to sell your home and you are interested in getting a leg up over the competition, do not fear! With these tools at the ready, you will be able to take full advantage of winter — and not just with a trip to the slopes!