Tax Deductions every real estate agent should remember
February 26, 2021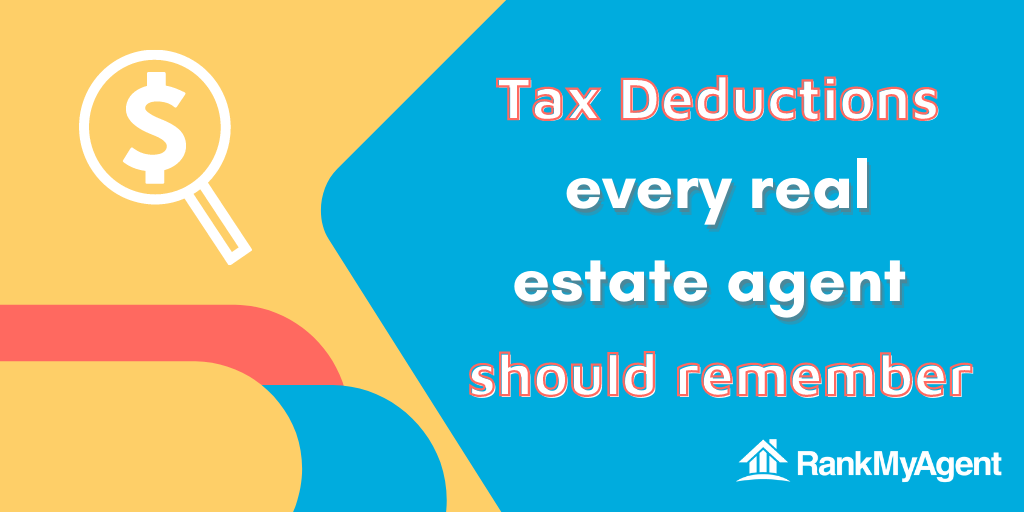 Yes, we are already there. It is time to get ready to do your taxes. That is why we've compiled a list of some of a real estate agent's key expenses to remember once taxes are due. Of course, we aren't accountants, so make sure to contact a CPA (Chartered Professional Accountant) to make sure you're getting the fullest deductions. 
Car-related expenses
A vehicle is one of a realtor's most essential assets. It's also a major business expense. That's why there are many car-related tax write-offs available to agents. The GST/HST, loans, and interest related to buying a car, repairs and maintenance, insurance, and, of course, gasoline, are all tax-deductible expenses for your business.
One caveat to expensing your vehicle is that you're not always using it for work. In a day, you might pick up a client and show them different houses. Then, you may head to the movies with your friends. In this situation, you're likely using the same car.
The issue is that the CRA only allows you to expense car usage related to your business. To divide business-use and personal use, it is best to keep a logbook on the kilometres driven for business and personal. Apps such as Everlance or TripLog have digitized mileage tracking, turning the former cumbersome logbook into an easy-to-use app.
Licensing fees and tuition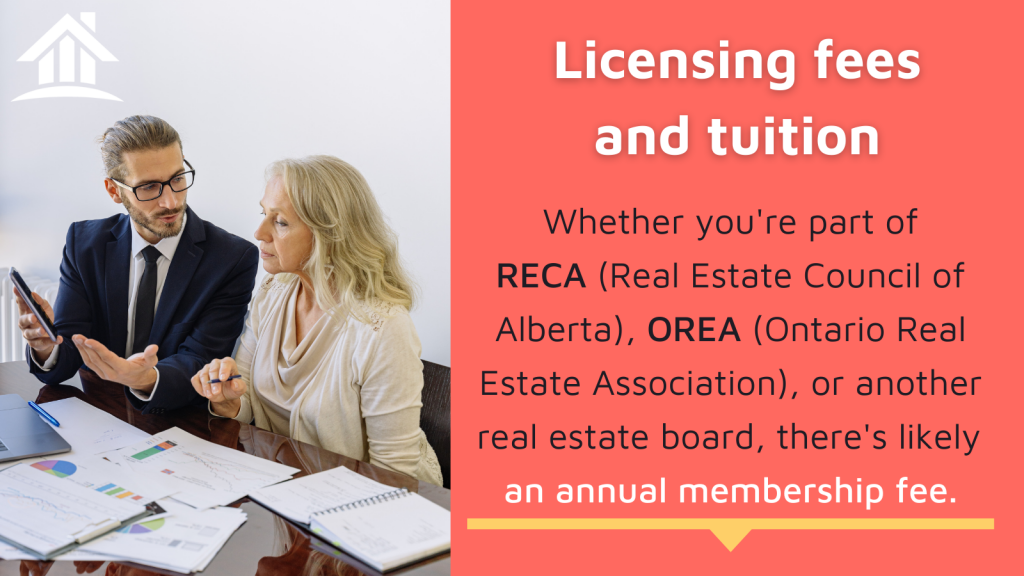 This fee grants you access to benefits like sales statistics and software and helps regulate your respective province or city agents. This fee is another deductible expense for your business.
Your board or other institutions may also provide courses to keep you up to date on the real estate industry. In some areas, these courses may be mandatory. It may be evident that these tuition expenses are tax-deductible, but less known is that there is more than one route to deduct these expenses.
First, you could choose to deduct your tuition costs as a tuition credit. This provides a tax credit — i.e., it reduces the amount of taxes you owe. Second, you could deduct these costs as a regular expense. This would provide a regular deduction against your revenues, which is then used to calculate the amount of taxes you owe. It's best to speak with your accountant to see which method is better for you.
Client-related expenses
Grabbing dinner or lunch with a client or potential client is expected. It's a good way to develop business and make sure that you're the person's top choice for when they need to sell or buy a property. Allowing all these meals to be fully deductible may result in too many deductions, so the government has compromised. 50% of all meal and entertainment expenses are tax-deductible. This is why it's important to keep all your restaurant receipts.
In case of an audit, it's also important to note who you were with. Your receipts should also evidence that there were at least two people at this meal, or else the whole point of the deduction is pointless. So, if that receipt only has one entrée, it's best not to try to deduct it. Additionally, a quick lunch by yourself is generally not tax-deductible, although the meal is related to your business's busy schedule.
Work from home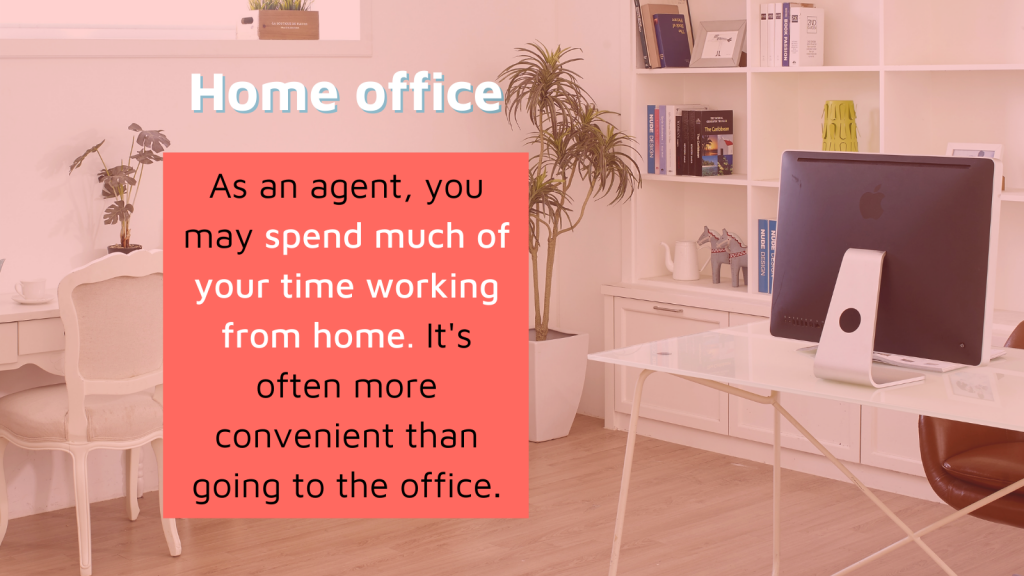 Thus, agents commonly claim part of their home as a work-space-in-the-home expense. This allows you to write off portions of your home's rent and maintenance costs as well as hydro, phone, internet, and property tax bills. However, you cannot deduct mortgage interest payments or capital cost allowance.
To use this tax deduction, you either have to use your at-home workspace more than 50% of the time to do your work or use the workspace to meet clients, customers, and other people related to your employment regularly. Due to the nature of an agent's work, you'll likely be trying to fulfill the first criteria.
Supplies and equipment are also deductible. Things such as laptops or tablets, lockboxes, printers, paper and ink, and cellphones are costs to your business. These office supplies and equipment may not be deducted all the same, however. Items such as laptops or prints are used for multiple tax years and are thus depreciated over several years instead of expensed in the year you bought it. In contrast, the paper and printer ink you purchase is usually a current expense. This means you can deduct the full cost in the tax year you purchased because you'll likely use it up within that year.
Marketing and professional services fees
The last expense we want to mention is your costs for marketing and professional services. Like any business, the cost of direct mail flyers, a marketing agency running your digital ads, an accountant helping to file your taxes or a corporate lawyer you retain are all considered expenses on your business. These expenses are deductible in full against your revenues.
These are only some of the tax deductions to keep in mind for the upcoming tax season. Vehicle expenses, licensing and tuition fees, client-related expenses, home office, and marketing and professional services are just some of the most common costs that an agent will deduct from their income. It's crucial to keep your expense receipts organized and filed. Notes on these expenses such as car mileage and client-related expenses are also important if you end up being audited. Again, make sure to speak to your accountant to take advantage of all the tax benefits available to you and other real estate agents. Accountants aren't cheap, but they often save you more money in tax deductions than they cost you in fees.