How Realtors Can Turn a First-Time Client into a Lifetime Client
October 31, 2020
Once you're done a deal and the client is happy with their new home, your work is far from over. It's more accurate to say your work has just started. The average Canadian will own 4.5 – 5.5 homes in their lifetime. Generally, this means a home purchase every five years. If you've just closed a deal with a first-time homebuyer, they may need you for their next five homes. But for that to happen, you need to ensure that they'll think of you for their next purchase.
It's essential to generate leads as a real estate agent, but turning first-time clients into lifetime clients is critical. Satisfied clients won't only call you again when they move but also for investment properties and when their friends and family members are looking to buy or sell. Seven years can be a long time between home purchases, so what can you do to stay on your client's radar? This article provides three tips on how to turn a current real estate client into a lifetime client.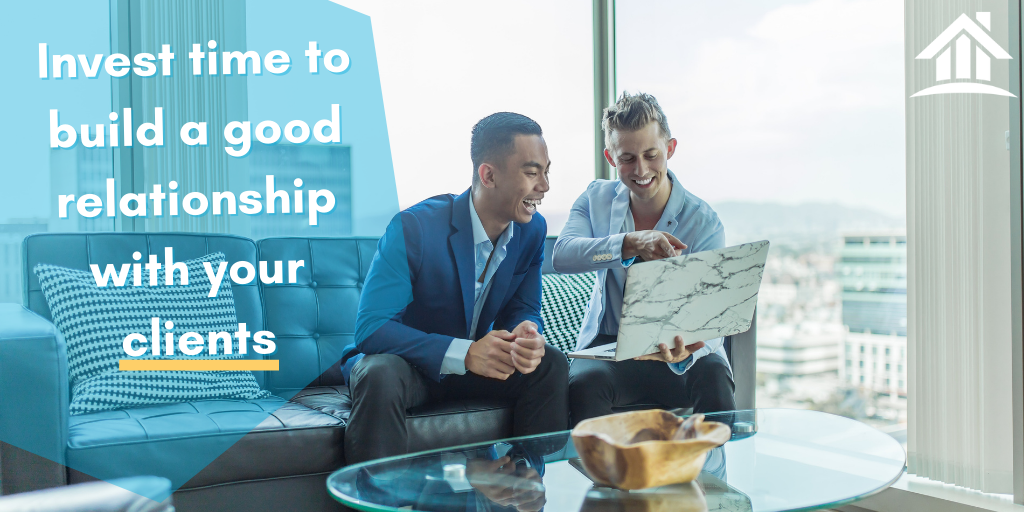 Build a Relationship to Secure a Lifetime Client
Whether you're helping a client buy, sell, or both, your job isn't just to make the transaction go smoothly. You also want to build a relationship. A client is more than a paycheque. They can become business associates and close friends.
Throughout the process, get to know them personally and find common interests. It could be favourite sports teams, a love for nature, or the struggles of parenting. These shared interests can build rapport and help develop a real friendship. A good friendship can ensure that they look to you for their home purchases down the road.
Asking your client-friendly personal questions can also open opportunities to provide value. If they have kids, let them know about extracurricular programs or daycares in the neighbourhood. Or if your clients are a married couple, suggest your favourite nearby restaurants for their next date night.
It's essential to learn about your lifetime clients, but humanizing yourself is necessary too. You're more than a realtor trying to sell someone home, and your client should know this. Talk about your interests and hobbies, how you got into real estate, etc. Let clients know what you're like outside of work. Just make sure not to spend the whole time talking about yourself!
Lifetime Clients Remember Realtors Who Close with a Bang
Your after-purchase service is as important as your service during the homebuying process. Make sure the client knows you're open to answering any follow-up questions and helping with requests.
Although your clients won't expect you to personally help them move in, they may ask if you know of any reliable moving companies. You can also take the initiative to prepare a list of local services that new homeowners may need, such as a cleaner, plumber, or repair person. If they have a pet and are new to the area, you could add the number of a reputable veterinarian. These small touches can make a world of difference.
Moving into a new home often involves many new purchases. Surprising a potential lifetime client with a new vacuum or smart home appliance can brighten up their moving process. With this gift, you can also provide a USB key with all their closing files and home-move-in reminders. These gestures can show your organization and that you genuinely care.
Organize Lifetime Clients into a Database and Keep in Touch
Even if you don't build a lifelong friendship with someone, it doesn't mean you can't keep in touch. It's common for agents to create a database of all their prior, present, and potential clients. You don't need a fancy customer relationship management software — an excel sheet is perfect! Note their contact information, likes/dislikes, anxieties, birthdates, and your general thoughts about working with them.
You can later segment your list to find your most valuable lifetime clients. Some of your prior clients may refer you to their friends more than others or purchase properties more often. These clients deserve special attention. Make sure to note their birthdays and send a special birthday card and even a small gift. You can also grab coffee or lunch with them whenever possible.
Email newsletters are a terrific way to engage your whole client database. Agents commonly send out monthly or quarterly newsletters to their clients and prospects. But the key is to ensure that your newsletters provide value and that clients won't just throw it into their spam message.
Targeted email newsletters are significantly more effective than generalized counterparts. Some contacts in your database may be prospects and other current clients, and some may live in one city and others in another. Segment your database and make sure that whatever newsletter you send, it will be relevant to them. For example, you don't want to send someone a newsletter covering events in a city that they live far away from. This can result in them quickly hitting "unsubscribe".
Newsletters should also provide value. What would the contacts in your database likely have an interest in? News relating to the real estate market or the best time for a low-interest mortgage rate is valuable. But how your dog is doing likely won't resonate with everyone.
A lifetime real estate client can bring a lot of value — even more than a handful of new leads. Lifetime clients won't only come back for their next home purchase but can also lead to referrals. Keeping your relationship personal, professional, and ongoing can make a regular client a lifetime one.